So, you are looking for the next destination to visit in the Middle East. You may be considering Dubai or Abu Dhabi. This article will tell you all the tips and tricks on how to maximize your adventure and get the most out of your trip. If you are trying to decide whether to visit Abu Dhabi or Dubai, this post may help you decide which is best to travel.
Quick facts about Dubai and Abu Dhabi
Languages in the UAE are Arabic. English is spoken.
Time zone – GMT +3.oo hours
Religion – Islam and a range of other religions due to expatriates.
Temperatures range from 25 C in winter to 40 C in summer.
Telephone code – +971
What is the United Arab Emirates?
The United Arab Emirates is a small gulf country that boasts an unparalleled experience. The United Arab Emirates became a federation in 1971 of six emirates including Abu Dhabi, Dubai, Sharjah, Ajman, Umm Al-Quwain and Fujairah. The seventh emirate Ras Al Khaimah joined the federation in 1972. Abu Dhabi is the capital located in the wealthiest and largest of the emirates. Historically the UAE was known as the Trucial States.
Is Dubai the same as Abu Dhabi?
Dubai and Abu Dhabi may sound similar; however, they are not the same place. They are two independent Emirates (states) under the United Arab Emirates. Abu Dhabi is not 'in' Dubai and Dubai is not 'in' Abu Dhabi. Abu Dhabi is the capital city of the UAE and the seat of the ruler, Sheikh Khalifa bin Zayed Sultan Al Nahyan. They are both located on the historic Arabian peninsula.
What is the richest city in the United Arab Emirates?
The Emirati capital Abu Dhabi is not only the richest city in the UAE but in the whole world. This is because it is the location of the largest and most accessible oil reserves currently known. The current ruler of Abu Dhabi has also invested a significant amount of money into the infrastructure and environment in the city. For this reason, not only is Abu Dhabi the world's fastest growing city but is also considered one of the most stunning Emirate.
What is the climate like in Dubai vs Abu Dhabi?
Abu Dhabi and Dubai are in the United Arab Emirates roughly 140km away from one another. Therefore, the climate is similar in both cities.
Both cities experience only two seasons, summer, and winter. The best time to visit Abu Dhabi and Dubai is between November and February. These winter months provide pleasant weather while June to August can bring temperatures above 40 degrees.
Is Abu Dhabi Bigger than Dubai?
In terms of land size, Abu Dhabi is the largest of all the emirates in the UAE including Dubai. Dubai is considered the second largest inland size however is the most densely populated emirate. Dubai is home to 3.4 million people while Abu Dhabi has a population of 1.45 million.
A little bit of History of the UAE
The beginning of Abu Dhabi
The first people to traverse the Arabian sands of Abu Dhabi were searching for pastures for their camels. Abu Dhabi was an oasis town where nomads stopped to recuperate and rejuvenate. Once the irrigation systems were established, known as Falaj, the area could cultivate date palms. 50 years ago, Abu Dhabi experienced a boost in economic development while preserving its traditions. Since the discovery and extraction of oil, Abu Dhabi has become a modern metropolis and favorite tourist destination. Learn more about the history of Abu Dhabi here.
The beginning of Dubai
Dubai went through an incredible evolution from a humble fishing village to a world-class city. Dubai was first settled in the early Minoan period (3000BCE to the 5th Century). Similar to Abu Dhabi, it was first a stop for nomadic cattle herders that chose to settle in what used to be a mangrove swamp. By 2500 BCE an extensive date palm plantation was established and acted as the foundation of agriculture. An incredible and colorful history followed, about which you can read here. The boom of Dubai began in 1966 after the discovery of oil. The city was quickly transformed by the late Sheikh Rashid bin'Saeed Al Maktoum into the commercial hub it is today.
Is Abu Dhabi or Dubai Safer?
Abu Dhabi is consistently ranked one of the safest cities in the world according to Numbeo. In the 2022 safety index Dubai comes 6th following another UAE emirate, Sharjah in third place. Both Abu Dhabi and Dubai are considered safe locations with a high standard of living and low crime rates.
What is the distance between Abu Dhabi and Dubai?
The distance between these two megacities is approximately 140km. Depending on traffic, it may take you 1 hour to 1.5 hours depending on traffic and the time of the day. If you would be interested, it is fully possible to visit Abu Dhabi for a day from Dubai and vice versa. Many tourists opt to stay in Dubai for the duration of the trip, however, it is definitely worth taking the trip to Abu Dhabi.
IMAGE: Photo of Abu Dhabi's luxurious architecture
Is Abu Dhabi stricter than Dubai?
Yes. Abu Dhabi places a larger emphasis on religion, culture and tradition than Dubai, making it a more conservative Emirate. That is part of what makes Abu Dhabi special. This means there is less nightlife in Abu Dhabi, men and women dress more conservatively. Both are international cities meaning that western dress standards are becoming more acceptable. It is important to remain respectful of the local culture when leaving the hotel.
What is the dress code in Abu Dhabi vs Dubai?
The United Arab Emirates is officially Muslim however is more lenient on dress codes when compared to other Middle Eastern Nations. Wearing shorts and skirts at nightclubs is acceptable as are bikinis and bathing suits at hotel pools and water parks. However, when leaving the luxury hotels try and opt for conservative clothing.
Men should wear long–sleeved tops, trousers and closed in shoes. Women should opt for dark-colored loose clothing that covers the shoulders. Long skirts, maxi dresses or loose pants are good options. As a tourist, it is not necessary or expected to cover your head outside of mosques. However, most women in the UAE wear headscarves. Tourists are welcome to participate in this practice.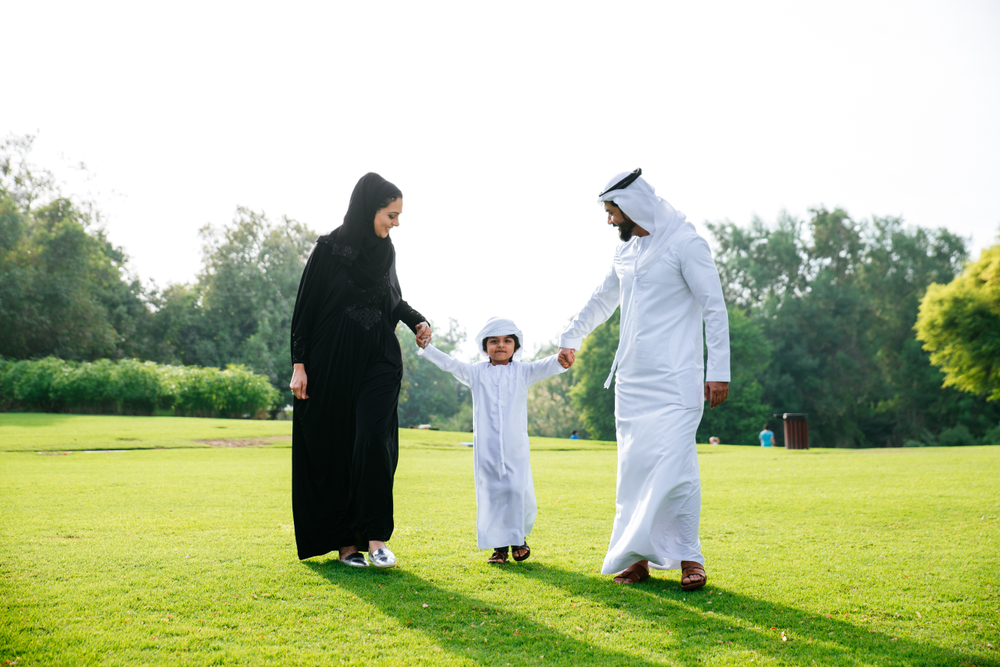 Is Abu Dhabi good for a family holiday?
Abu Dhabi has incredible beaches, fantastic kids clubs, an abundance of child-friendly options, and top glass restaurants. If you are thinking of visiting Abu Dhabi, just know there are many natural and manmade attractions sure to entertain the whole family. The city attracts large crowds for a reason, many of whom are families. This world-class shopping experience is many western tourists' favorite shopping destination.
Is Abu Dhabi vs Dubai Cheaper?
Abu Dhabi and Dubai have similar prices when it comes to food, drinks, shopping, and taxis. On average the cost of accommodation is less in Abu Dhabi than in Dubai.
The flights to Dubai are frequently cheaper than flights to Abu Dhabi. However, this will depend on where you are departing from, the time of the year you are traveling, or whether you have organized a stopover. Emirates primarily fly to Dubai while Etihad is the airline that flies to Abu Dhabi. Therefore, you may want to consider what city you want to land in based on what airline you prefer.
What are the general prices in Abu Dhabi vs Dubai?
Abu Dhabi and Dubai are both rich cities however prices are relatively reasonable for day-to-day items and activities. What may push up your holiday bill, is your choice of accommodation, travel and shopping activities.
Below we have included a list of general prices in Abu Dhabi:
$2 – 3km taxi ride 
$0.5 – public bus ride 
$4.5 – Cheap breakfast / $8 – Regular breakfast
$8 – Cheap lunch / $15 – Regular lunch
$11 – Cheap dinner / $15 – Regular dinner
$9 – Pint of beer in a bar 
Below we have included a list of general prices in Dubai:
$3 – 3km taxi ride
$2 – Public metro ride
$5 – Cheap breakfast / $10 – Regular Breakfast
$6 – Cheap lunch / $12 – Regular Lunch
$8 – Cheap dinner / $15 – Budget Dinner
$8 – Pint of beer in a bar
Dubai has a wider range of price options from hostels to luxury hotels. Abu Dhabi on the other hand has cheaper hotel accommodation in the mid-range scale. Dubai and Abu Dhabi will certainly both have options to meet your budget.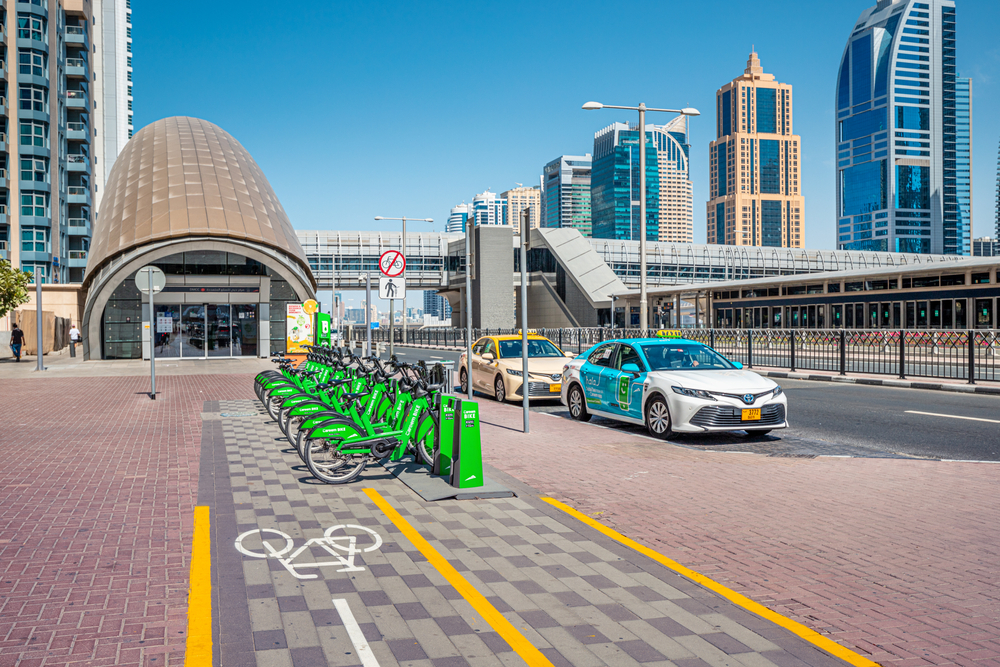 What is the food like in Abu Dhabi vs Dubai?
Both cities have a large multicultural and international population therefore the food is a melting pot of cultures and traditional meals. If you have never tried traditional Arabic cuisine, this may be your chance. While the idea Bedouin food may not be exciting, in reality, the strong influences are from Lebanon, India, Egypt, and Turkey. The vibrant combination of these flavors and spices brings together what is considered Arabic cuisine.
The large variety of restaurants in both cities offers cuisine and flavor choices to satisfy every foodie. There are also plenty of top restaurants that offer bottomless bars and discount foods if you find happy hours and special deals.
Can I go to Abu Dhabi with a Dubai visa?
Once you obtain a visa to enter the UAE, you can visit both Dubai and Abu Dhabi. There are several visa options you can obtain.
– UAE visa on arrival.
o If you are a passport holder of certain selected countries or territories, no advance visa arrangements are required to enter the UAE. See the full list of countries and territories here. When you disembark from your flight you will receive a passport stamp for a 30-day or 90-day visa-free of charge.
– Prearranged UAE Visa
o There is a 48-hour visa type that lasts 48 hours. It costs approximately $10 USD. There is a non-extension on this visa.
o 96-hour visa will last 4 hours from the arrival date and costs roughly $30 USD and is no extendable.
o Tourist Visa that lasts 30 days from arrival and costs $90 USD. There is a possibility to extend this one.
For the visa, you will require several documents including:
1. A Colour photograph of the Visa applicant
2. Colour copy of applicant's passport that is valid for at least three months.
3. The original visa application form is available at all Emirates ticketing offices and can be accessed in Arabic or English. Click here if you need to apply for the English or Arabic application.
4. A Copy of the current Emirates ticket
Things to do in Abu Dhabi
What are the best things to do in Abu Dhabi?
Abu Dhabi is a more traditional destination when compared to Dubai. It is a wealthier and more scenic city and offers a wide variety of beautiful parks and gorgeous beach resorts. Abu Dhabi's has a myriad of cultural and arts attractions. Here are some of our favorite locations to visit to enrich your Abu Dhabi vacation. Here, you will find some of Abu Dhabi's attractions.
Sheikh Zayed Grand Mosque
This mosque is one of the most iconic attractions in Abu Dhabi. It is a star attraction featuring a gold and white marble mosaic courtyard and incredible minarets. The architectural marvel of the stark white domes across the frequently cloudless sky makes for marvelous pictures. At night, the mosque is lit up in bright colors providing an impressive light display.
Abu Dhabi Louvre
The Abu Dhabi Louvre is located on Saadiyat island and features exhibits of artifacts and history between civilizations and cultures. It is considered a must-visit in Abu Dhabi and provides a vastly different experience to the Louvre in Paris.
The Presidential Palace
This palace is a perfect example of the incredible beauty and opulence displayed in Abu Dhabi. It is now a museum that showcases ancient artifacts and the history of the UAE parliament.
Yas Island
If you are more of a thrill-seeker or looking for entertainment then Yas Island is the place to go. It is an entertainment complex of Abu Dhabi that features frequent concerts as well as the famous Abu Dhabi Formula, Ferrari World and Yas Waterworld. If you are a car enthusiast, you cannot miss the chance to see Ferrari World!
Desert Safari Tour
One of the most stunning things about the United Arab Emirates is the surrounding natural environment. You may want to consider a desert safari tour that will bring you to the astonishing Abu Dhabi sand desert. Desert Safaris tours feature dune bashing fun followed by an incredible sunset over the sand dunes. Once the sun sets and the temperature drops, the guides organize a traditional BBQ dinner.
Luxury Desert Experience
If you wish to see the desert but in glamorous style and comfort, then you may consider a famous luxury desert resort. Some of the most popular ones include Anantara Qasr al Sarab and Liwa Nights.
Emirates Park Zoo
Another popular family-friendly activity in Abu Dhabi is the Emirates Park Zoo. This large zoo features incredibly rare animals including white tigers, giraffes, elephants, a Siberian bear, and many more.
What are the best beaches to visit in Abu Dhabi?
Abu Dhabi is a magnificent city that towers high above blue gulf waters. Visiting the pristine beaches therefore seems like an ideal way to spend your holiday in Abu Dhabi. Many luxury hotels have private beaches right on the beachfront. However, if you are not staying beach front, then you can visit one of the following free public beaches.
Corniche
Corniche Beach is an 8-kilometer-long beach that features plenty of fun options. It is a great place to go if you are seeking some adrenaline and water-based activities. Corniche is also located near Emirates Palace and Qasr al Palace. There are yellow boat tours that leave twice a day from the beach. If you prefer cycling around, then this is the perfect location to rent a bike and see the beach from two wheels.
Al Bateen Beach
This beach is a family-friendly beach that is popular with locals and the ex-pats. Al Bateen Beach oversees Hudayriat Island and the bridge to the west of Abu Dhabi. The waters are frequently clear and perfect for swimming and fishing. Kayaking, paddling, volleyball, and picnics are all popular activities on this beach. Al Bateen Beach has also been awarded the prestigious Blue Flag sustainability award by the Emirates Wildlife Authority.
Saadiyat Public Beach
The Saadiyat public beach is located close to Park Hyatt Abu Dhabi. There are over 300 loungers available to choose from. This is a perfect beach to visit if you just want to lounge around and relax all day.
Things to do in Dubai:
Shopping in Dubai
If you want to visit Dubai, you should know it is a city of shopping and nightlife. The renowned luxurious Dubai Mall is extremely impressive and it acts as the center of Dubai's shopping and entertainment. You may have seen the famous enormous aquarium tanks that hold thousands of fish species located in the center of the shopping mall. Or the incredibly impressive Dubai dancing fountains that put on a show every day. There are restaurants and fashion houses to suit every taste and budget.
Explore the Extremes in Dubai
Dubai boasts world records including the gigantic Shopping Malls or the world's tallest building, the Burj Khalifa. If you choose to ascend the incredible architectural feat that is the Burj Khalifa, you will be rewarded with a bird's eye view of the Dubai skyline. Dubai is also the home of the world's deepest pool at Deep Dive Dubai where you can scuba dive or free dive 60 meters to the bottom. If you like views combined with rides, then you may opt for the world's largest observation wheel, Ain Dubai. All in all, Dubai boats a world-class tourism infrastructure.
Immerse yourself in Culture
Gold Souk
While not as traditional as Abu Dhabi, Dubai hosts many traditional and cultural experiences that visitors can participate in to have a taste of the UAE. There is a labyrinth of walkways in these top shopping destinations where tourists frequently spend a whole day in. This traditional market offers hundreds of stores that sell primarily gold along with silver and precious stone Jewellery,
Dubai Creek
The Dubai creek has been described as a natural saltwater creek that is nestled in between the hustle of the city. There you can take a ride in an Ambra, a traditional wooden boat. Upon your ride, you will get to see a glimpse into the old-world Dubai. Before the skyscrapers and man-made islands were what Dubai is famous for, it was a little town in the desert. One of the must-dos in the area is the Al Fahidi Historical Neighbourhood.
Exquisite Dining
Dubai is also a favorite destination to flavor chasers. One of the premier dining destinations is the famous Dubai Marina, or the Dubai Mall. The Dubai Marina Mall is located next to The Walk and Palm Jumeirah Beach residents. There are ample mouth-watering restaurants, luxury, and unique accommodation and incredible shopping facilities.
Dubai Mall
The Dubai mall is known as the Dubai shopping festival. It is a shopping malls that boasts an ice-skating rink, gaming zone, and incredible cinema complex. There are more than 200 luxury shops and brands ready for you to peruse. There is also an aquarium and underwater zoo that both you and your children will enjoy! This is a must do for visiting Dubai. Make sure not to miss the annual Dubai shopping festival.
Sky Dive Dubai
If you are an adrenalin lover and seeking a thrill, then you may want to consider freefalling over the palm at skydive Dubai. Sky diving is a great way to combine a once-in-a-lifetime view and an unforgettable memory on your trip to Dubai. Whether this is your first skydive and you are interested in tandem, or you are looking for intermediate or advanced sky diving courses.
Legoland Dubai
Families with kids, or big kids themselves, may want to consider visiting Legoland Dubai. This theme park is an incredible theme park for children aged 2 to 12 years old. There are two parks within Legoland Dubai including a water park as well as the traditional Legoland Park. There are fascinating experiences, delicious dining, and themed rooms. It is a must when you visit Dubai.
Aqua venture Waterpark
The Aqua venture waterpark is one of the world's largest waterparks. There are a wide variety of slides and attractions within it both suited for little children and thrill-seekers. You will spend your day on record-breaking slides that showcase the greatest advances in waterpark engineering. Make sure to not miss the Raging Rapids or the 1km of private beach.
What are the best beaches in Dubai?
Before you head to a beach in Dubai, it is important to remember there are very strict rules for women and men. Some beaches in Dubai are strictly private and cannot be accessed. There are however several public beaches that you can visit on your trip. The Dubai Miracle Garden is also a fantastic place to see.
Most of the beaches listed above have limited to no facilities. Therefore, it is a good idea to bring your own food and water for your beach visit. Take some time to explore the beaches to find the best one suited for you. Keep in mind that some beaches allow swimming, while others do not. Either way, make sure to bring long and conservative clothes to adhere to the strict dress code rules.
Jumeirah Beach Residence Beach
The beach opposite the Jumeirah Residence is a district filled with restaurants, lounges, hotels, and family entertainment. The whole area is like a sunny beach resort with a touch of Arabian influence. It is easily accessible from all of Dubai and a great place to sample restaurants of supercar-watch.
Mamzer Beach Park
This stretch of coastline features five incredible beaches perfect for sunbathing and swimming. There are also large, manicured lawns and winding footbaths that invite you to stroll or ride your bike. However, as if the natural beauty was not enough, Al Mamzar also has three stunning pools. This is a paid beach, however for a small fee you can enjoy the landscaped playground, manmade lagoon, and sunlounge to relax.
La Mer
La Mer is nestled in between luxury living areas and exclusive retail and shopping malls. There are picturesque murals paired against turquoise waters and white sands. If you enjoy cafes and restaurants, then you will enjoy the selection of over 130 establishments.
Kite Beach
The beach is a popular destination for kite surfers and other beach activities. There are spots for beach volleyball and options to stand up paddleboard or kayak. Next to the beach, there is also a skatepark and outdoor trampoline area. In addition, there are incredible food trucks and cafes perfect for a post swim snack. This sportiest beach is, therefore, a great option for thrill seekers and families alike.
Sunset Beach
Sunset Beach also known as Umm Suqeim beach is one of the favorite places for visitors to relax on the sun, and sand with Burj Al Arab in the background. It is considered one of the quieter beaches along the coast where visitors can watch the sunset across the Persian gulf. It is a beautiful stretch of sand and has gained notoriety due to the 'holding up the Burj Al Arab' photograph.
Dubai VS Abu Dhabi: Quick comparison round
Dubai is a larger city than Abu Dhabi even though Abu Dhabi has a greater land size.
Dubai is famous for international business and tourist destinations, while Abu Dhabi focuses on arts, culture, and politics.
Dubai has abundant options for thrill-seekers and people looking to enjoy their holidays. From nightlife, theme parks, and shopping downtown Dubai certainly wins. However, you will find a better chance of finding affordable hostels and hotels in Abu Dhabi.
Abu Dhabi is the more traditional city of the two. This makes it less chaotic and provides a better glimpse into the Middle Eastern culture and customs. In addition, it is more romantic and naturally picturesque. The beaches and parks are also a particular must see in Abu Dhabi.
Dubai tends to be the more popular amongst the tourists that visit the UAE, but Abu Dhabi is a beautiful gem.
Therefore, you should choose
Abu Dhabi
If you are looking for cheaper accommodation
A slower and traditional pace
Incredible beaches
Traditional Museums
Stunning Grand Mosque
Learn about Emirati Culture.
Dubai
If you have a higher budget
Looking for entertainment and activities
A thriving nightlife
Glamour and luxury
Shopping
Where should you go if you want to visit:
At the end of the day, both cities are amazing and there are so many things to consider when comparing Abu Dhabi vs Dubai.
Museums and Mosques:
Abu Dhabi wins when it comes to travelers wishing to visit museums and mosques. The cultural and traditional connection in Abu Dhabi is strong, making it the perfect place to learn about the UAE. The unmissable locations on your tour should be the Sheikh Zayed Mosque, The Abu Dhabi Louvre, and The Presidential Palace. The Dubai Museum is still a worthy place to visit. For a truly unique place to stay, consider booking the Emirates Palace Hotel.
Nightlight and Dining: 
Dubai has the unparallel big city life and dining options in the UAE. Overall, the nightlife scene in Abu Dhabi is more subdued due to its traditional prioritization.
Desert Safari:
Since both these cities are in the middle of the desert, they both offer incredible desert safaris. Therefore, if it was your dream to ride a camel or dune bash, you can enjoy the magic of the desert at either destination. However, Abu Dhabi does have some incredible desert oasis resorts.

Beaches and Natural Parks:
Abu Dhabi certainly has the most incredible and secluded beaches paired with stunningly landscaped green spaces. Since the Government invested millions into their town planning, this can be seen from the abundant greenery and flora design. Both Dubai and Abu Dhabi have incredible sites to see.
Shopping Destinations:
The best shopping experience is by far Dubai! There are incredible and breath-taking sprawling malls as well as traditional souks. Souks are markets and can be a whole experience of their own. So, whether you want to spend lots of money or simply bask in the brilliance of the riches, then Dubai is your go-to.
For Couples:
Couples can find their desired holiday activity at either UAE destination. However, if you are the type of couple that prefers relaxing in a stunning ambiance then you may prefer Abu Dhabi. The incredible beach resorts provide a romantic atmosphere and ample relaxation time. On the other hand, if you and your significant other are hoping for a party and glamour, then Dubai.
For Families: 
If you are hoping to come to visit the UAE with your family, then Dubai may be the better option for you. Dubai offers world-renowned aquariums, dancing fountains, the tallest building in the world, and amusement parks. Do not forget to visit the entertainment complex on Yas Island and the Yas Marina circuit in this Emirati City.
What are the Dos and Don't for Visitors?
Abu Dhabi and Dubai are located in the United Arab Emirates where the culture and traditions may be vastly different from where you are visiting. Therefore, it is a good idea to keep these dos and don'ts in mind when traveling.
Do:
Do wear conservative and respectful clothing whether you are a man or a woman
Do drink alcohol in moderation and avoid public displays of drunkenness
Do embrace the flavors and local dishes
Do drink plenty of water to avoid dehydration
Do embrace the sand. After all, you are in the desert
Do take the time to learn about the local culture
Do learn prayer times and particular religious occasions
Don't
Do not forget to be prepared for the extreme heat of summer
Do not overlook the landmarks for navigation, many locals still navigate by them rather than by street signs
Do not worry about not being able to speak the language. Both Abu Dhabi and Dubai are international cities.
Whichever city you choose to visit, you will have an unforgettable experience in the jewels of the Middle East. No matter how many days you choose to spend in Dubai or Abu Dhabi, you will certainly find plenty of activities to entertain you. Now that you have all the tips, you can choose Abu Dhabi vs Dubai.