There are so many beautiful places in this world yet so many of us are caught up with the idea of Paris, the Bahamas, and if we're feeling exotic, Thailand. It's time to look beyond the most popular destinations and go to places that are amazing beyond words. Places that the media has portrayed as "underdeveloped," "third-world," "economically developing," or even flat-out "dangerous".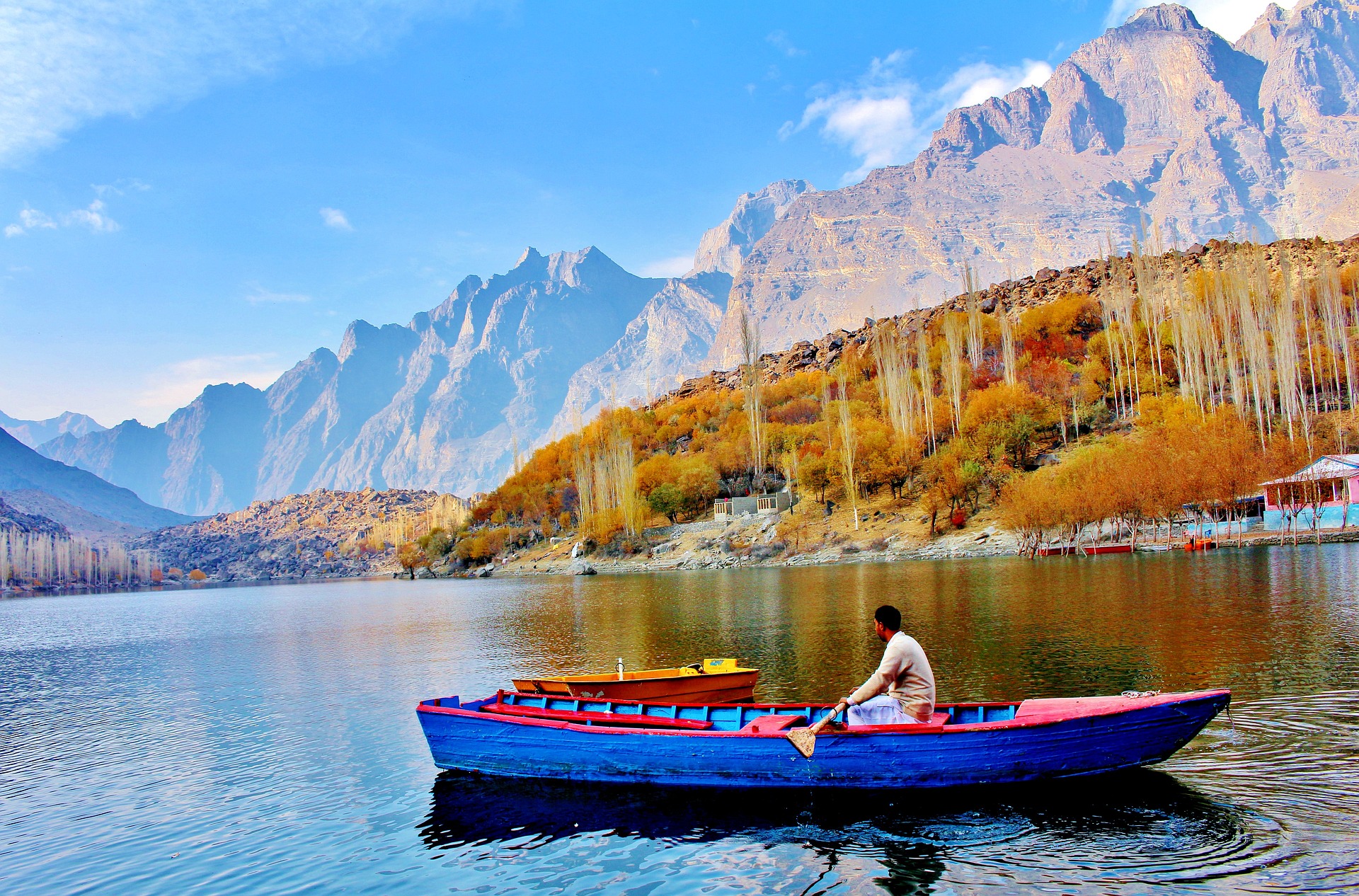 Spend your vacation on the snow-capped mountains of Pakistan, with warm and welcoming Cambodians, or in the skyscraper-filled cities of Saudi Arabia. All the destinations on this list have reputations full of preconceived notions – most of which just aren't true! Read about them, learn about their friendly residents and breathtaking attractions, and put them on your bucket list of places to visit the next time you travel.
Guatemala
Top 3 things you have to do in Guatemala:
Hike a volcano – there are 37 in the country!
Shop at the gigantic outdoor market, Chichicastenango Market.
Eat everyone's favorite street food, Elote Loco – grilled corn on the cob slathered with ketchup, mayonnaise, and cheese. It's surprisingly delicious!
Central America in general is incredibly beautiful but Guatemala is one of those picture-perfect destinations that you could put on a postcard. It has everything you could want in a vacation destination from busy cities to natural beauty – it's an adventure no matter where you explore! Let's not forget the magnificent colonial architecture and the ancient ruins that display just how rich the country's history is.
People often hear about the dangers of Guatemala, but truly, all major cities have some amount of crime or another. There are risks traveling anywhere but the beauty and benefits of Guatemala definitely outweigh that. Be prepared to be surrounded by kind, warm people who are friendly and inviting and more than happy to share their country with you.
Best attractions in Guatemala:
Grutas de Lanquín (Lanquín Caves)
The Lanquín Caves is a beautiful cavern system comprising unique rock formations and deep limestone. There are rugged walkways that allow you to tour a portion of the cave, as well as a few lagoons and an underground river.
Be respectful of the religious shrine that is situated within the caves as it is a sacred site worshiped by the local indigenous people.
The best time to tour the cave is from the late afternoon to sunset; the cave is home to thousands of bats that all leave every night to feed in the nearby forest and during this time you'll be able to see them evacuate together in a throng. It is an interesting sight to see, for sure!
When in Guatemala, plan to spend at least a couple of days in Lake Atitlan. While it's two-hours away from Guatemala City, up in the high country, it's definitely worth the drive.
The lake itself is one of the most beautiful in the world but what really makes it stand out is the charm and wonder of the small towns and villages that surround the lake – many of which are only accessible by boat. Each village is known for something unique such as crafts that are specific to skills they're popular for. Lake Atitlan and the communities sit on a volcanic crater and are surrounded by other volcanoes and hills. There are very few other places in the world that compare to Lake Atitlan.
Be sure to stop by the city of Panajachel, which has a main street lined with stalls selling blankets, jewelry, crafts, and more. From there, you can catch a boat or water taxi to the villages of San Andres Semetabaj, San Pedro, San Lucas Toliman, and more.
This ancient Mayan city complete with pyramid ruins can be found in the dense jungles of northern Guatemala. It is one of the most well-preserved city remains and one of the greatest archeological sites in all of Central America.
You can see the remains of over 3,000 structures such as temples and plaza, take in Mayan culture, and learn about the Tikal people who lived there between 600 BC and AD 900. Keep your eyes peeled for wildlife creatures such as birds and monkeys that now call the ruins home.
One of my favorite things to do when visiting a new location is to spend hours wandering a market and immersing myself with the locals – and there's no better place to do this in Guatemala than Chichicastenango Market.
The town of Chichicastenango is popularly called Chichi and while it's a sleepy location surrounded by mountains and valleys most days of the week, it becomes a loud and crowded market every Thursday and Sunday. You'll find vendors coming from far and wide to sell their goods such as special textiles, farm-grown vegetables, everyday goods, and souvenirs they're famed for.
Pakistan
Top 3 things you have to do in Pakistan:
Visit a fort deep in the desert – the Derawar Fort has sat in the middle of the Cholistan Desert since medieval times.
Explore the second largest salt mine in the world, the Khewra Salt Mine.
Have the most popular breakfast in Pakistan: halwa puri, which is a flaky flatbread served with a semolina-based dessert and a chickpea curry.
The media has construed Pakistan for years, making it seem as if it is only a country torn with violence and home to terrorists. And though it has struggled, a majority of the country is now very safe for both locals and tourists of all genders. It is almost impossible to enter high-risk locations and there are checkpoints that will turn you away from entering any dangerous areas.
Instead, focus on Pakistan's natural beauty, kind people, delicious foods, and amazingly rich culture. You'll be able to spend your days exploring stunning works of architecture, epic towering mountains, and eat foods filled with so much flavor you'll burst.
Best attractions in Pakistan:
Lahore is an entire city, but I've listed it as an attraction because it is worth visiting and exploring when you're in Pakistan. Once the city of Mughals, you'll see so much of their contribution whether it be in the architecture, the culture, and more.
Some attractions inside Lahore you shouldn't miss are the Wazir Khan Mosque and the Lahore Fort, which is a fortified 16th century Mughal citadel.
Also located in Pakistan's capital, Lahore, the Badshahi Mosque is a prominent 17th-century domed structure that remains from the Mughal era. It is considered to be the city's most iconic landmark and is definitely one of the finest examples of Mughal architecture. Everything from the marble domes to the towering red sandstone minarets will take your breath away.
Built around 2500 BCE, Mohenjo-Daro was one of the earliest major cities in the world alongside that of Mesopotamia and ancient Egypt. Settled by the Indus Valley Civilization, this archeological site was abandoned for years before it was rediscovered in the 1920s and later designated a UNESCO World Heritage Site.
If you're looking to get away from the buzz of Lahore and get yourself some peace and quiet, head to Hunza Valley. The massive district comprises quaint villages and valleys that extend as far as the eye can see. Be sure to stop by Attabad Lake, Eagle's Nest, and Passu Cones – the sites are so beautiful they'll take your breath away.
Inspired by the country's past, this mosque has a modern twist inspired by a Bedouin tent. The Shah Faisal Masjid is absolutely stunning and can be found on the foothills of Margalla Hills. You'll spend hours wandering and exploring what is the largest mosque in South Asia and the sixth largest mosque in the world.
Deosai Plains National Park
Only accessible during the summer, Deosai Plains National Park is often called "the roof of the world." The massive alpine plain has an elevation of over 13,000 feet above sea level, making it the second highest plateau in the world.
The views you'll see are something straight out of a movie; in fact, it very much gives Sound of Music vibes. There are glistening blue lakes, mountains with snow-capped peaks, and meadows that are stunningly emerald green.
The park offers tours and excursions, and you can even stay overnight and camp there but do keep an eye out for Himalayan Brown Bears, which are known to make an appearance.
Shalimar Bagh Mughal Garden
Shalimar Bagh is a 17th century Mughal-era garden that can be found on the shorelines of Dal Lake and nearby another Mughal garden, Nishat Bagh. The garden is a prime example of Mughal horticulture, and its layout is truly a work of art. Mughal Emperor Jahangir originally built it for his wife Nur Jahan, but the 31-acre garden is now a public park.
Don't think that Pakistan is lacking in adventure! You can go on an amazing trek to the Rakaposhi Base Camp within one day and believe me – the trek is worth it! You'll see some stunning views of Rakaposhi and its 7,800-meter peak. Don't worry if you're not an avid trekking enthusiast because this journey is doable even for beginners.
South Africa
Top 3 things you have to do in South Africa:
You can't go to South Africa without going on a safari. Popular choices include Kruger National Park, Addo Elephant National Park, and Pilanesberg National Park & Game Reserve.
See thousands of African penguins at Table Mountain National Park.
Go scuba diving amongst shipwrecks in Port Elizabeth.
When most people think of South Africa, they think of civil war, terrorism, robbery, rape, and just an overall elevated level of crime. And of course, few people consider adding it to their travel bucket list or even consider a vacation there. It's overlooked, sadly, because in reality, South Africa is such a stunning location that is absolutely worth visiting.
The country has beautiful coastlines and beaches, extraordinary wildlife and nature reserves, and a rich history. It's perfect for any type of traveler because adventurous people can go paragliding, shark cage diving, or on safaris through large game reserves. Those who want excitement but a little more toned down can go on a luxurious train ride or try different cuisine such as ostrich meat. It's a really great destination for anyone and should definitely be considered when planning your next vacation.
Best attractions in South Africa:
Cape Town is one of three capital cities in South Africa and is renowned for its diversity. You'll come across so many diverse cultures and religions that coexist peacefully in one place. There's an opportunity to spend time on the beaches, eat and shop at the waterfront, and visit and explore so many different places.
In addition to boutique shopping and fine dining, you can indulge in adventurous activities such as water sports, nature trails, paragliding, abseiling, and so much more. It comes as a shock to many, but Cape Town even has some unbelievable wine estates.
One of the most exciting safari destinations in South Africa, Kruger National Park is rich in history. The legendary park is full of endless landscapes you can explore for hours and is home to an array of spectacular African wildlife such as buffalos, leopards, lions, elephants, and rhinos. There are group safaris and private safaris; whichever you choose, go with a tour option because they're experts at navigating the park and will take you on an unforgettable journey.
Robben Island is an island in Table Bay that was a fortified prison from the late 17th century up till 1996. In fact, it was where lawyer and political activist, the late Nelson Mandela, was imprisoned for 18 years. Surprisingly, he wasn't the only Robben Island prisoner to become the President of South Africa; Kgalema Motlanthe and Jacob Zuma were both prisoners that were elected to the presidency in later years.
The South African National Heritage Site and UNESCO World Heritage Site is steeped in history and tours will take you through the buildings, lime quarry, and even a viewing of Nelson Mandela's cell.
The V&A Waterfront (Victoria & Alfred) in Cape Town is 300 acres of residential and commercial real estate situated on one of the oldest working harbors in the country. More than 23 million visitors head there each year to shop in one of the 450+ retail outlets that sells everything from clothes and jewelry to homeware and leather goods. The best part is that the harbor is still active so you can go out and see fresh fish being brought in by the fishing boats.
Kirstenbosch National Botanical Garden
The Kirstenbosch National Botanical Garden can be found on the slopes of Table Mountain and is truly one of the greatest botanic gardens in the world. It was founded in 1913 with the main goal of preserving flora that is native to this particular South African territory. Over the years, there's been so many additions and cultivations of indigenous plants. Keep an eye out on the marvelous collection of proteas and then head to the conservatory to see plants from different regions.
Get up close and personal with African Penguins at Boulders Beach! Home to thousands of penguins, you can get awfully close to them, watch them waddle, and just take in their adorable nature. It's one of the only places in the world where you can get this close to so many of them.
Make a day of it by exploring the surrounding rock pools, climbing boulders, having a picnic, and swimming in the refreshing, clear waters of the beach. If you're unsure of where to start, head on over to the Boulders Visitors Centre which is full of useful information and expert guides.
Saudi Arabia
Top 3 things you have to do in Saudi Arabia:
Explore a 2,000-year-old ghost town (Al 'Ula) in the middle of the Saudi Arabian desert.
Visit a tomb carved into a giant boulder at Mada'in Salih.
Stand inside the Tuwaiq Palace Heart Tent and be mesmerized by the colorful structure.
When people hear 'Saudi Arabia,' they think of oppression and violence which is terribly sad because Saudi Arabia is one of the most fascinating countries in the world. While there are limitations to where tourists can travel as well as a respectful dress code at some attractions (mosques), it's still worth visiting. Contrary to widespread belief, women do not have to wear a hijab or a niqab, though they are required to be modest and respectful in their dressing style.
It's an amazing place to explore, especially for history buffs! Imagine witnessing an 85,000-year-old human footprint or the remains of a 9,000-year-old city. It's amazing to even consider, let alone witness in person. Nature lovers will be amazed at the variety of landscapes Saudi is home to since all the media portrays are vast deserts – and though those are abundant, the country also has sharply contrasted green plateaus and snow-capped mountains.
Best attractions in Saudi Arabia:
Surprisingly, Saudi Arabia is home to an endless number of beaches – many of them on the Red Sea. While it hasn't taken off as a beach destination (yet!) the Red Sea is popular with scuba divers and is a serious competitor when it comes to scuba diving based tourism.
The scuba diving experience is unlike any other with great visibility and warm temperatures. You'll be able to see an array of colorful reef fish, turtles, sting rays, and even sharks. There are also quite a few shipwreck diving sites, some of which are ancient. If you go sailing on the Red Sea, keep your eyes peeled for dolphins as it's highly likely you'll see them there!
A UNESCO World Heritage Site, Al 'Ula is one of the oldest cities in the Arabian Peninsula. Now, a ghost town, the land was once significant to the world for the role it played along The Silk Road. Now, the city often hosts events, concerts, and festivals such as the annual Al 'Ula Citrus Festival. If you get the opportunity, go on a helicopter tour to see a bird's eye view of iconic landmarks such as Hegra and Elephant Rock.
A fascination for both history buffs and theologians, Mount Horeb is said to be the site at which Moses received the ten commandments. Mount Horeb is one of two names mentioned in the book of Deuteronomy in the Hebrew Bible. It is also called the Mountain of Yhvh as it is described in Exodus.
You must be wondering why you should travel across the globe just to go to the mall but let me tell you from first-hand experience that malls in the Middle East are nothing like the ones you're used to going to with your friends after school. The Red Sea Mall spans nearly 250,000 square meters and has an attached hotel, movie theater, gaming area, and supermarket. You'll find everything from high-end luxury boutiques to small mom-and-pop run retail stores within the mall.
Cambodia
Top 3 things you have to do in Cambodia:
Explore one of the largest temple complexes in the world, Angkor Wat, especially during sunrise/ sunset.
See the plankton's glow like magical creatures at night in Koh Rong.
Try local Cambodian food twa ko, or Cambodia sausage.
When I first suggested a trip to Cambodia with my friends, they all looked at me as if I had lost my mind. Kidnappings, robberies, extortion, drugging – these are just a few of the crimes they mentioned hearing about Cambodia in the media. I admit, it was enough to put a few people off the destination completely, but I managed to explain how Cambodia was so much more than how they're represented.
There is finally a surge of tourism in Cambodia and it's not surprising. For such a friendly and welcoming country, it was bound to happen. They have an amazing natural layout that ranges from relaxing, warm islands to lush national parks. And the rich history and culture you'll come across in Cambodia is unlike anything else; for example, the country houses the largest religious monument in the world and was home to the Khmer Empire. The statues, carvings, and overall Khmer architecture you'll come across is amazing.
Best attractions in Cambodia:
The largest temple complex in the world, Angkor Wat sits on over 162 hectares – that's three times larger than Vatican City! The temple, which was originally dedicated to the Hindu God, Vishnu, was converted to a Buddhist temple over the years. In fact, it is now one of the most important pilgrimage sites for Buddhists all over the world.
The entire complex is a wonderful example of Khmer architecture. Keep an eye out for distinctive features such as the Ta Reach statue, the elephant gate entrances, and the intricate decorations on the wall and ceilings. Hire a guide so that you make the most of your visit and learn so much about the complex and its history.
Toul Sleng Genocide Museum
The Toul Sleng Genocide Museum is an establishment that chronicles genocide in Cambodia. Once a high school, the Khmer Rouge transformed it into a prison after they won the Cambodian Civil War. Between 1974 and 1979, the Khmer Rouge imprisoned, tortured, and killed over 17,000 people here.
Now a museum, visitors are able to witness the crimes committed there. And though it can be a sad experience, it's also educational and thought provoking. Honor the memory of the victims of genocide and pay your respects at the Tuol Sleng Genocide Museum.
When Central Market first opened in 1937, it was considered to be the biggest market in all of Asia. It's definitely one of the longest running ones as it still operates today. You can find it in the capital of Cambodia, Phnom Penh; you'll notice it right away with its high central dome and tall arched roofed arms. You can spend hours walking amidst vendors selling a variety of goods from souvenirs and clothes to jewelry and electronic goods.
It's not all museums and temples in Cambodia! If you're looking for a party vibe complete with pubs, bars, clubs, and late-night food vendors, head straight on over to Street 08. The street is lined with establishments and the atmosphere is so lively all through the night. Get reasonably priced drinks at the Angkor What? Bar, get some late-night pizza at Cafe Latino, or dance it out at Temple Club.
El Salvador
Top 3 things you have to do in El Salvador:
Hike to the top of the Santa Ana Volcano where there's a beautiful crater lake right in the middle.
Surf at El Tunco – in fact, El Salvador has some stunning surfing spots.
Swim under one of the many waterfalls in the country.
For years El Salvador has been reputed for high crime rates, scaring away tourists who believe that every experience there is a bad one. And while San Salvador has regularly been one of the top 10 most dangerous cities in the world in the past, it completely dropped out of the top 50 list in 2020.
There are lots of cities, even within the US, which are considered dangerous and where people are advised to travel with caution. Similarly, take some precautions but do not stay away from El Salvador.
Best attractions in El Salvador:
Cerro Verde National Park
This large and beautiful national park is home to an array of flora and fauna that you can spend hours exploring. There are even three volcanoes within the park: Santa Ana, Cerro Verde, and Izalco. They provide excellent opportunities for hiking up a volcano to its crater – Santa Ana has a lake right in the middle!
Joya de Ceren Archeological Site
This stunning archeological site displays the remains of a pre-Columbian Maya farming village. The Classic period settlement is expertly preserved as it was covered by a layer of ash from Loma Caldera erupting around AD 600. Today, visitors will be able to explore the archeological site, study ancient Maya agricultural communities, and learn more about their way of life.
One of the last churches to be built in downtown San Salvador, El Rosario Church is a beautiful religious heritage site that you must visit while there. It was built in 1971 and has a modern architectural style that is influenced by Europe and the Americas. The cross made of black wrought iron and the stained-glass windows are the most impressive features!
Cascada Los Tercios-Suchitoto El Salvador
There are several waterfalls in El Salvador that are absolutely stunning. Some of them involve a hike while others can be found just off the main roads. Even better, visitors are urged to take a refreshing dip in them! There's a free daily guided excursion offered by the local tourist office if you'd be more comfortable making the hike with an expert.
United Arab Emirates
Top 3 things you have to do in the United Arab Emirates:
Go to the highest observation deck in the world at Dubai's Burj Khalifa.
Spend time at the Louvre Abu Dhabi.
Spend a day at one of the many amazing theme parks.
It's not until very recently that the United Arab Emirates, Dubai in particular, had a much-needed tourism boom. What was just a large expanse of desert has transformed into skyscrapers, mega malls, luxury hotels, theme parks, and more. While there are some cultural norms, the rules are very relaxed in most places – especially in tourist-heavy places. Learn about their traditions, customs, and what makes them a friendly and welcoming people by spending your next vacation in the United Arab Emirates.
Best attractions in the United Arab Emirates:
The tallest building in the world, the Burj Khalifa stands at over half a mile high. Located in Downtown Dubai, the building is filled with residencies, businesses, and more. It's the observation deck that attracts the most visitors – even that holds its own record of being the highest outdoor observation deck in the world. You can stand there and watch the Dubai Fountain display – another record holder as the world's largest choreographed fountain.
Whether you want to go old-school cultural at the souks (Arab-style marketplace or bazaar) or go modern with high-end luxury stores at the mega malls, you definitely have shopping options in the UAE. Some great options are The Dubai Mall, Marina Mall, Abu Dhabi Mall, and the Mall of the Emirates.
You might be surprised to know that the UAE is home to several theme parks that you'll enjoy no matter what you're interested in. A couple favorites include:
●       Legoland Dubai

●       Legoland Waterpark

●       IMG Worlds of Adventure

●       Ferrari World Abu Dhabi

●       Dubai's Wild Wadi Waterpark

●       Wadi Adventure

●       Bollywood Parks

●       MOTIONGATE Dubai

●       Warner Bros World Abu Dhabi

●       Global Village
–
Any country has its negatives and positives. Instead of being brainwashed by the media's portrayal of a location, do your own research, read about other people's experiences, and decide that's best for you! If you've been to a destination many do not go to, share your stories with us in the comments below!
Short Infographic on "Dangerous" Destinations Distorted by the Media: