I've been traveling for as far back as I can remember. I was seven months old when I first got on a plane. In fact, my mom used to brag about how much of a calm baby I was even when traveling for 30 hours on flights to the other side of the world. But not every experience of flying with a baby or a toddler is a calm and peaceful one and that's okay.
The article is written by and through the eyes of the expecting mother:
As an expecting mother who gets on a plane at least once a month, I'm pretty fnervous about how life will change once my baby arrives. How soon will my baby be able to travel with me? Is it safe for the baby? Will it disrupt his or her natural schedule long-term? This guide on flying with babies and/ or toddlers is written based on the research of a concerned mother, and I hope you find this information as useful as it was to me.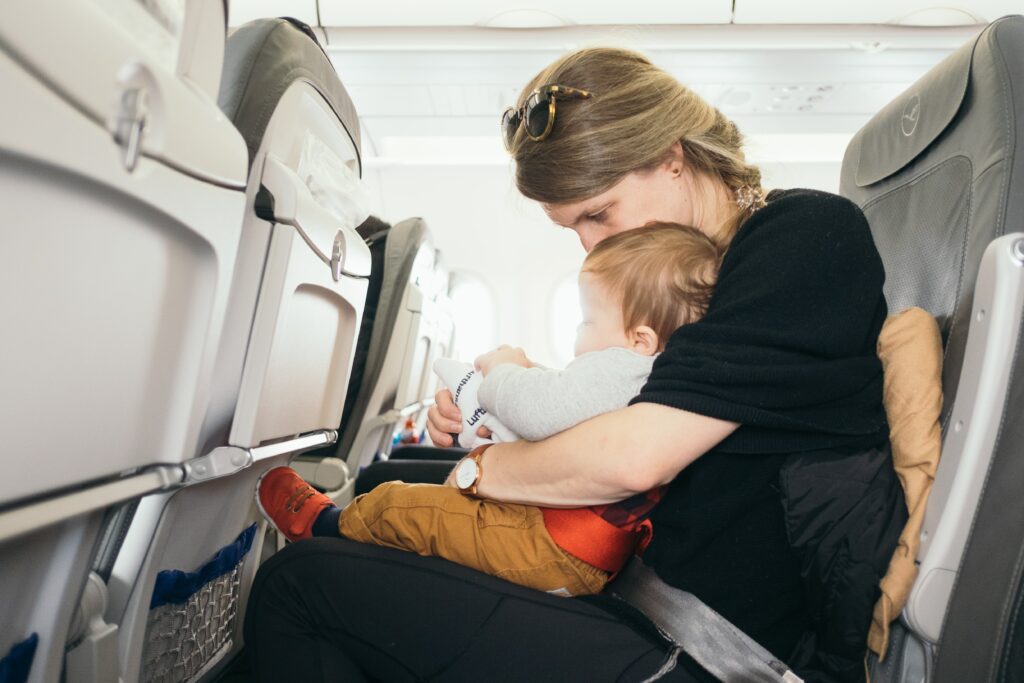 The very thought of flying with a newborn can be overwhelming. You'll be stuck in a pretty confined space for an amount of time that you can't control. Then there's cabin pressure, feeding, and the crying bothering other passengers to consider – just writing about it makes me think that traveling with a newborn is impossible. Be comforted that hundred and thousands of other parents out there are saying that it is very possible and that you are not alone in your worries.
So, let's start with the most asked questions – is it safe for babies to travel on planes before the age of one? How soon can you travel with a baby? At what age is best to travel with a baby?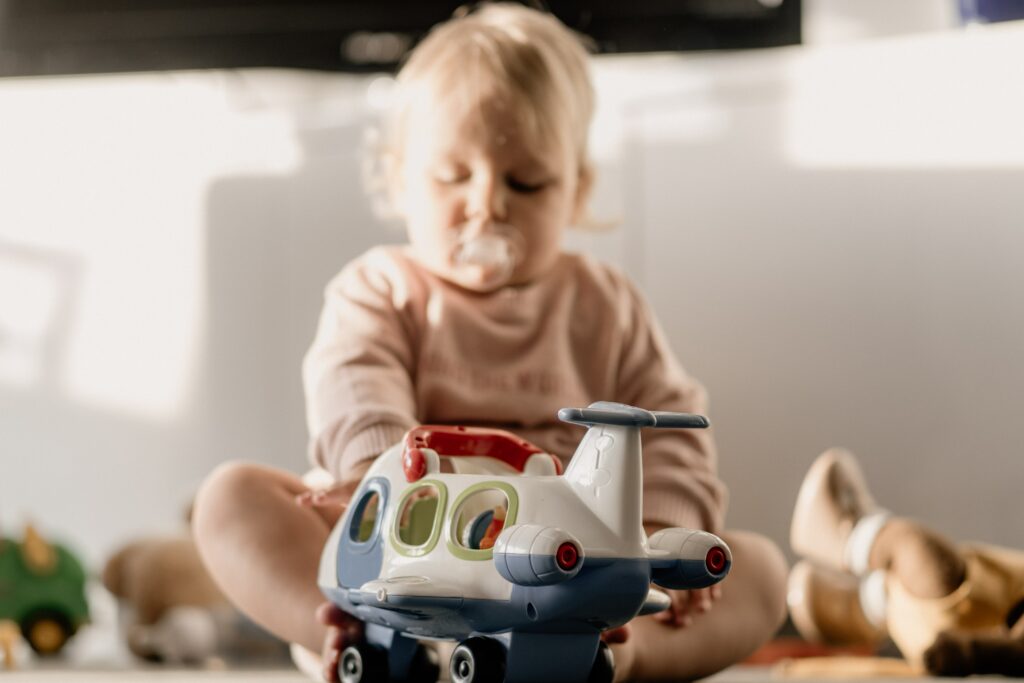 From a medical standpoint, if your baby is healthy, doesn't show any signs of illness such as jaundice, and is feeding well, then there should be no reason your baby can't fly on a plane when they are as young as two weeks old. That being said, most doctors suggest that you wait until your baby's immune system is better developed – this could be anywhere from one month onward though most pediatricians suggest waiting till they are between three and six months.
Even the Health Information for International Travel 1999-2000 published by the CDC states that "newborns under 6 weeks old should not fly because their alveoli are not completely functional.» The alveoli are one of many tiny air sacs that is part of the lungs.
While the general consensus is that over six weeks old is a good age, there is no major data to support or refute which age is best to start flying nor does it show that it would be unsafe for the baby. Instead, consider other aspects such as 'is traveling with a newborn necessary?' and if it is, consider how you can make your journey as comfortable as possible for you and your baby.
Is it difficult to travel with kids?
Well, it's not easy so let's start there. Even if you have a very calm baby that sleeps throughout the flight, the actual act of flying will be much more difficult than when you remember running to the gate at the very last moment with a barely-packed carry-on.
You'll probably have to check-in luggage.
As I said, a carry-on alone will not be enough when traveling with a baby. With clothes, bottles, backup medicines, and other things you'll need to pack which are listed further down in this article, be prepared to get to the airport a bit earlier than usual to check in your luggage.
There's a chance you'll have to gate-check your car seat or stroller.
One, it depends on the airlines. Some airlines are very lenient and don't bother too much about the size and weight of your carry-on items as long as they fit into the overhead cabin. Two, it might just be that the flight you're on is packed and if you haven't specifically bought a seat for your baby, there might not be a place for you to keep your car seat. Be prepared to carry your newborn in your hands for the duration of your flight.
When traveling on a long-distance, international flight, airlines are very thoughtful when assigning seating for families traveling with babies. They often seat them in the front of a section where there is more legroom and a place to put a bassinet (which is provided for use by the airline sometimes).
Babies may be frightened at the new sights, sounds, and sensations.
And one of the major things that make it difficult to travel with a newborn is the baby themselves. Similar to adults, finding yourself in a new, confined space surrounded by lots of unknown people and unfamiliar sounds can make your baby anxious. And if their ears are discomforted by the cabin pressure, you'll find yourself with a crying baby.
So, how can you prepare for your flight and comfort your child while flying?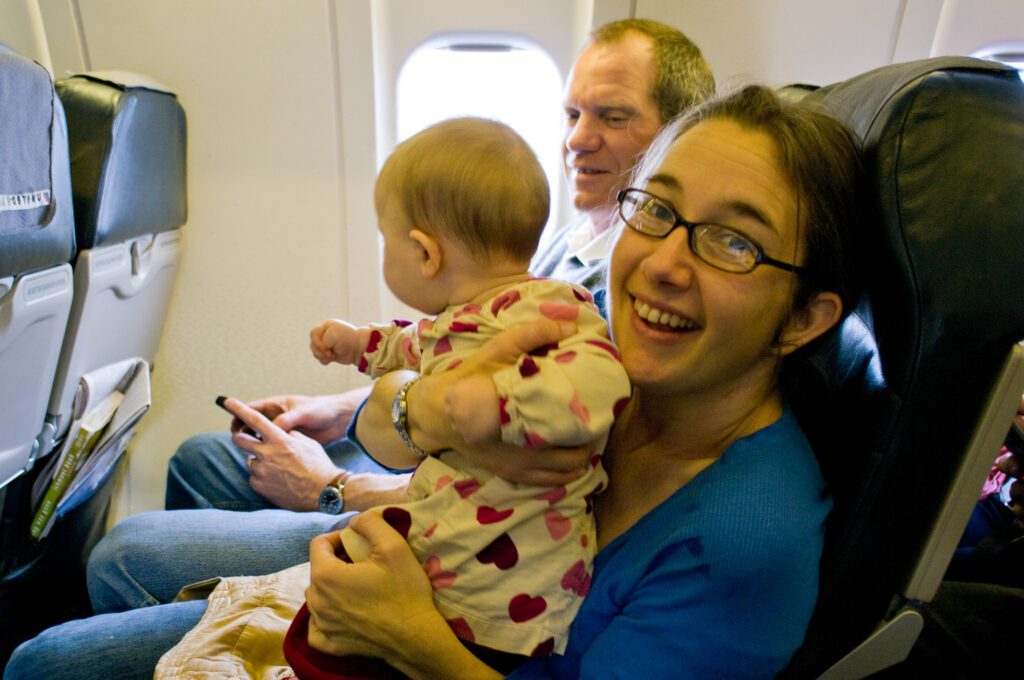 Try to book short flights with sufficient transit time to rest in between. You might not always have a choice depending on where you're going but if you do, take advantage of it.
Pack extra pacifiers, bottles, and comfort toys that your baby uses on a regular basis. The worst thing that could happen is to lose the one pacifier you brought with you on board.
Take a foldable stroller on long journeys so that you can push your baby through the airport while waiting for your flight. Your arms will thank you.
Place your hands on their stomachs during take-off and landing to minimize the feeling of floating or falling that they may feel.
Keep your seatbelt on when instructed but try to ensure that your child sees your face while take-off or landing so they know that they are surrounded by familiar faces.
And lastly, don't be scared to ask for help. You'll be surprised at how quickly flight attendants and fellow passengers will be willing to lend a helping hand during your journey.
Can a baby or toddler sit on my lap while flying on an airplane?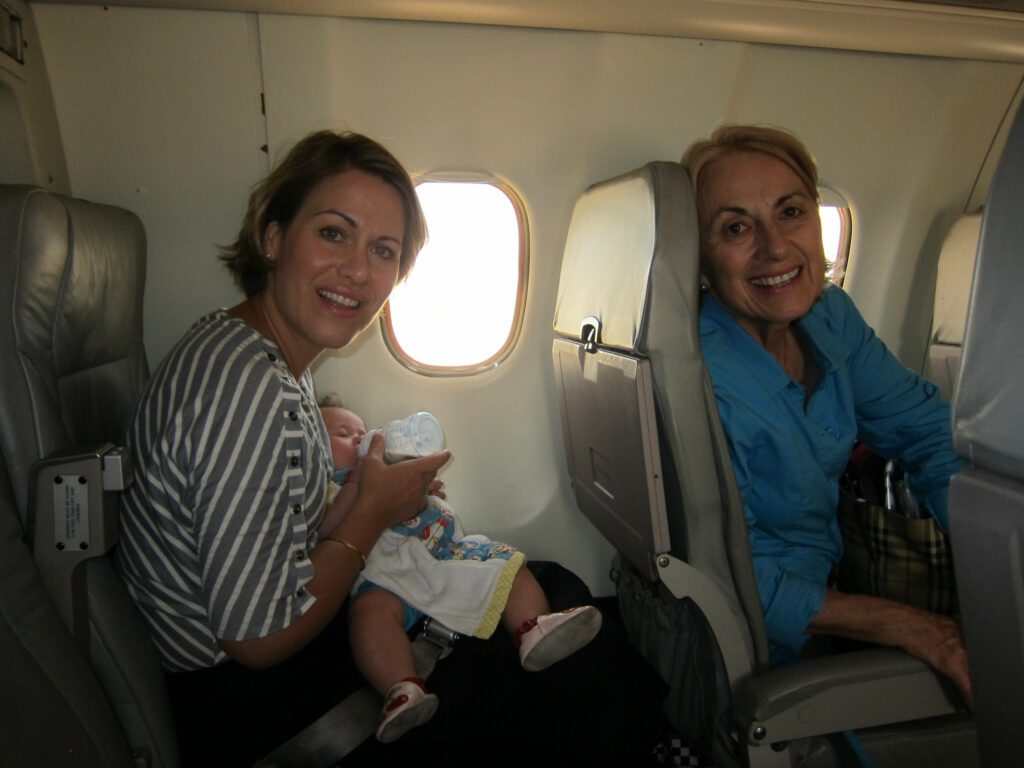 To ensure that your child has a separate, reserved seat, you'll have to purchase a separate ticket for them. Certain airlines allow children under the age of two to travel on an airplane while seated on the lap of an adult, also called infant-in-arms. Some airlines do not allow children to travel on the lap of an adult no matter their age.
Several studies have shown that having a child seated on your lap during a flight is not safe. While you believe you may be able to hold your child securely, this may not always be the case – especially during unexpected turbulence.
What should you pack when traveling with a baby/ toddler?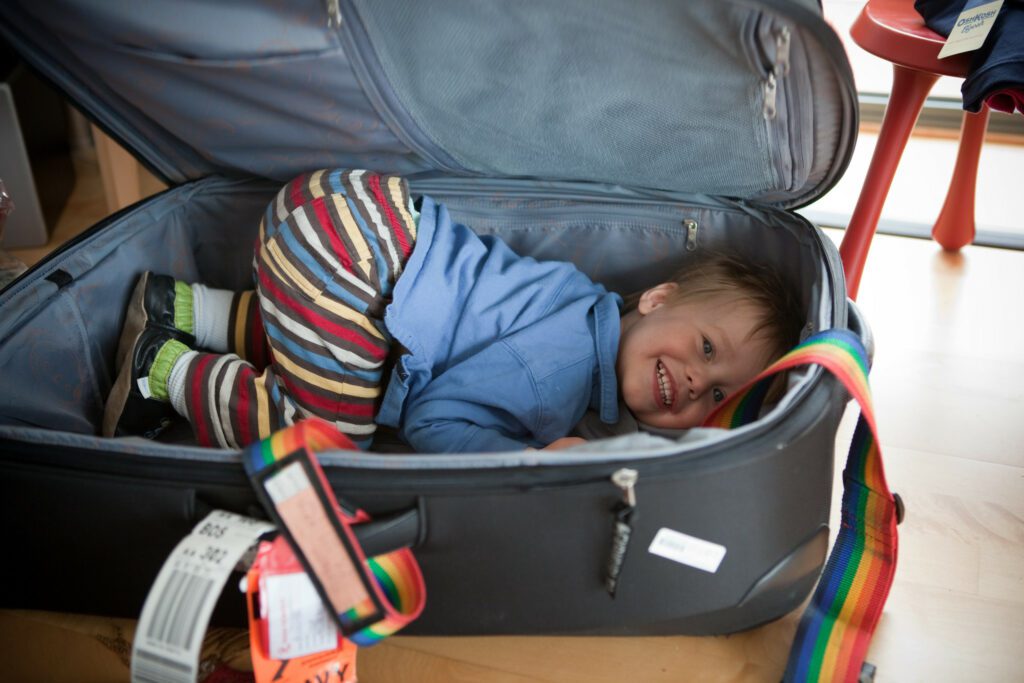 Traveling with a toddler could overwhelm you before you even get to the airport. I mean, packing for an adult female is usually leggings and a bunch of tops I can mix and match thrown into a carry-on an hour before I leave for the airport. But with babies, I have to plan and make sure I don't forget anything. On top of that, I have to pack extras – especially if traveling to a foreign country that might not have things my child is used to like a particular brand of lotion. Here is a list of things you should pack when traveling with a toddler.
●        Baby's Passport/ Birth Certificate

●        Diapers and Wipes/ Swim Diapers

●        First Aid Kit

●        Medicines/ Prescriptions

●        Travel Crib

●        Baby Monitor

●        Travel Car Seat/ Baby Carrier

●        Stroller (Airline Approved)

●        Diaper Bag/ Pouch

●        Favorite Toys

●        Favorite Blankie

●        Mosquito Net

●        Nail Clippers/ Comb/ Brush

●        Portable Bathtub

●        Wash Cloth/ Bath Towel

●        Bath Items – Shampoo/ Soap/ Lotion

●        Bedding and Blankets

●        Portable Changing Mat

●        Muslin Cloths/ Swaddles/ Baby Sling

●        Pacifiers & Pacifier Wipes

●        Bibs

●        Clothes & Extra Clothes (for when those get dirty)

●        Shoes

●        Packing Cubes

●        Milk Bottles

●        Small Cooler Box for Milk Bottles

●        Baby Cups, Plates, and Cutlery

●        Baby Snacks

●        Ziploc Bags for Snacks

●        Sound Machine

●        Laundry Detergent
Will travel disrupt the baby's natural schedule?
Obviously so, especially if you're traveling across time zones and feel a little out of sorts yourself. Try to stick to the baby's feeding and sleep schedule as closely as possible. It'll be hard to stick to a routine while traveling, especially while on a plane, but doing so will keep your child close to the schedule that they're used to.
How often should you stop when traveling with a baby?
When flying with a baby, you can't control when and how often you stop and take a break. Flight schedules, cancellations, layovers, delays – there are so many outside aspects that influence how long you'll be in the air at a stretch.
If your flight is only a few hours, consider yourself lucky. But if it's longer, it's suggested that you let your child out of the car seat every two to three hours. Try to stretch out your baby's hands and legs and give them little massages; you can also use this opportunity to change their diaper. If your toddlers are already walking, let them run up and down the aisles a bit while being respectful of the other passengers. Some of the flights I plan to take have twelve-hour-long stretches in the air and I'm sure travelers of every age would appreciate little walks up and down the narrow aisles.
What documents do I need to travel with my baby? Can a baby travel in the U.S. without a passport?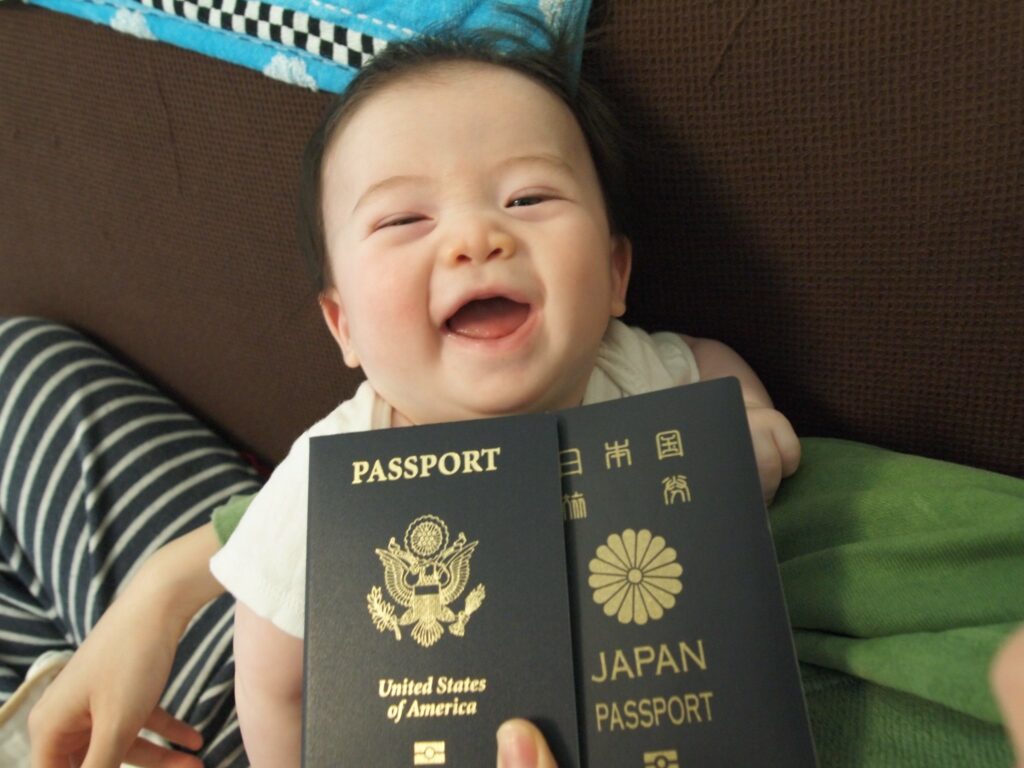 While some countries allow babies to travel under the mother's passport, the US does not allow it. Even newborns need their very own passports to travel out of the country. They can fly domestically within the United States only with their birth certificate. In addition to the passport or birth certificate, you'll also need all your baby's medical records and immunization forms.
If your child is on any special medications, be sure to take extra prescriptions in addition to the medication you're taking. You can then fill it at local pharmacies in case you run out or lose your luggage without having to try contacting your doctor's office.
Also, be sure to make copies of all of the important documents and keep them in a place different from the original so that you always have a backup. I like to email myself scanned copies so that I can access it even if I lose all of my luggage. It doesn't hurt to keep an extra electronic copy on your smartphone as well.
How can I get a US passport for my newborn?
Do not get overwhelmed by the paperwork and process of applying for a passport, whether it be for an adult or a newborn baby. If you're traveling to a foreign country, your child needs a passport no matter their age. Here are things that you need to know about applying for a US passport for your newborn.
The baby's first passport application needs to be completed in person. It cannot be filled out online as with adults.
Both parents or legal guardians need to be present when filling out the application/ during the interview process; both parents/ guardians must also sign. Both parents will also need to show a photo ID such as a driver's license, passport, certificate of naturalization, government employee ID, US Permanent Resident Card (Greencard), etc. The original and a photocopy is necessary.
If you have sole legal custody, you'll need to prove that with a birth certificate listing the sole parent, a court order, or a certificate of death (if applicable). You can check for additional ways if a parent is unable to appear or you cannot locate the other parent.
Children under the age of sixteen only get passports valid for five years, rather than the usual ten years. This is because they're growing and their picture on the passport needs to resemble as close to how they look as possible.
You need to fill out the DS-11 form, which is used for first-time applicants and children.
You have to prove your child's US citizenship by providing either an original or certified copy of the following:

Previous Passport (if applicable)
US Birth Certificate
Consular Report of Birth Abroad (for US citizen who gave birth abroad)
You only need one of these documents and note that photocopies and notarized copies will not be accepted.
Show parental relationship usually in the form of a birth certificate that lists the parents, consular report of birth abroad, foreign birth certificate (if applicable), adoption decree, and divorce or custody decree.
You need a passport-sized (2X2) photo of your newborn. This needs to be a color photo taken within the last six months. It needs to be printed on matte or glossy photo paper and cannot be digitally altered in any way. The background needs to be plain white, and the child must be alone, facing forward.
Be prepared to pay the passport book and acceptance fee, which is around $115 upward. Payments can only be made through checks (personal, certified, cashier's, traveler's) and money orders (payable to U.S. Department of State). Note that credit card and debit card payments are not accepted.
Once you've submitted your application and payment, you can track your application status on their Online Passport Status System.
It could take six to eight weeks to process a passport for a newborn in the United States, so plan your travels accordingly.
What are some highly-rated baby travel items I should purchase?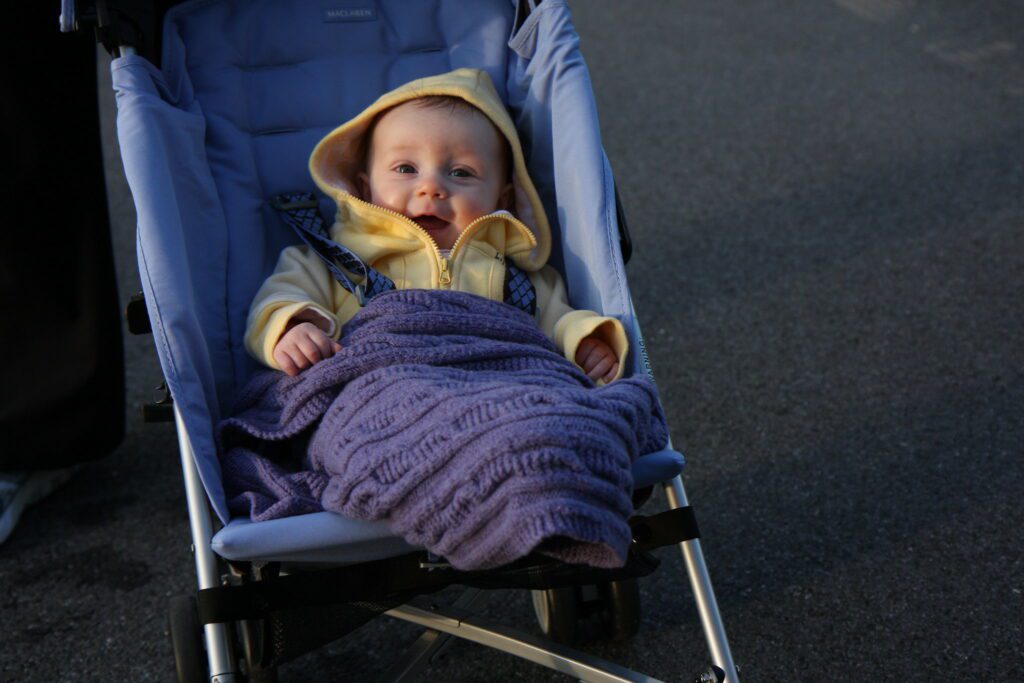 I am already on the lookout for any and everything that will make travel easier, and these are a few of the products that other traveling parents swear by! Some essential baby travel items you should consider purchasing include:
Be sure to get a lightweight travel stroller because most airlines will make you check any stroller that weighs over twenty pounds. And while you'll still be able to use it at your destination, you'll find yourself dragging your kid, carry-on, and anything else you have through the airport.
Our Amazon Suggestion: The Summer Infant Stroller weighs only 11 pounds, has plenty of storage, and has a 4.5 out of 5-star rating from over 6,700 reviews. Price: $49.99.
A travel crib is one of the most important baby-related travel purchases I'll be making. Just do a quick search online and you'll see so many complaints about the cribs provided by hotels. Most of them are old and unsafe, and that's not even considering the hygiene issue of if it's cleaned thoroughly between uses. Some parents do decide to let their kid(s) co-sleep with them in the bed but if that doesn't sound ideal to you, check out our Amazon suggestion.
Our Amazon Suggestion: The Baby Bjorn Travel Crib only weighs around 12 pounds and can be put together in 10 seconds guaranteed. It even has a really comfortable mattress that your baby will find extremely comfortable. Price: $299.99.
You may be able to throw all your clothes into a carry-on and travel for a month with no issues, but you can't do the same thing with a kid. Imagine being on the road in a foreign country and needing a change of clothes because your kid vomited – hey, it happens to all of them! You don't want to pull out everything looking for a new onesie. You'll be glad you purchased packing cubes (which are great for kids and adults, btw!).
Our Amazon Suggestion: These Veken Packing Cubes have a 4.8 out of 5-star rating from over 12,000 reviewers. The six-set pack comes in assorted sizes, reduces wrinkles, and is waterproof. Believe me, you'll never pack for your toddler without these cubes again. Price: $22.99.
A good diaper bag is a lifesaver and is something you should have on a regular basis, whether you're a frequent flier or not. I prefer backpacks, especially while traveling, because it lets you be hands-free. Just fill it up with all the necessities, throw it on your back, and forget about it.
Our Amazon Suggestions: This diaper bag backpack by RUVALINO has 4.8 out of 5 stars from over 21,000 ratings. The diaper backpack has two zip closure compartments and sixteen pockets, including an insulated bottle pocket to keep the baby's next bottle warm. It also comes with a diaper changing pad (perfect for on-the-go) and is both lightweight and waterproof. Price: $39.99.
In case you purchase a different diaper bag/ backpack than the one we suggested, and it did not come with a diaper changing pad, then be sure to purchase one separately. You're going to thank me when you find yourself at a busy airport terminal questioning the cleanliness of the diaper changing table in the public restroom.
Our Amazon Suggestion: The Portable Diaper Changing Pad by Alatino has a foldable, high-quality padded surface that is easy to clean while still being comfortable for your baby. There's a built-in foam pillow to cushion the baby's head as well as zipped pockets that will hold diapers, wipes, and other necessities. Reviews state that it's super easy to open and unfold with one hand while you hold your baby with the other – a welcome convenience while on the go! Price: $20.99.
If your kid is already eating solids, then invest in an insulated food jar. One, it helps with fussy eaters and lets you pack things you know your baby likes. Two, it'll keep your food warm or cold for hours. These jars are super handy, easy to clean, and you're going to be glad you have them filled with foods they love when they're fussy mid-flight.
Our Amazon Suggestion: This 64 oz. insulated food jar by Tajavl has three bowls which you can stack on top of each other in the stainless steel container. The containers are made from safe, BPA-free plastic and can retain heat or cold for up to six hours. Vacuum and tightly sealed, you don't have to worry about any spills or leaks. Price: $46.99.
Individually-Packed Sanitizing Wipes
Sanitizing wipes should be a staple in your diaper bag on a regular basis, but individually-wrapped sanitizing wipes are extremely useful when flying with a baby. Babies and toddlers are curious and touch everything, and now with the pandemic, this simple act can be much scarier. Quickly unwrap a sanitizing wipe, wipe down airline trays, changing tables, and anything else your baby may come in contact with while traveling.
Our Amazon Suggestion: You can pick up individually-wrapped sanitizing wipes from your local grocery store or pharmacy. This two-pack of Purell wipes has 200 sheets and is only $18.98.
Please note that we are not in any way affiliated with Amazon or the companies mentioned within the above-listed products. These items were chosen based purely on research, reviews, and ratings. The prices listed are in US Dollars and are accurate at the time of writing this article but may vary over time.
What aspects should you consider when choosing a destination to visit?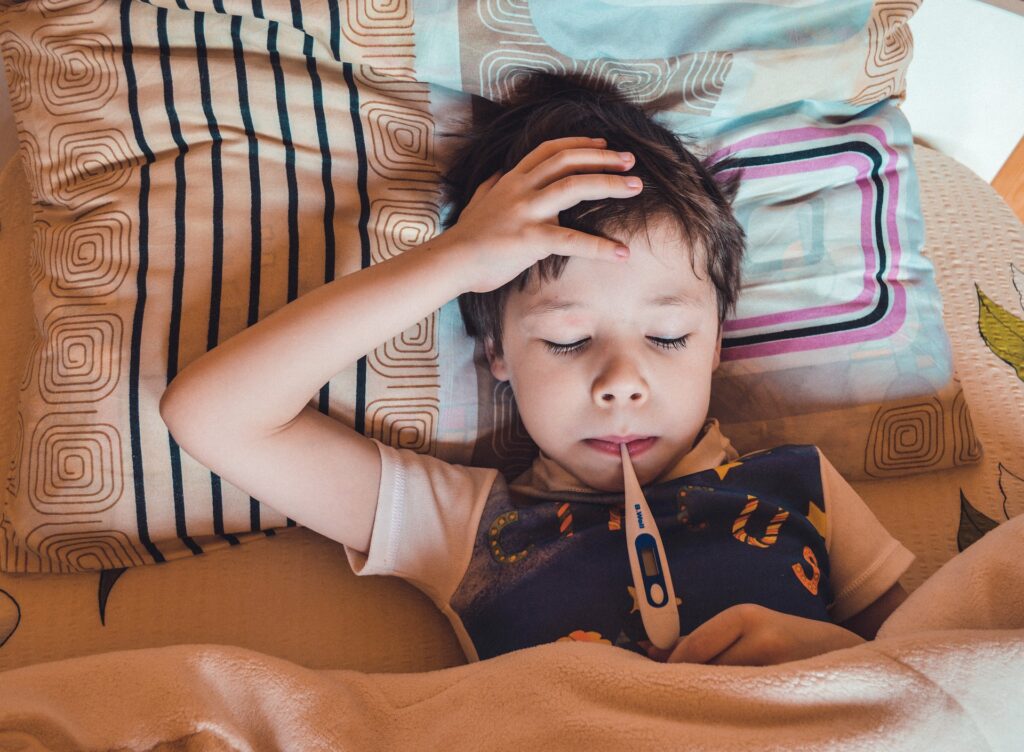 There are many things to consider when choosing a vacation destination to travel to with a baby, toddler, or young child.
Safety
One of the most important and obvious is of course safety. You can check on the Department of State website to see which countries have travel advisories and are listed as Level 4: Do Not Travel. These travel advisories could be in place for a number of reasons such as civil unrest, so do your research and make an educated decision on what's best for you and your baby.
Weather
You don't want to take your baby to Africa when it's at its hottest, or to Asia during the monsoon season. Why get them irritated with heat rash, humidity, and whatnot. You want your child to be comfortable and enjoy themselves too so be sure to check the local weather where you're going.
Healthcare
If your child needs special medical attention, or even for children who don't, you may feel more comfortable going to a destination that has healthcare facilities and amenities similar to what you're used to. In several countries, only major cities have hospitals, etc. so do your research and plan your itinerary based on your needs.
Baby-Friendly & With Facilities
In some destinations, the easiest way to travel around is by walking. If you're not prepared to carry or push your child around for extended periods of time, then these places might not be the best option for you. In others, if public transportation is your main way of getting around, then it might not be safe for a baby – have you seen how crowded a train gets in India?
Travel Time
When choosing a destination to fly to with your newborn, you may want to pick countries near to you so that your flight isn't long. A 13-hour flight is uncomfortable even for adults so just imagine how a baby must feel strapped to a car seat or sitting in a travel crib for so long. If this is important to you, you can pick destinations that are only a few hours away from you.
What are the best destinations to travel to with a baby, toddler, or young child?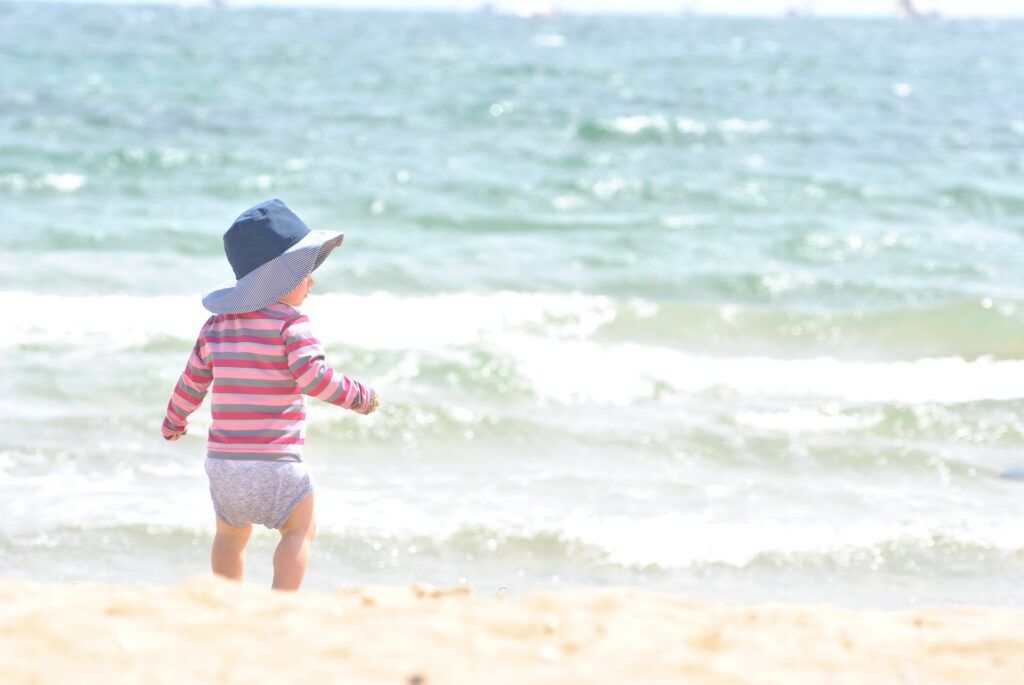 Based on the criteria above, we've picked a couple of the best places to travel with a baby, toddler, or young child and listed the reasons why.
Portugal
If you want a beach vacation, consider Portugal because they have some really beautiful beaches that are quiet and easily accessible.
There are lots of different foods you can try while still being able to purchase foods you're familiar with for the kids.
Lots of restaurants and grocery stores with child-friendly areas.
Shoulder-season months like May or September will still get you pleasant temperatures while avoiding the crowds.
Japan
There are 'family rooms' in business all over the city, especially in large supermarkets. These rooms give you comfortable places to change diapers, breastfeed, whatever you need.
A lot of cafes and restaurants have child-proof areas where you don't have to worry about sharp table edges, etc.
Their pharmacies carry almost any and all baby supplies you may need.
The roads and public places are exceptionally clean. You'll rarely see any trash anywhere on the road.
Bali
Almost all major hotels and resorts have updated highchairs, baby cots, and other necessities so you won't have to take yours with you.
You can rent baby gear and other equipment for incredibly low costs.
There are safe and friendly nannies and babysitters available throughout Bali. They are very affordable, are often willing to stay with you your entire vacation if you need and are sometimes even available at hotels and resorts.
Canada
State-of-the-art healthcare that is readily available anywhere in the country.
Kid-friendly attractions such as the Canadian Children's Museum which is specifically designed for kids.
There are lots of public facilities to accommodate families with young children; these can be used for feeding, changing diapers, or even just to let the baby nap for a bit.
Costa Rica
The flight is only around four to five hours from the US, so you won't have to be in the air with a fussy baby long.
You can experience nature and the outdoors without being too far from a major city with any facilities you might need.
Lots of child-friendly hotels and resorts that have furniture, foods, and activities catered to your little one.
London
People are very friendly and often willing to help with a stroller, etc. if you need it.
Most public transportation methods are easily accessible; there's designated seating on many public busses and all train stations have elevators or escalators if necessary. This is also very affordable as children under 5 travels for free on public transport services.
The city is very walkable and almost all main roads have sidewalks where you can safely walk with your toddler or navigate a stroller.
Can you still travel the world with a baby?
With everything I've read while researching for this article, I believe wholeheartedly that you can travel anywhere in the world with a baby, toddler, or young child. A newborn will not stop you and they'll most likely enjoy all the different things they'll see, hear, and experience, even if you might think they're too young.
Short Infographic on The Ultimate Guide on Flying with a Baby/ Toddler/ Young Child: