With vaccines already rolling out in countries all over the world, it's only a matter of time before we all take that much-deserved vacation we've been mooning over. I mean, I'm amazed most of us haven't gotten cabin fever having been cooped up in our homes for months. I'm sure that like me most of you guys are eager to get back to your regularly scheduled lives but with everything we've been through, I think a fabulous vacation to unwind and relax a bit is just what the doctor ordered. With the travel industry trying to pick up the pieces of the severe impact the coronavirus had on them, travelers are left with cheap flights, amazing hotel deals, and some countries even offering cash to cover entrance tickets to their most popular attractions. For example, Las Vegas casino owner Derek Stevens gave away over 1,000 flights to Las Vegas in order to jump-start domestic tourism. Others have taken extensive safety measures to ensure that travelers will be safe once vacations become the norm again. We've done all of the snooping and searching for you so you can see all the best destinations in one place.
Before you pick the dream destination of your choice, here are a couple of additional tips and tricks to keep in mind when planning your vacation.
Picking an Airline
Domestic and international airlines are scrambling to keep their heads above water because of the coronavirus. Keep an eye on their websites for major deals they'll be rolling out in an attempt to boost sales and stay afloat. You can use tools like Skyscanner or CheapOair to get alerts any time prices drop or deals are offered.
Don't pass up low-cost, budget airlines that you might usually overlook. For example, Southwest Airlines extended its seasonal sale until the end of the year, offering fares as low as $49.
Airlines are also offering deals on travel gift cards which can be used on future bookings, so you can buy flights for cheaper even before you decide when and where you're going. If you didn't know, you can purchase gift cards for Southwest Airlines, Airbnb, Carnival Cruise Lines, Hotels.com, Uber, and more directly on their websites or through Amazon.
Keep an eye on flexible change and cancellation policies so that you can still take advantage of the deals but fly later, when you're more comfortable.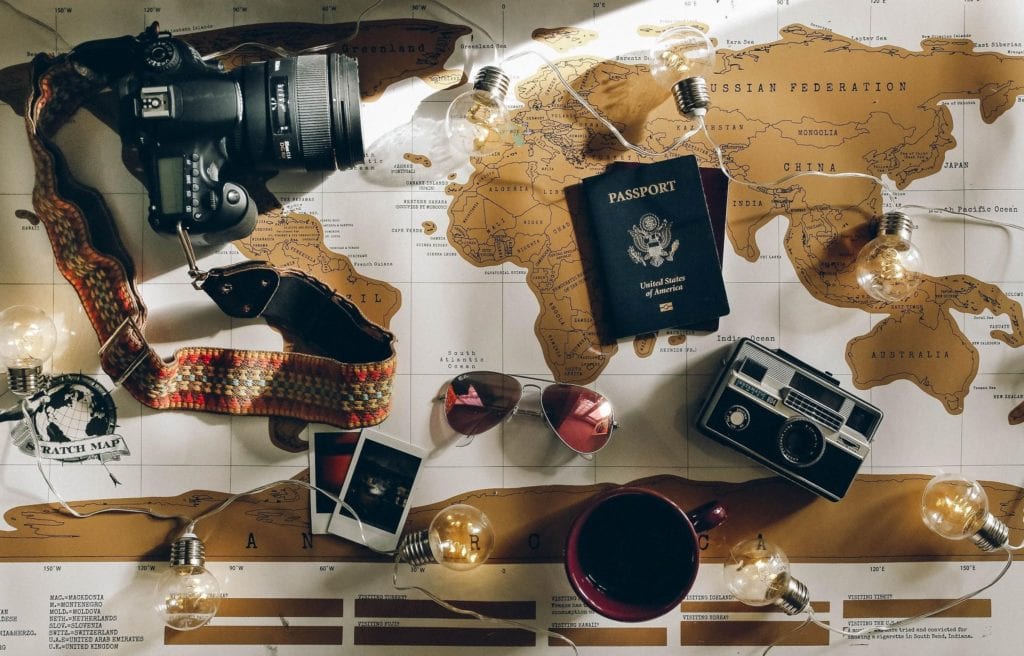 Picking a Destination
Be creative and flexible with your destination – this is a great chance to go to places you've often considered too far or too expensive.
Look out for destinations offering incentives, which we'll delve into in detail further along the article. These countries are doing everything they can to entice travelers and increase their tourism again. For example, Sicily has set aside an $84 million dollar fund that will provide travelers with vouchers to cover hotel costs and tickets to tourist attractions.
Safety first so always pick a destination that has efficient precautions in place: testing prior to departure, testing on arrival, etc. We also made an up to date list of travel regulations that are currently being imposed: Everything You Need to Know About Traveling During COVID-19
Picking a Hotel
Stay at a hotel you might not normally choose due to cost or location. Their prices are now at the lowest they've ever been. You can find rooms at up to 50% off in some instances.
Look out for additional perks offered by hotels to entice travelers such as free room upgrades, free nights, food and beverage credits, discounts to their spa or other facilities, and even free airport transfers.
Pay special attention to the amenities and perks offered on the property such as an infinity pool, in-house spa, a salon or beauty center, a state-of-the-art fitness center, and any other features that may be important to you – you can't get discounted spa treatments if the hotel doesn't have a spa. Depending on where you're going, don't forget basic amenities such as parking, Wi-Fi, air conditioning/ heat, etc.
After months of little to no income from tourism, countries around the world are in a race to entice visitors to choose them for their first big trip after lockdowns are lifted and vaccines are administered. All of this scrambling in the travel and tourism industry spells better deals for travelers if you just know where to look. Additionally, we also want to visit countries that have prioritized safety and are taking additional measures to ensure a healthy and happy getaway. So, without further delay, here are some of the best vacation destinations to choose from for your post-COVID holiday.
Switzerland
Switzerland should be on everyone's travel bucket list if it isn't already. It's one of those places that tugs at your heartstrings no matter where your interests lie. They have such spectacular sights, award-winning attractions, and delicious foods to indulge in. They've also taken up a 'Geneva Box' initiative to counter the decline in tourism due to the pandemic. Here are some of the best reasons to choose Switzerland for your post-pandemic getaway:
Attractions & Experiences
Appenzell: A picturesque Swiss village that is removed from the real world and wrapped up in folklore. Walk the narrow cobblestone streets, take in the colorful motifs, and check out the local cheese and embroidery that they're known for. You may even meet some of the local artisans and be able to purchase their crafts as souvenirs for yourself or friends and family back home.
Titlis: Home to the world's first rotating cable car, the Titlis mountain is famed for its outdoor activities such as skiing and snowboarding. Don't miss out on the Titlis Cliff Walk, the highest elevation suspension bridge in Europe.
Lake Lucerne: Enjoy a view of the beautiful lake from one of the many spas and resorts surrounding the lake. Other than enjoying the facilities offered there, you can also spend your time swimming, boating, diving, windsurfing, and partaking in other watersports.
Foods/ Drinks You Don't Want to Miss
Swiss Cheese: Swiss cheese is famous around the world but it's the iconic fondue that you really want to try while you're there. The pot of melted cheese is usually served with an array of things to dip into it like bread, olives, vegetables, and more.
Swiss Chocolate: The country has a reputation for producing high quality chocolates and is renowned for its milk chocolate in particular. Visit a local chocolate artisan's shop or take a tour of a large chocolate factory to learn about the art and its history in Switzerland.
Rosti: Similar to a hash brown, Rosti is a Swiss dish made of grated potatoes formed and served as a fritter.
Pandemic Precautions/ Travel Incentives
Switzerland launched the "Geneva Boxes" which are several packages that combine hotel stays, experiences, and entrance tickets to local attractions. The boxes have a wide range to include different experiences like a cookery workshop or a watch making class. They are suitable for different budgets and depending on which one you choose, you can save up to 65% by opting for a box rather than booking hotels and attractions individually.
Uzbekistan
Uzbekistan is full of unmatched natural beauty around every corner. As one of the most famous trade routes on the Silk Road, you'll be able to see some of the most iconic historical sites. Not only will you get a chance to explore stunning destinations, but you'll also find yourself amidst a rich culture full of tradition and art. Here are some of the best reasons to choose Uzbekistan for your post-pandemic getaway:
Attractions & Experiences
Bibi-Khanym Mosque: This stunning 15th-century mosque is one of the country's most important monuments. You can spend hours exploring every aspect of the mosque's architecture from the minarets and cupola to the huge, stone Quran stand and the open courtyard.
Chorsu Market: The Chorsu Market, or the Chorsu Bazaar as it's also known, can be found in the center of the capital – Tashkent. The traditional marketplace has vendors for fresh meat, vegetables, dried fruit, nuts, fresh bread, and works from local artisans.
Greater Chimgan: Greater Chimgan is a mountainous area about two hours away from the capital. It's a great place for those who want an adventurous, outdoorsy vacation. Activities that are available include mountaineering, hiking, rock climbing, horseback riding, hang gliding, snowboarding, and skiing.
Foods/ Drinks You Don't Want to Miss
Plov/ Pilaf: One of the country's most renowned dishes, you'll find plov in every corner of the land, from roadside eateries to hotel restaurants. There are over 200 varieties of plov, though the rice dish usually includes fried beef, onions, carrots, eggs, and sometimes local sausages.
Manty: Stuffed with seasoned minced meats and onion, this steamed dumpling will soon become your favorite meal while you're in Uzbekistan. It's usually served with ketchup, vinegar, or sour cream but can be eaten all on their own.
Laghman: These hand-pulled noodles have several variations but are often tossed in a combination of meats (usually beef), various herbs and spices, and vegetables like onions, garlic, and bell peppers.
Pandemic Precautions/ Travel Incentives
Uzbekistan launched their "Safe Travel Guaranteed" campaign as a way of reassuring travelers that the country was so confident in their extensive safety and hygiene measures that they were willing to put money where their mouth is. Visitors who contract COVID-19 during their visit will receive $3,000 as compensation. The financial incentive is there to show travelers that the country is so safe to visit, they were willing to cover your travel costs.
Sicily, Italy
A majority of Sicily's revenue comes from tourism and the island has lost over a billion dollars since it went into lockdown. Italy, in particular, took a hit to its reputation as a tourist destination at the beginning of the pandemic because of the country's inability to handle its initial rise in cases and thereby deaths. As a way of showing travelers that it's safe again, and to give people the opportunity to see everything Sicily has to offer, they've introduced some great travel incentives. This way, you can see and do all that the island offers at a fraction of the cost. Here are some of the best reasons to choose Sicily, Italy for your post-pandemic getaway:
Attractions & Experiences
Valley of the Temples: An ancient archaeological site, Valley of the Temples is one of the best examples of Greek art and architecture you'll come across in Sicily. Blending into the landscape, this impressive and charming monument is a testimony of Sicily's rich culture. You'll learn all about the ancient temples in the adjacent museum dedicated to them.
Aegadian Islands: Comprising five small mountainous islands, the Aegadian Islands is a favorite with travelers and tourists from all over the world. You can go on a boat tour, explore the caves, fishing, parasailing, or biking along the coast.
Stromboli: The small island on the north coast of Sicily is home to three active volcanoes. You can spend your days swimming in the black sand beaches or hiking to the volcano's summit.
Foods/ Drinks You Don't Want to Miss
Cannoli: Nothing like a delicious, fresh cannoli for breakfast while you're in Sicily – that's right, breakfast. These fried pastry tubes are stuffed with a sweet, creamy feeling. You can add your choice of toppings which range from pistachios and chocolate chips to an array of candied fruits.
Wine: This may stand out compared to the usual foods and drinks we suggest but the wine in Sicily is so good that we had to include it. Sicily is one of the largest wine-producing regions in Italy and is especially known for its marsala wines.
Fresh Fish/ Seafood: The waters around Sicily are home to several delicious varieties of tuna, sardines, swordfish, octopus, squid, prawns, and mussels. Restaurants in the area have their own variations of fish and seafood dishes and all of them are worth trying.
Pandemic Precautions/ Travel Incentives
The Department of Tourism has launched an $84 million dollar "See Sicily" voucher program. Using regional government money, visitors will be able to apply for a refund for up to half of their flight costs and up to a third of their hotel expenses. Other aspects also include free and low-cost tickets to tourist attractions, museums, historical sites and more. The program hasn't launched yet but you will be able to apply on the Visit Sicily website once it does.
Greece
Greece is an astonishing country that will take your breath away whenever you turn a corner. Everywhere you go you are surrounded by pristine beaches with azure waters, exotic and lush forests thriving with flora and fauna, and rugged mountains that are an outdoorsy traveler's dream come true. The diverse and rich culture of the land alone is enough to attract you. Like everywhere else, Greece's tourism industry was also affected by the coronavirus and they too have instilled some initiatives to draw more visitors in 2021. Here are some of the best reasons to choose Greece for your post-pandemic getaway:
Attractions and Experiences
Acropolis of Athens: The Acropolis of Athens is a hilltop temple monument that dates back to the 5th century B.C. The ancient citadel comprises the remains of several buildings with historical and architectural significance – the most famous being the Parthenon. The Parthenon is a former temple dedicated to the goddess Athena.
Elafonisi: An island located in the region of Chania, Elafonisi is as picturesque as a postcard. You can walk through the shallow, azure waters to get to the island during the warmer seasons. More than the water though, it's the pink sand beaches that are really going to amaze you.
Mount Olympus: The highest mountain in Greece, Mount Olympus can be found in Olympus, a national park and World Biosphere Reserve. Thousands of local and international tourists visit there every year to scale the mountain peaks, enjoy outdoor activities like hiking, and to take in the flora and fauna that thrives there.
Foods/ Drinks You Don't Want to Miss
Souvlaki: You can't visit Greece without eating souvlaki. In the U.S., you may already have had souvlaki but recognize it as gyro. Either way, the delicious meat dish can be found all over Greece, from sidewalk stalls to fancy restaurants. You can have it served in a freshly baked flatbread or over a serving of seasoned rice.
Horiatiki: Okay, you may be wondering why we're suggesting a salad on a list of must-eat foods while in Greece but hear us out. Horiatiki is not like any salad you're used to back home. Instead, this refreshing and delicious dish comprises cucumber, tomato, onion, olives, and feta cheese and is often served with barley rusks. The combination is divine and will definitely be one of your go-to meals while in Greece.
Moussaka: Chances are you've already had moussaka even if you've never been to Greece. A combination of casserole and lasagna, the layers of moussaka traditionally include seasoned and sauteed eggplant, minced lamb meat, and other ingredients like garlic and tomatoes. It's comfort food at its finest and you'll find it in restaurants all over Greece. You may even find some "yia-yias", or grandmothers, willing to teach you their ways in a cooking class.
Pandemic Precautions/ Travel Incentives
Greece has temporarily reduced their value added tax (VAT) from 24% VAT to 13% VAT on all transport including flight tickets, train tickets, and bus tickets. This should encourage visitors since it would make it cheaper to visit and travel around Greece.
Another post-pandemic travel incentive to keep in mind is that Greece has so many remote destinations within the country that are both beautiful and off the beaten track, ensuring you can have a crowd-free vacation.
Maldives
The Maldives has climbed to the top of travel bucket lists for years now and it's not surprising given how the country has crystal clear waters, pristine beaches, and unique hotel accommodations that are fit for royalty. It's even better because their most famed hotel accommodations are usually floating villas, hovering above the water, peaceful, and best of all – secluded – meaning you can be vacationing and socially distant all at once. The hotels in Maldives are known for their incomparable features and amenities such as underwater restaurants, floating cinemas, and award-winning fine dining, and with the addition of all of their pandemic precautions and travel incentives, of course it should be on this list. Here are some of the best reasons to choose the Maldives for your post-pandemic getaway:
Attractions and Experiences
Sail in a traditional dhoni boat: Often handcrafted, these Maldivian sailing boats are a great way to get out on the water and take in the sunset with your friends, family, or significant other. You can often pair these boat rides with excursions such as romantic dinners on the beach, snorkeling, or island hopping.
Dine in an underwater restaurant: You don't come across a lot of opportunities to dine in a restaurant submerged completely under water, so when in Maldives, take advantage of this chance. The Ithaa Undersea Restaurant at Conrad Maldives is a popular option and you'll be dining while surrounded by stunning views of life underwater.
Watch a movie on the beach: Snuggling with your loved one while watching movies and eating popcorn is fun even on your couch. But imagine being on the beach, under the stars, with the sun setting over the ocean behind the screen – it makes watching a movie an entirely different experience.
Foods/ Drinks You Don't Want to Miss
Mas Huni: This dish comprises smoked tuna shredded and served with grated and seasoned coconut, chopped onions, and drizzled with lemon. It's an extremely popular meal for breakfast and is amazing with some freshly made flatbread. You'll find the flavorful dish in hotel buffets, local restaurants, and even roadside eateries.
Saagu Bondibai: A remarkably simple dessert, saagu bondibai is a vegetarian-friendly pudding made with sago, condensed milk, coconut milk, cardamom, and rose water. The dessert is melt-in-your-mouth good and is something you'll probably try recreating once you're back home.
Maldivian Lady: The country's very own cocktail, the Maldivian Lady is the perfect drink to sip on as you unwind on the golden beach overlooking the sun setting over the azure waters. The fruity and tropical drink is a concoction of apricot brandy, rum, grenadine, pineapple juice, and orange juice.
Pandemic Precautions/ Travel Incentives
The Maldives has put several strict procedures in place to protect visitors and residents from COVID-19. In addition to the measures taken by airlines and airports, several hotels and resorts are offering complimentary on-site testing for their guests to ensure that everyone on the property continues to be safe. This also eliminates the need for guests to leave the property to get tested after their arrival, as is required for some travelers.
Maldives will also be the very first country in the world to offer a destination hospitality program – the Maldives Border Miles program. The three-tiered loyalty program for tourists will place them in either Aida (Bronze), Antara (Silver), or Abaarana (Gold) based on the number of points guests have. Points are earned based on duration of stay, number of visits, special occasions, and may even integrate stays at certain hotels, dining at certain restaurants, and visiting certain attractions. Points could then be used for privileged immigration clearance, room upgrades and other freebies during your stay. More information on the Maldives Border Miles Program.
Cancun, Mexico
Cancun has been a popular vacation destination for generations. The great weather throughout the year, the gorgeous beaches, and its reputation as a party playground for adults and families has attracted people from all over the world. Additionally, history buffs are going to love all of the rich tradition and culture that they'll come across – especially in the oceanside Mayan city of Tulum. With all of the travel incentives Cancun is offering, it might be a great opportunity for you to opt for a stay in one of the really fancy resorts that Cancun is renowned for. Here are some of the best reasons to choose Cancun, Mexico for your post-pandemic getaway:
Attractions and Experiences
Mayan Ruins at the El Meco Archaeological Site: Found on the outskirts of Cancun, the El Meco Archaeological Site may be small in comparison to others but is definitely worth a visit when you're there. The well-preserved site has one of the highest Mayan pyramids in the area; take a local guide with you as they're full of fun and interesting tidbits about its inhabitants dating back to 200 AD.
Cancun Underwater Museum: The Cancun Underwater Museum is one of the most visited attractions in Cancun. The underwater sculptures, called 'The Enchanted Forest' seem surreal as they float magically underwater. You can experience them from a glass-bottom boat or on a snorkeling or diving expedition.
Isla Contoy: Isla Contoy is a small island just a little bit over five miles long. Declared a national park in 1998, the park attracts around 200 visitors every day. The beaches on the island are a haven for turtles to nest so there's a chance you'll see several species like leatherbacks, hawksbills, loggerheads, and green turtles. It's also a can't miss attraction for ornithology aficionados since it houses several species of birds like the double-crested cormorant.
Foods/ Drinks You Don't Want to Miss
Marquesitas: Marquesitas are a local treat that are favored by residents and visitors alike. You'll find stands serving these crispy crepes filled with melted shredded cheese and a sweet filling of your choice like peanut butter, Nutella, or jam.
Sikil Pak: Cancun's alternative to hummus or guacamole, sikil pak is a pumpkin seed-based dip often served with tortillas, pita wedges, or veggies. The smokey flavor is one of a kind and will leave you wanting more every time you think you're done.
Castacan: Castacan is a mouthwatering fried pork belly that you'll find throughout Cancun. The exterior of the pork belly is super crispy while the middle is incredibly soft and juicy. If you're a fan of pork belly, the castacan is going to be a favorite during your trip.
Pandemic Precautions/ Travel Incentives
The Cancun Hotel Association has launched a 'Come to Cancun 2×1' campaign which has several major perks for travelers. Visitors who purchase two tickets to Cancun will have one refunded back to them, thereby making it two for the price of one. You will also get two free nights of accommodation for every two nights you pay for. The same goes for car rentals – two free days for every two days paid for. The program will also include discounted tickets to museums and attractions including participating theme parks, golf courses, and spas.
Cyprus
It isn't until the recent past that Cyprus rose to fame as one of Europe's top vacation destinations. The country, which is now largely dependent on the tourism industry, came to a standstill much like everywhere else during the pandemic. Prior to COVID-19 Cyprus welcomed nearly two million tourists every year – and you'll understand why as soon as you experience the rich history, amazing attractions, delicious food, and now, their additional pandemic precautions and travel incentives. Here are some of the best reasons to choose Cyprus for your post-pandemic getaway:
Attractions and Experiences
Tombs of the Kings: Tombs of the Kings is a large, ancient necropolis that has been recognized as a UNESCO World Heritage Site. Dating back to the 4th century BC, the underground tombs are the burial sites of aristocrats and high officials. Touring the site with an informed local will magnify the experience as you'll learn all about its significance in Cyprus' history.
Coral Bay: A popular tourist resort, Coral Bay is full of glorious white sand beaches, azure waters, sea caves, and rocky headlands that are so picturesque they'll take your breath away. You can spend the day sunbathing, swimming, and participating in fun and adventurous water sports.
Church of Saint Lazarus: Founded in the late 9th century, the Church of Saint Lazarus is a Greek Orthodox church that is situated in the heart of Larnaca, Cyprus. History has it that it is the burial site of Lazarus of Bethany from the second time he died, after he was resurrected by Jesus. The history and architecture of the structure is immaculate so don't miss out on aspects such as the restored iconostasis.
Foods/ Drinks You Don't Want to Miss
Koupepia: One of the most traditional dishes you'll come across in Cyprus, koupepia is a yummy dish often served as both a main or as part of a meze platter. Imagine minced pork or beef cooked in a fragrant tomato sauce with other herbs and spices and then stuffed into wrapped grape leaves with rice. Simply superb.
Souvla: Cyprus' version of a barbecue, souvla comprises big chunks of lamb or pork seasoned, skewered, and slowly cooked over a charcoal. Filled with so much flavor, souvla is often served with side dishes such as rice and salad and is sure to be a favorite.
Loukoumades: One of the simplest yet most delicious desserts we've come across, loukoumades can be found in coffee shops and street side vendors all across Cyprus. The deep-fried dough balls are soaked in honey, sprinkled with powdered sugar, and served warm to ensure that the delicious concoction melt as soon as they meet your tongue.
Pandemic Precautions/ Travel Incentives
Visitors who fall ill from COVID-19 while visiting Cyprus will have their entire vacation costs covered by the government. This includes any expenses they have towards accommodation, food, or medicine use by the patient(s) or their family members should any of them test positive while on the island. This means that vacationers would only have to pay for their transfer to the airport and for their flight home. I know it seems like it comes at the cost of getting sick but it also means that Cyprus is so confident in the precautions and safety measures they've taken that they're willing to put money where their mouth is.
These destinations are just a handful of places that have travel incentives in place to attract visitors from all over the world. You'll find so many more who are offering deals on hotels, reimbursements on flight tickets, and discounted entrance tickets to their best attractions.
What is in your opinion the best place to travel to after the COVID-19 Pandemic limits are lifted? Or where would you travel to? Let us know in the comments below. 🙏✈❤🦠📝
Interesting infographic about 7 Travel Destinations to Visit After the COVID-19 Pandemic: