One of the hardest things about going on vacation is deciding where exactly you want to go. This may be easier if you're a solo traveler, but if you're traveling with a partner or a group, it can take ages trying to find a destination that you will all enjoy exploring.
Both the United Kingdom and Germany are fantastic choices for an upcoming getaway, but is one better than the other? Think about all of the different attractions you may see, the culture you will experience, and delicious foods you can eat while there. These aspects definitely make an impact on deciding which country is a better choice for you.
But why should you choose one of these countries to visit in the first place? The United Kingdom and Germany are both beautiful destinations that are steeped in natural beauty, culture, and a rich history that will make sure you have a vacation you'll remember for a lifetime. They both have stunning landscapes that you can spend months exploring and are great for solo travelers, partners looking for a romantic getaway, families, and even for a girl's trip or a group of friends. So, let's figure out which one is best for you!
What basics should I know about the United Kingdom?
The United Kingdom of Great Britain, more commonly called the UK, is a European country comprising a group of islands off the northwest coast of Europe. It is composed of England, Northern Ireland, Wales, Scotland, as well as the island of Great Britain, a part of the island or Ireland, and several smaller islands within the British Isles. Some quick facts about the UK:
Total Area: 242,495 square kilometers (93,628 sq mi)
Population: Over 67 million people (as of 2020)
Capital: London
Currency: Pound Sterling (£)
Currency Rate: 1 Pound Sterling is equivalent to $1.13 (USD) (as of October 2022)
Official Languages: English, Scots, Irish, and Cornish
What basics should I know about Germany?
Germany, officially the Federal Republic of Germany, is a Central European country and a member state of the European Union. Germany has the largest economy in Europe and is a global leader in science, technology, and several other industries. Some quick facts about Germany:
Total Area: 357,022 square kilometers (137,847 sq mi)
Population: Nearly 84 million
Capital: Berlin
Currency: Euro (€)
Currency Rate: 1 Euro is equivalent to $0.98 (USD) (as of October 2022)
Official Languages: German, while English, French, Russian, and Turkish are also spoken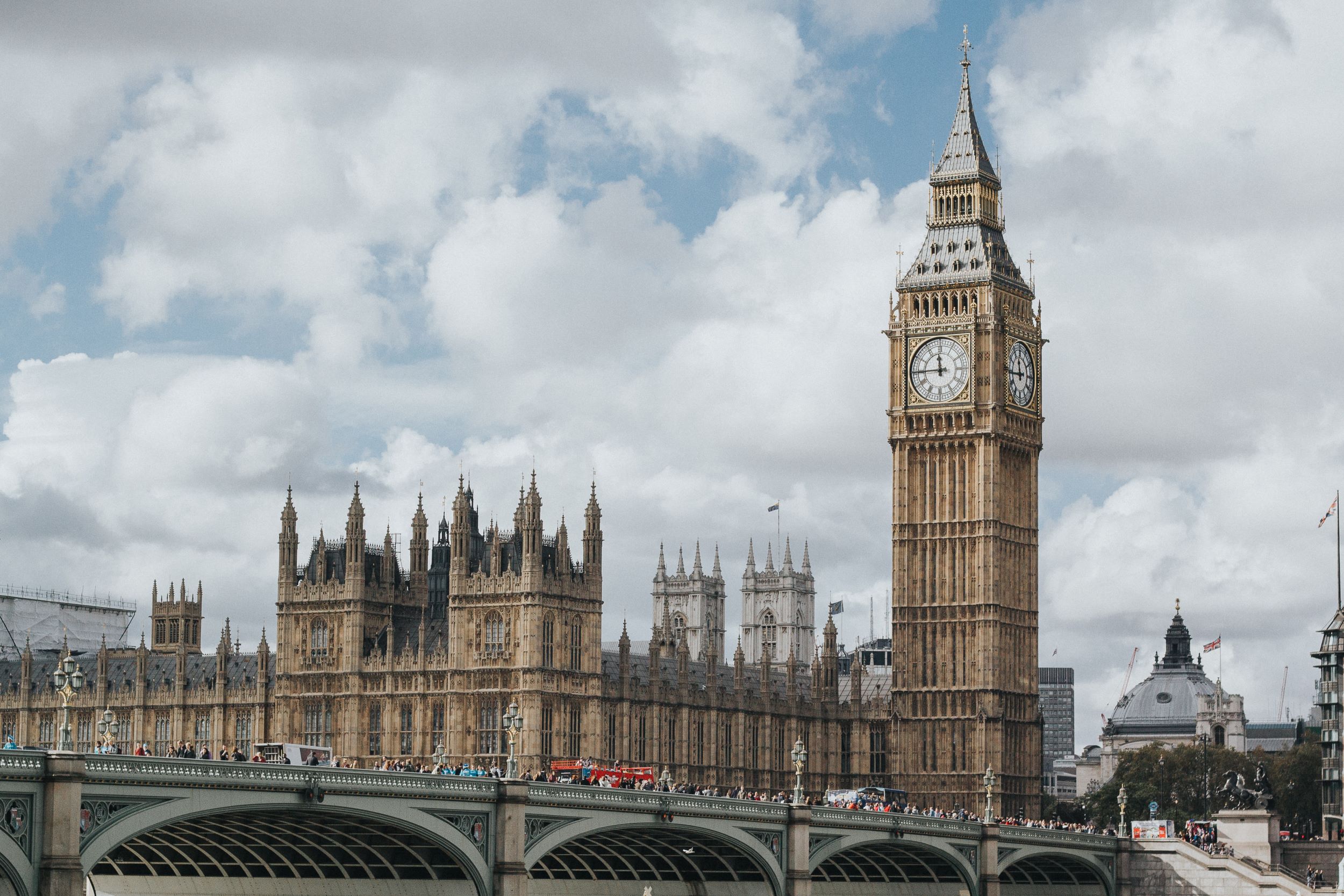 Fun Facts about the United Kingdom
The British consume over 100 million cups of tea A DAY so be sure to have a cup while you're there.
While the Pyramids are considered one of the oldest structures in the world, Stonehenge, which is located in southwest England is actually believed to be older.
One of the largest libraries in the world can be found in London; the British Library in King's Cross has over 170 million items in its catalog.
Llanfairpwllgwyngyllgogerychwyrndrobwlllllandysiliogogogoch is one of the longest town names in the world and you'll find it in Wales.
Depending on the tide, the UK has over 6,000 islands.
You can get a personalized card from the British Sovereign on your 100th birthday.
While many think Big Ben is a clocktower in London, the name actually refers to the bell instead of the clock.
You may have heard about popular sports in the UK like cricket or rugby, but they also have some unique sporting events such as cheese rolling.
Don't be surprised if a cafe or coffee shop has two menus/ price lists; the menu for customers sitting in is often a bit more expensive than the takeaway menu as it lets people use facilities such as the toilet, Wi-Fi, etc.
Fun Facts about Germany
65% of Germany's highways have no speed limit and are called the Autobahn.
There are over a thousand distinct types of sausage and 1,500 different types of beer in Germany.
60% of the German vocabulary is shared with English so don't be surprised if you recognize a term or two.
Over a third of Germany is covered in woodlands and forests, which is probably why they have more zoos than any other country – over 400, in fact.
It is believed that the tradition of having a Christmas tree was started in Germany.
Germany is home to several famous brands, including car companies like Porsche, Audi, Volkswagen, BMW, and Mercedes-Benz.
Oktoberfest, which is a highly-recognized German beer festival that is celebrated around the world, actually started as a wedding feast for royalty.
There are thousands of unexploded bombs leftover from WWII scattered throughout Germany.
Essential UK Phrases/ Slang
While you'll come across English-speaking residents throughout the UK, there are some key travel phrases you might not recognize. If the language barrier is a deal break for you, you may want to consider visiting the UK instead of Germany.
'Cheers' or 'ta' is actually a casual way of saying thank you so make sure you don't raise your drink every time someone says 'cheers.'
'Mate' is a term of endearment commonly used throughout the UK. You may also hear pet, duck, or love but be aware of your surroundings and the context because it can also seem rude or sarcastic sometimes. You may also hear 'bloke' or 'lad.'
You'll hear Brits saying 'sorry' a lot and it's not always an apology. The term 'sorry' can be used as a polite way of saying 'what' or 'pardon.'
If someone says you're 'trollied' or 'plastered,' step away from the bar because you may be too drunk.
'Bevvy' is a short word for beverages and is often referring to alcohol; you'll surely hear this while dining out. A 'cuppa,' on the other hand, is short for a cup of tea.
When someone is "taking the piss," they are not in fact carrying urine; it just means that they were joking or being sarcastic.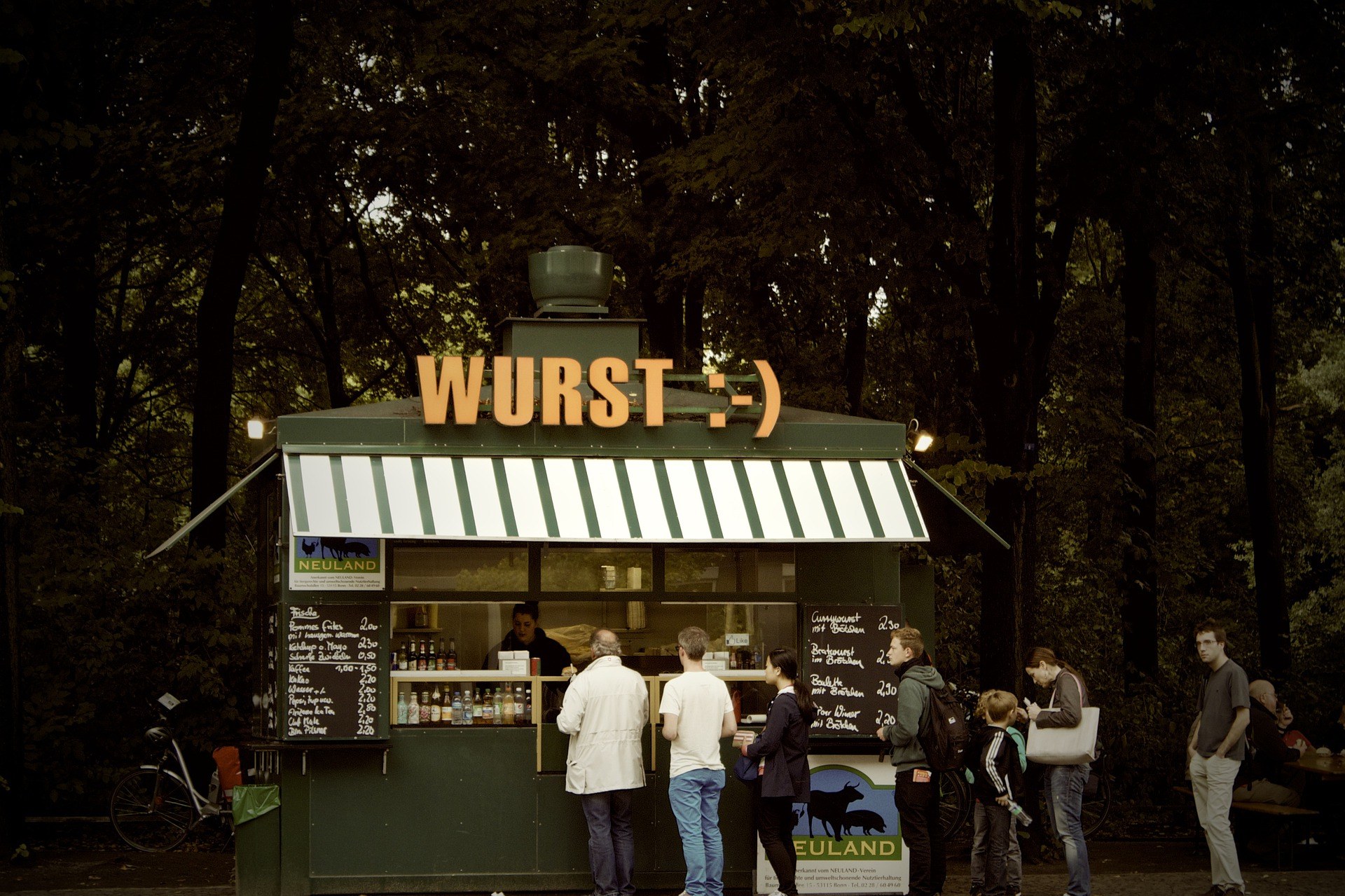 Essential German Phrases/ Slang
Over 90% of the population speaks German as their native language while only 56% of the population speaks English. Here are some essential phrases or slang that you might come across while you're there.
Some common greetings you'll come across in Germany are Hallo (Hello), Tschüss (Bye), Bitte (Please), Danke (Thanks), and Entschuldigung (Excuse me).
Can you help me? – Können Sie mir helfen?
Do you speak English? – Sprechen Sie English?
How much does this cost? – Wie viel kostet das?
How do I get to…? – Wie komme ich zu…?
Do you take debit cards/ credit cards? – Kann ich mit EC-Karte / Kreditkarte zahlen?
My name is… – Ich heiße…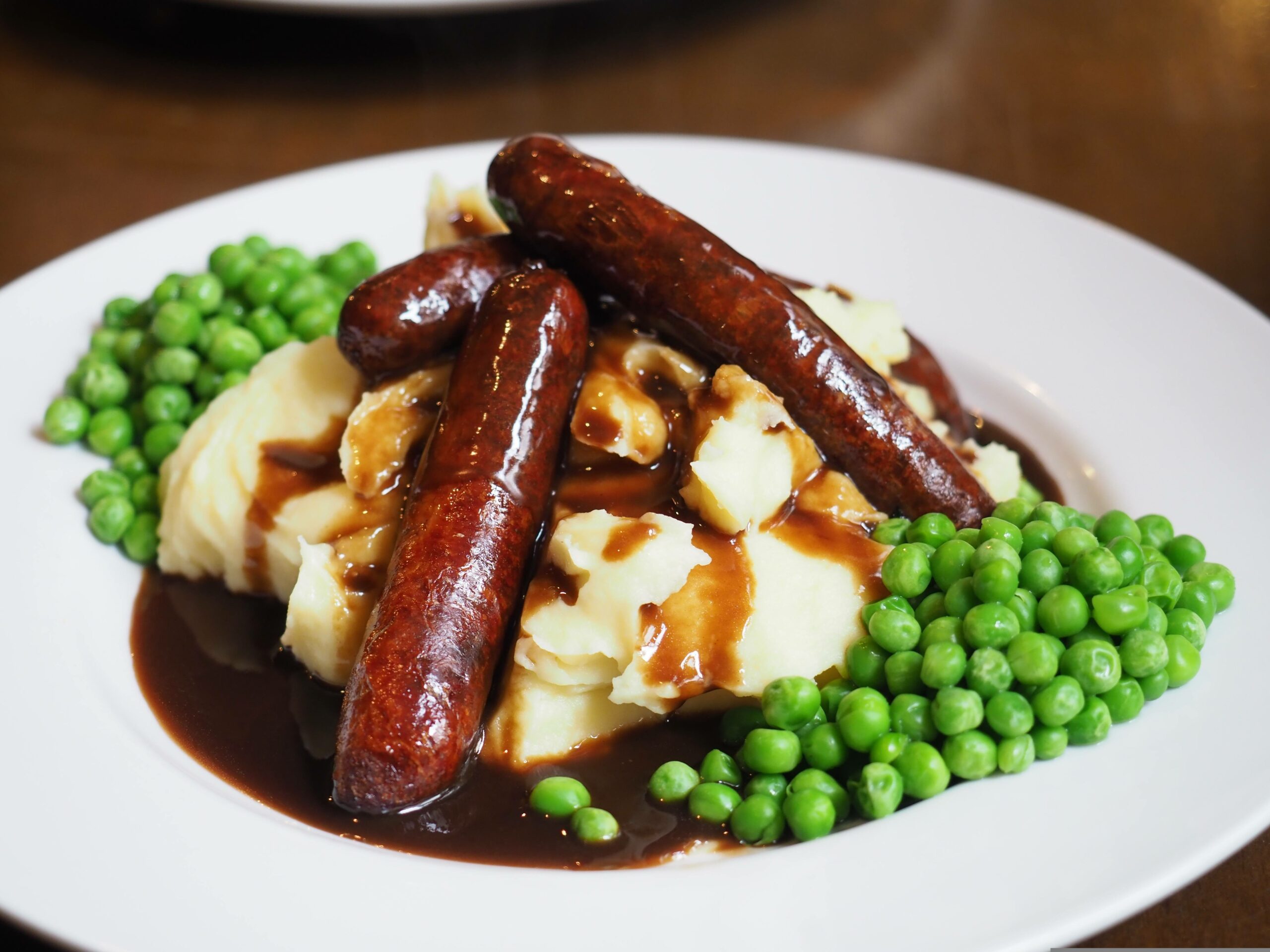 What should I eat in the UK?
Let's be honest, British cuisine doesn't have the finest reputation. In fact, it's known for being downright bland at times. Over the years, the many different people who have made the UK their home have infused their culture (and their spices) into the cuisine. In fact, chicken tikka masala (which is an Indian dish) was the country's national dish at one point. Here are a couple of UK food favorites that you should try while you're there.
Fish and Chips – You can find fish and chips on menus all over the world, but it originated in the UK, so you'll be sure to have the most authentic version there. You'll be able to find this dish of battered and fried fish filets and fries almost anywhere in the country. It's simple, delicious, and perfect if you're not in the mood for expanding your palate while traveling.
Shepherd's Pie/ Cottage Pie – When you think of pie, you usually imagine a sweet or savory pastry. These dishes do not have a flaky crust, but instead comprise meat, potatoes, carrots, and a few other vegetables. Also know that shepherd's pie is usually made with lamb while cottage pie is made with beef.
Bangers and Mash – Another excellent choice for travelers who don't want to stray too far when it comes to cuisine, bangers and mash is a dish made of sausages and mashed potatoes; it may come with a serving of peas as well. You'll find this dish in almost every pub in the country.
Toad in the Hole – Do not worry as this dish is not made from toads but is just sausages dipped and baked in Yorkshire pudding batter.
Sunday Roast – Sunday roast dinners are a common occurrence among Brits and are plates full of roasted meat and potatoes, stuffing, Yorkshire pudding, and vegetables (usually peas and carrots). All of it is covered in gravy and is quite delicious.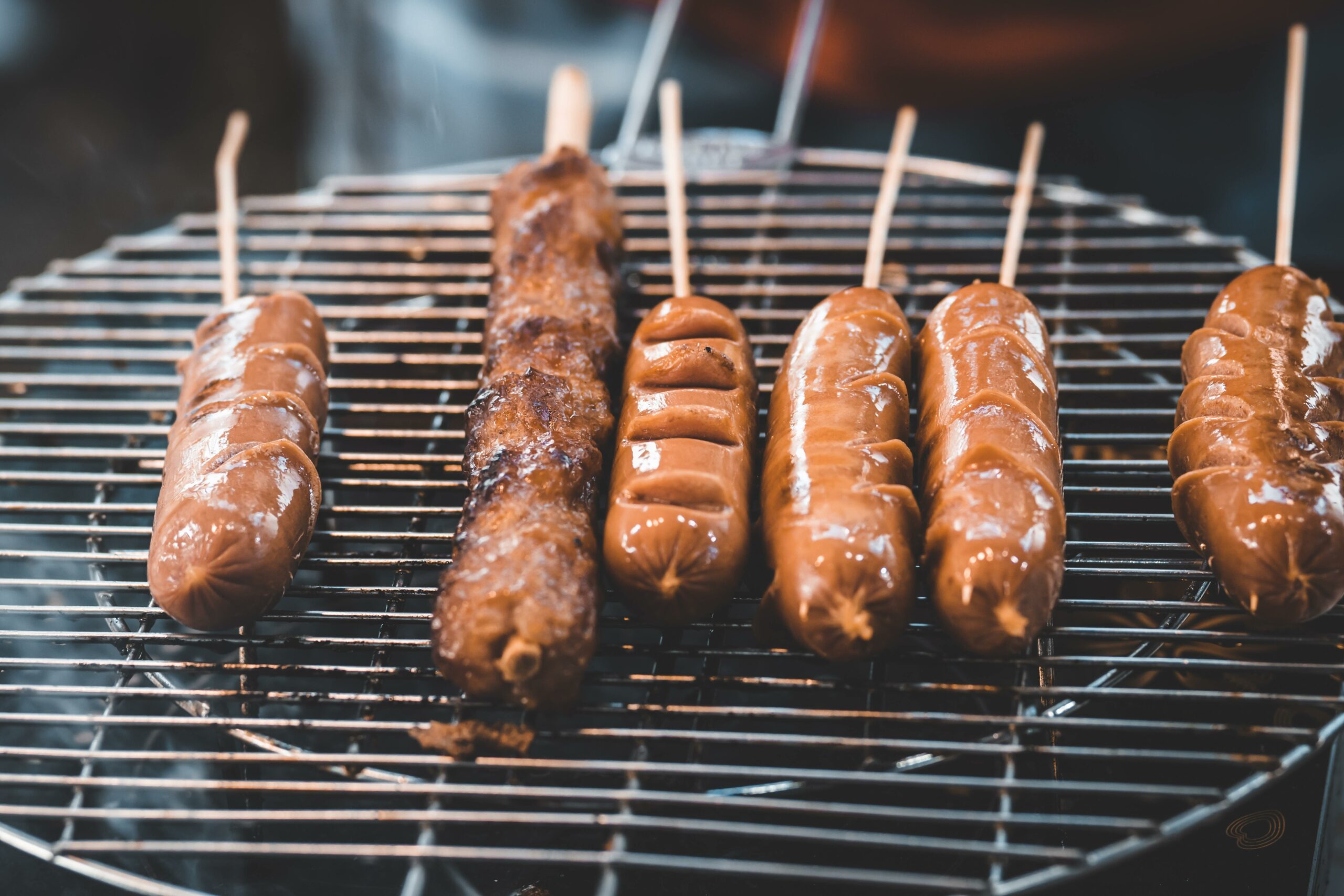 What should I eat in Germany?
German cuisine is more intricate and varied than food in the United Kingdom. While a lot of their dishes use meat and potatoes, the style of cooking and the flavors used are quite different. The meals are rich and hearty, and you'll almost always find sausage, sauerkraut, and beer on every menu you come across. If you're a foodie looking to expand your palate, Germany might be the best country to travel to for you.
Königsberger klopse – While most dishes may be hard to pronounce, this one will be worth trying. Königsberger klopse is a dish of meatballs made with minced veal, anchovies, and other ingredients and spices. The meatballs are served in a creamy white sauce made with capers and lemon juice.
Sausages – German food is sausages. You can't go to the country and not try one of their 1,200 diverse types of sausages. Cured, smoked, pan-fried, however you have it, it's bound to be delicious and is sometimes accompanied with a bread roll, potato salad, or sauerkraut.
Rouladen – Rouladen is a delicious concoction of bacon, pickles, onion, and mustard, all wrapped in a slice of beef or veal. They are usually served with mashed potatoes, potato dumplings, and pickled red cabbage.
Saumagen – Don't knock it until you try it. Saumagen is when the stomach of a pig is used as a casing for a stuffing made from perfectly-seasoned pork and vegetables.
Schwarzwälder kirschtorte – You'll come across a lot of different cakes and desserts in Germany, but Schwarzwälder kirschtorte, or the Black Forest Gateau, is made from a specialty liquor distilled from tart cherries.
What's the weather like in the UK?
The overall climate in the UK is temperate and mild. It doesn't reach higher than 32ºC in the summer or go lower than 0ºC in the winter. A lot of the year is spent in a state of drizzle and damp. While it can get cold and wintry in November, the coldest months are between December and February. The best time to visit the UK is from late March to early June, which is spring, and from September to November, which is autumn. This way the weather is neither too hot nor too cold. It's also wonderful if you're planning to spend a lot of time outdoors and want to see the spring blooms or the foliage change hue.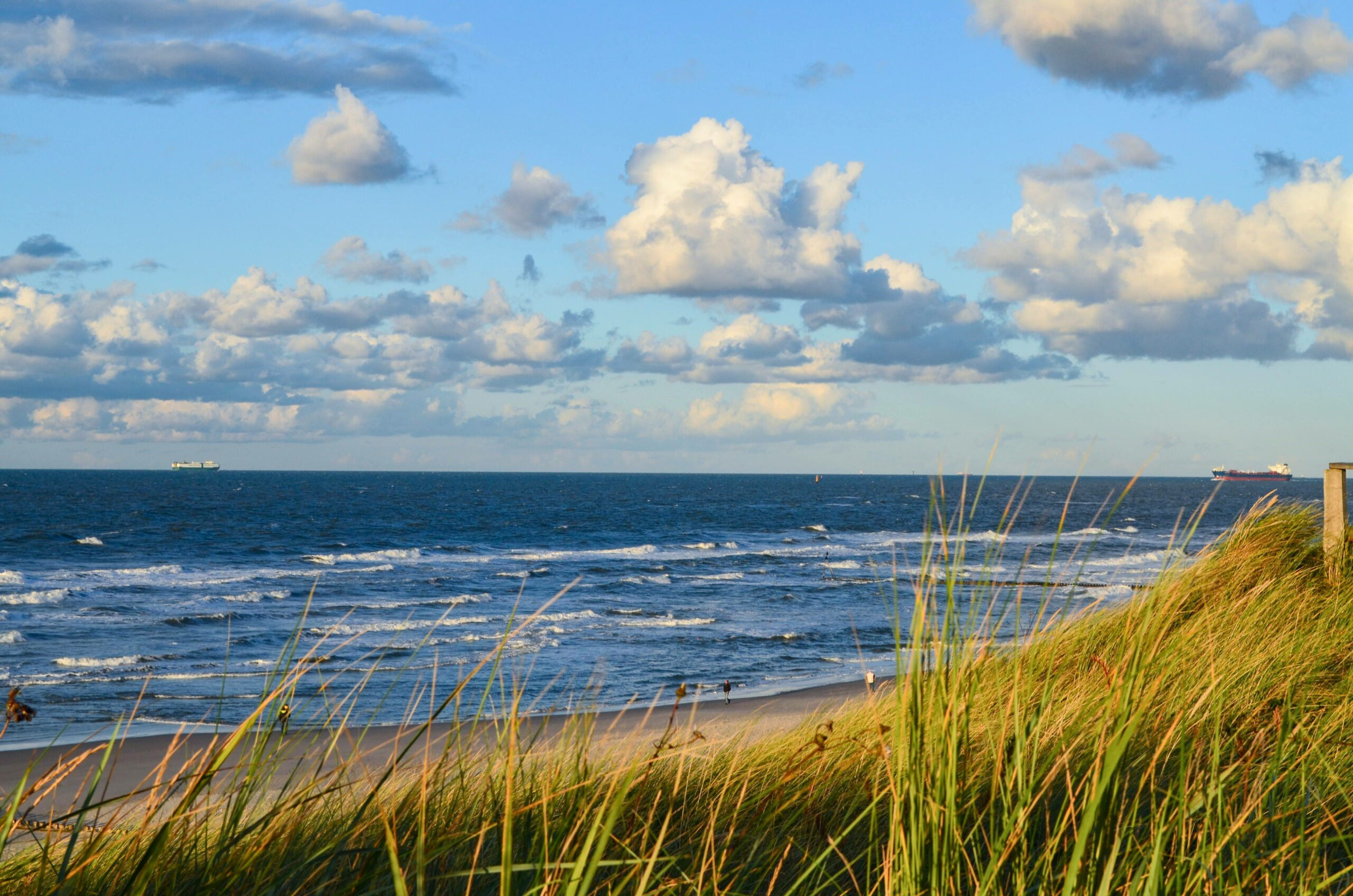 What's the weather like in Germany?
Germany is graced with all four seasons distinctly, though it can be temperamental as it changes from one season to the next. You can expect the summers to be warm and the winters to be cold, with the coldest month of the year usually being January. The 'tourist season' runs from May to September because it has the best weather and longer days for you to enjoy the outdoors more. It's also busy, with businesses going into full boom to meet the demands of the tourists – which is great if you prefer traveling at that time instead of when things are more in a lull.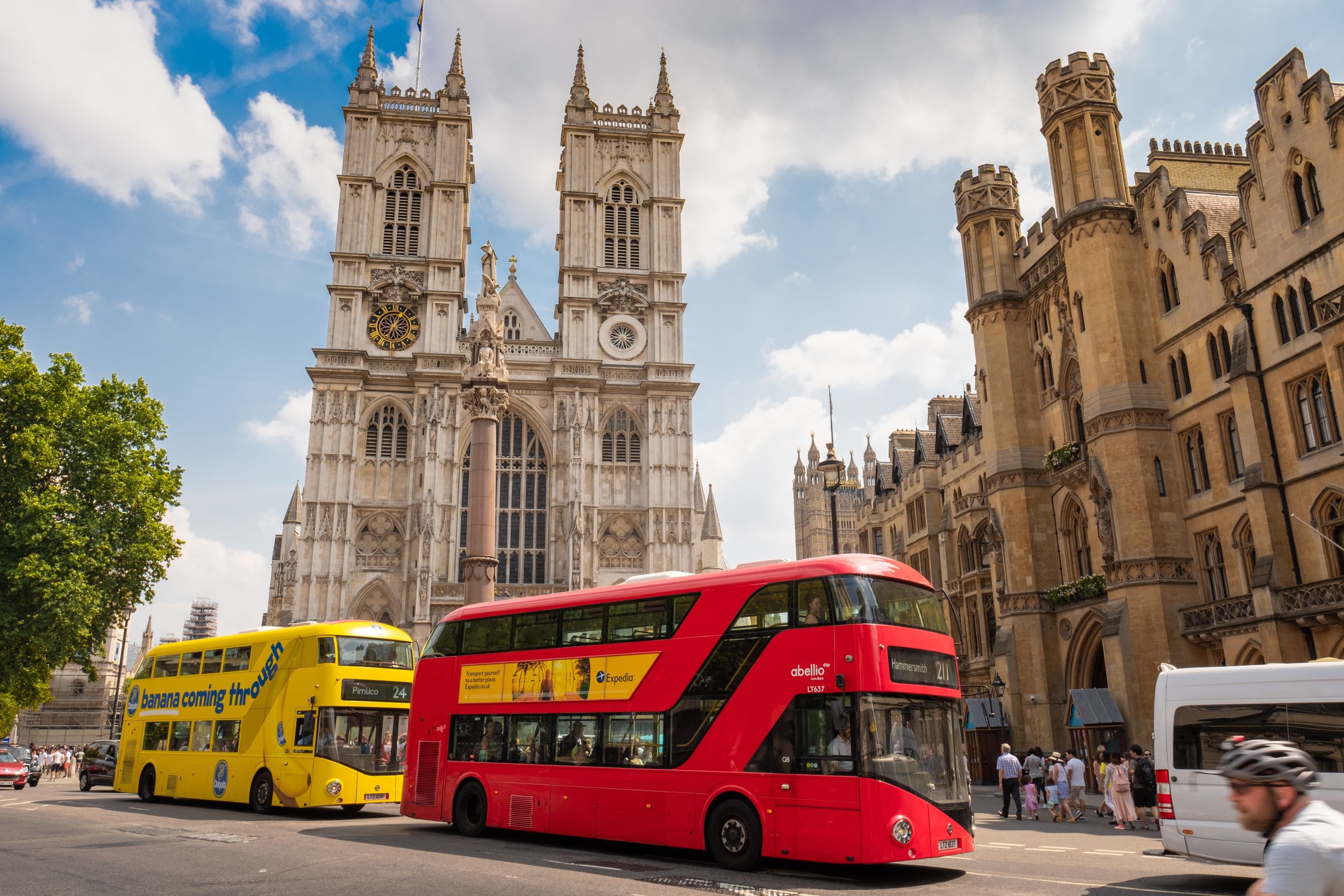 How do I get around in the UK? / Transportation in the UK
There are many different ways to travel around the UK and you can pick what's best/ easiest for you depending on where you're going and how soon you want to get there.
Walking: Many cities across the UK are considered to be extremely walkable, especially London which is recognized as one of the most walkable cities in the world by the Institute for Transportation and Development Policy.
Domestic flight: Definitely the quickest way to travel, especially if you're going to major cities. There are nine domestic carriers in Britain with some of the famed ones being British Airways, Little Red (Virgin Atlantic), Eastern Airways, and Loganair – the oldest operating airline in the UK.
Train: If you have a long journey within the UK planned, trains might be a fast and enjoyable way to get to your destination. Not only will you get where you need to go efficiently, but you can enjoy a relaxing setting and gorgeous views along the way. Keep in mind that tickets are usually cheaper if you buy them online and in advance. If you have many journeys planned, you may want to opt for a railcard as it could save you some money overall.
Metro: No matter what you call it, the London Underground, metro, or tube is an iconic way to travel within the city. London isn't the only city in the UK with a metro system though; you'll find them in Liverpool, Glasgow, and Newcastle as well.
Tram: Several cities in the UK have a tram system that runs along the public roads for a fun and affordable way to get around. Edinburgh, Blackpool, London, Manchester, and Nottingham are a few areas that have their own network. London is the only city in the UK to have a tram network and a metro network as it's usually either or.
Coach/ Charters: Another great option for longer journeys, coaches may take a little bit more time than the train but will definitely be cheaper on your wallet. National Express is the main coach company in the UK while Megabus has trips between major cities starting at £1. This intercity network connects some of the largest cities and towns in the country.
Bus: The most usual form of travel in the UK is through the local bus mostly because it is the most accessible mode of public transport. The bus network is widespread, the quality of services is excellent, and the fare is relatively low compared to other countries. You can purchase single tickets, return tickets, day tickets, and group tickets (more than six people) aboard any UK bus. Keep in mind that in some rural areas, bus routes are managed by private companies and fares could be higher.
Taxi: You'll find black cabs throughout central London, and they're usually driven by friendly and knowledgeable cabbies who get you to your destination quickly and safely. It's perfect for short distances and you'll be sure to learn a thing or two from your driver about the neighborhoods and sites along the way. Almost every city and town in the UK has their own taxi service.
Ride Sharing: Ride sharing companies such as Uber, Bolt, Ola, and Via are readily available throughout the UK. Download the app, if you don't have it already, and your transport will be waiting for you within minutes.
Rental car: There are several rental car companies throughout the UK, with a majority of them being based in London. This is great if you want private transportation and is convenient because you can pick it up at the airport as soon as you land. You can use a valid license from your home country to drive legally in the UK for up to a year without having to convert it or get an international license.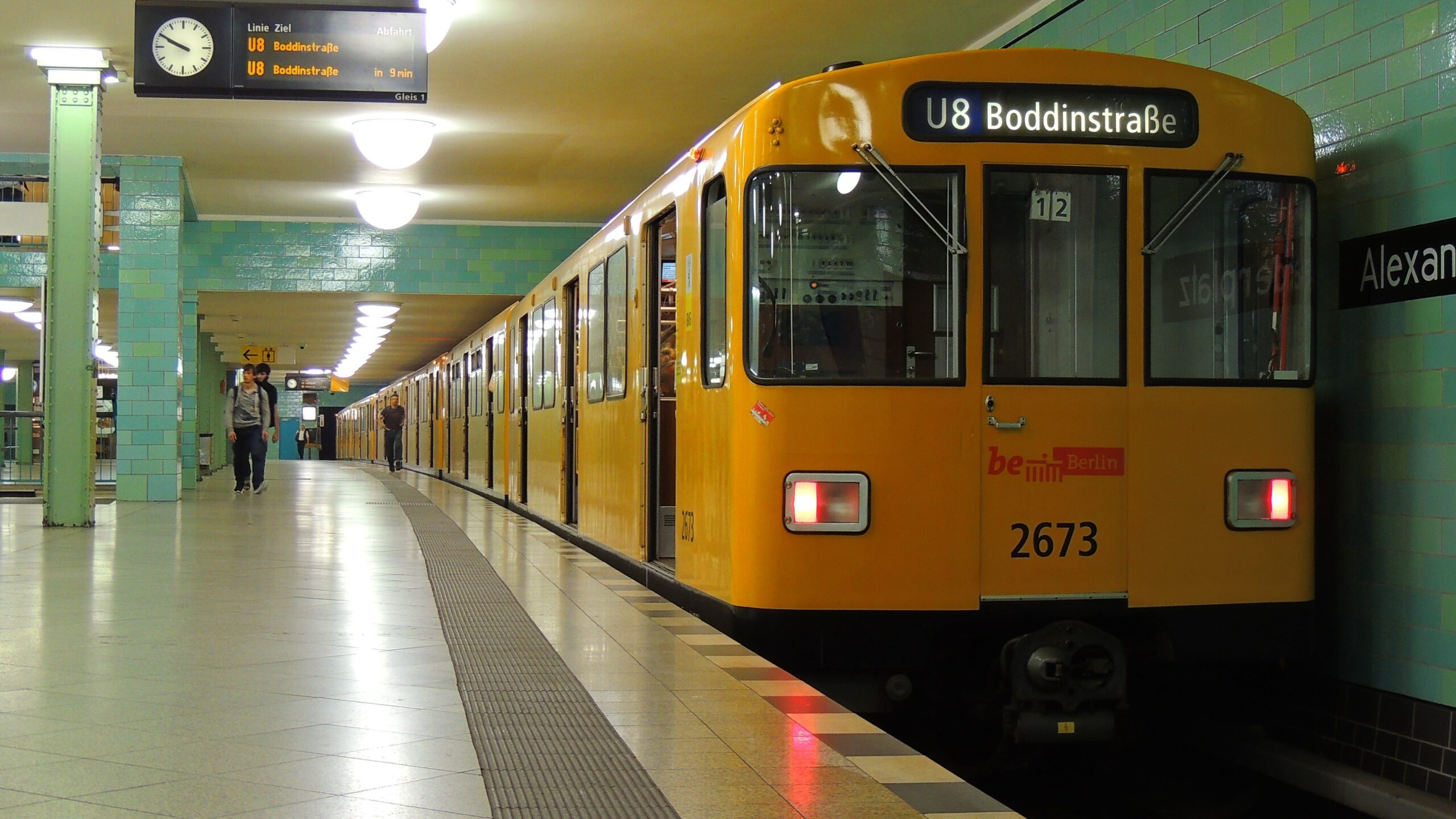 How do I get around in Germany? / Transportation in Germany
You can find very efficient public transport systems in Germany, especially in the larger cities and towns.
Walking: Main cities in Germany such as Berlin, Munich, and Frankfurt are considered very walkable. And while walking in rural areas may leave you with some splendid views, you may be walking for a while if you're trying to get somewhere.
Domestic flight: Domestic flights in Germany may not only be fast and efficient but could also prove to be cheaper than the alternatives depending on where you're going. One of the largest German airlines, Eurowings, operates low-cost domestic flights regularly between cities.
Train: There are several local and regional trains in Germany. They have the IRE (Interregio-Express), RE (Regional-Express), RB (Regionalbahn) and S-Bahn with an intricate network of routes, seamless connections to local and long-distance destinations, and consistent departures and arrivals.
Tram: With an extensive number of tram networks, this may be one of the best ways to get around and explore Germany. It would be a terrific way to experience places such as Berlin, Cologne, Dusseldorf, Frankfurt, Munich, and Stuttgart.
Coach/ Charters: Companies such as Coach Charter Germany and Charter Bus Germany provide routes between an array of destinations within the country. These long-haul bus rides are not only convenient, but they're also comfortable and are often modern vehicles filled with amenities such as bathrooms, Wi-Fi, and more.
Bus: Several major cities in Germany have bus routes that are often the public transportation of choice for visitors and residents. You'll find bus stands clearly marked, can purchase tickets directly from the bus driver, and will find this mode of transport to be clean and comfortable.
Taxi: Perfect for shorter distances, most taxi companies in Germany have a standardized fare that is followed by their drivers. Taxis are recognizable by their cream color and yellow taxi sign tops. Even if you're not going anywhere in particular, taxis are also a terrific way to explore your location and get some insider facts from your driver.
Ride Sharing: Uber is active in certain cities in Germany such as Frankfurt, Berlin, and Munich. Most other cities have private companies that do something similar and may either be booked through an app or a simple phone call.
Rental car: There are several rental car companies in Germany and prices are usually pretty cheap. This is a wonderful option if you're traveling to more rural parts of the country and want to have transportation on hand. To rent a car and drive in Germany you'll need your license from your home country as well as an international driving license.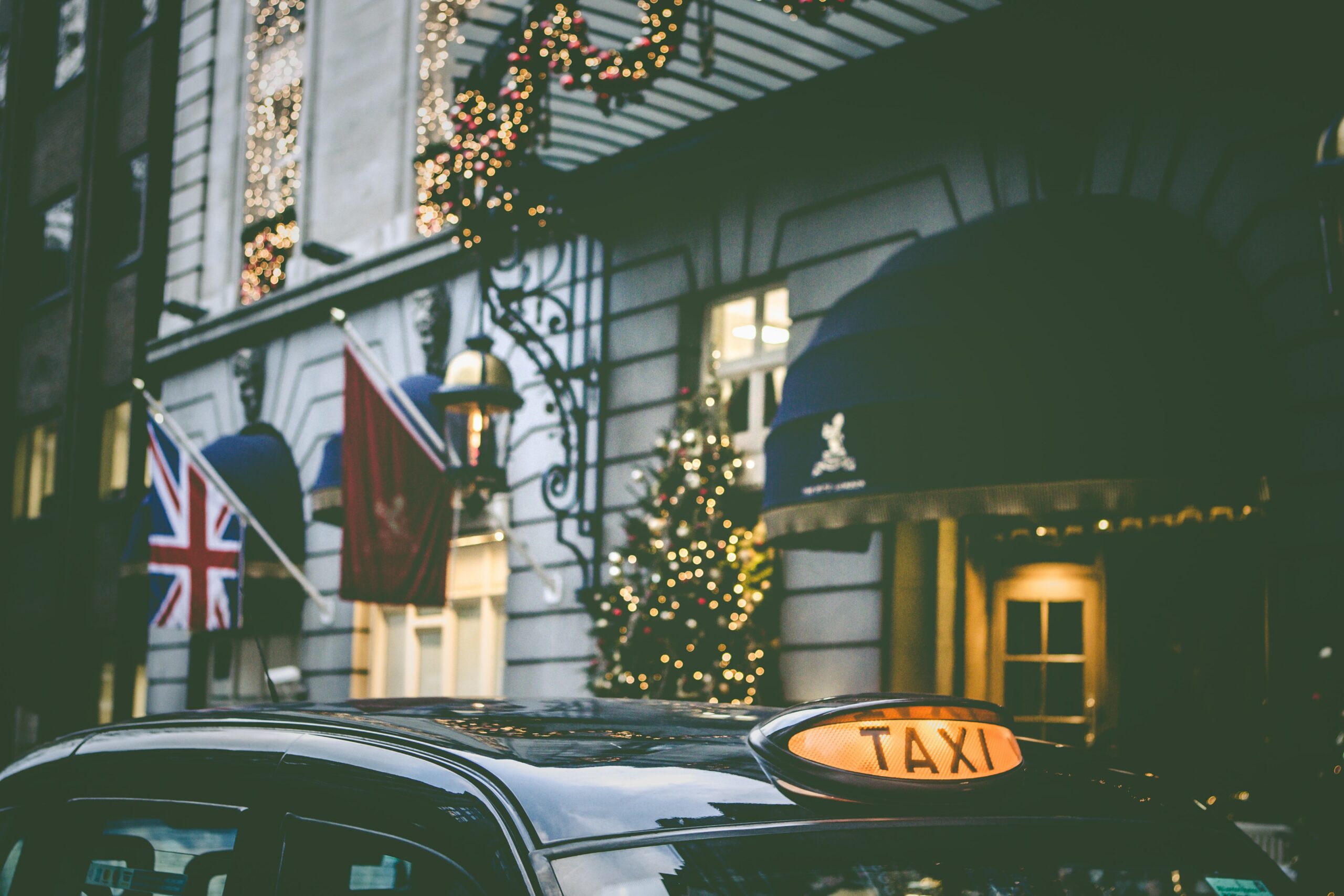 Is the UK or Germany more budget-friendly for travel?
Just the sheer amount of attractions and destinations to visit in the UK may make it more expensive to travel than in Germany. But here's an approximate breakdown of how much you should keep budgeted for each country.
Flight costs from the nation's capital, Washington, DC, to the capital cities of each country:
Washington, DC to London, UK: Starts at $600 (USD)
Washington, DC to Berlin, Germany: Starts at $500 (USD)
Average hotel costs per day:
London, UK: $300 (USD) for a double room
Berlin, Germany: $150 (USD) for a double room
Meal costs per day:
London, UK: $60 (USD)
Berlin, Germany: $50 (USD)
Transportation costs per day:
London, UK: $65 (USD)
Berlin, Germany: $40 (USD)
Is the UK or Germany better for certain types of travel?
Solo Travel – While Germany is perfectly safe for solo travel, the UK has been recognized as one of the safest solo travel destinations in the world.
Family Vacation – Germany has a rich history and several fun attractions, though most of them are historical in nature. Kids may enjoy the UK more as there are more theme parks and amusing attractions to choose from.
Adventure Travel – There are fifteen national parks in the UK and sixteen national parks in Germany, making it an overall tie for the number of reserves and green spaces they have that are suitable for outdoor activities such as hiking, kayaking, canoeing, fishing, etc.
Romantic Holiday – The UK has a much wider range of cute and cozy countryside B&Bs, vineyards, and other attractions for lovers to enjoy during their vacation.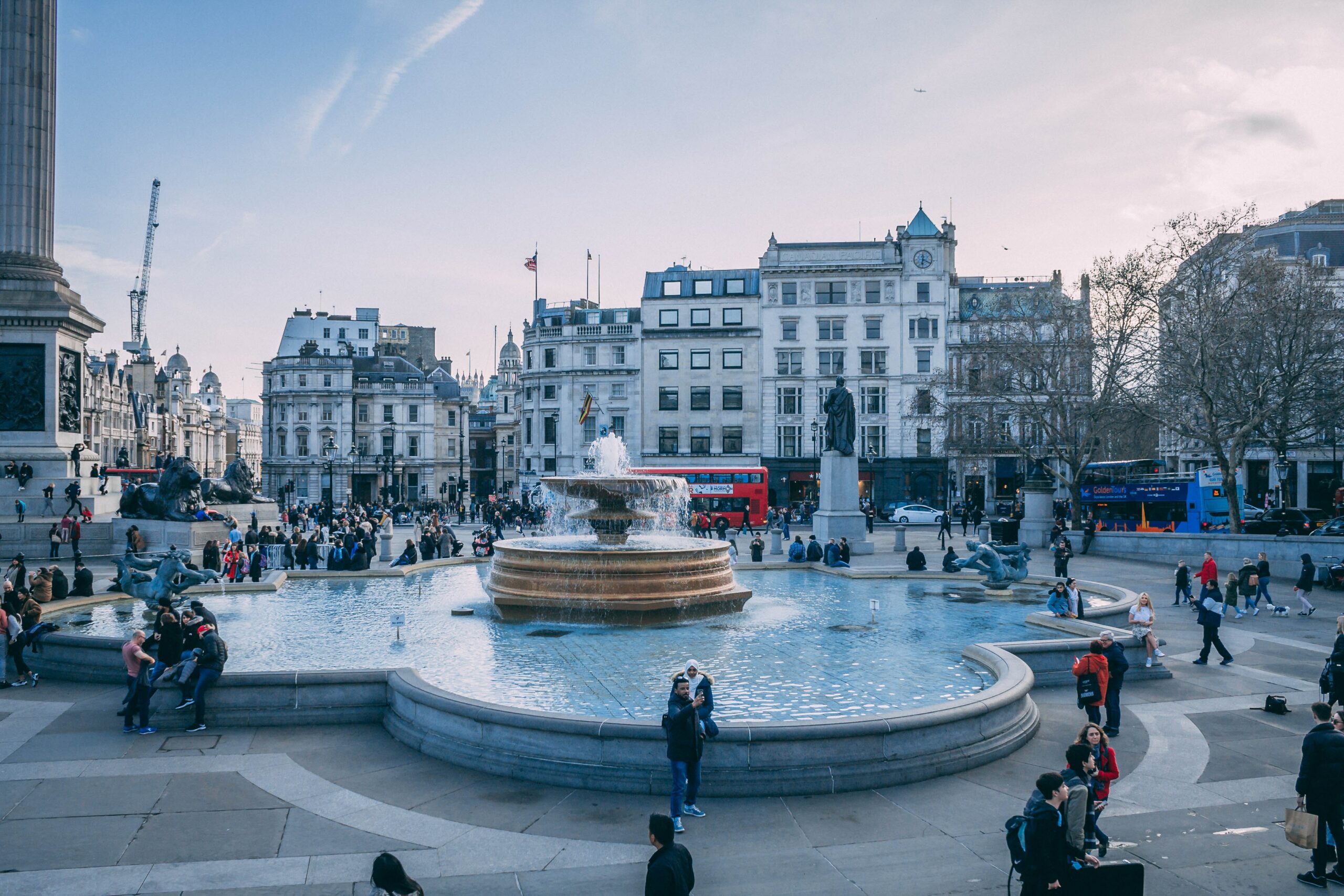 What are the most famous attractions in the UK?
Buckingham Palace – The official London resident of the Royal Family. Staterooms are open to visitors during selected dates throughout the year. Check out the Changing the Guard ceremony which usually happens at 11 am on Mondays, Wednesdays, Fridays, and Sundays.
Tower of London – The official Royal Palace of His Majesty, the Tower of London is an iconic castle and World Heritage Site. There are daily tours as well as events hosted here. Don't miss seeing the crown jewels.
The British Museum – Discover over two million years of human history and culture. Highlights include the Inner Coffin of Hornedjitef and The Goddess Tara.
Stonehenge – Prehistoric monument that displays Neolithic and Bronze Age ceremonial and mortuary practices.
London Eye – Tallest observation wheel in Europe that offers unparalleled views of the River Thames.
The National Gallery – Art museum with over 2,000 paintings in their collection; highlights include Self Portrait at the Age of 34 by Rembrandt and Sunflowers by van Gogh.
Tower Bridge – A defining landmark in London with panoramic views, glass floors, and a magnificent engine room.
Big Ben – One of the most iconic clock towers in the world, though the name refers to the bell within it.
Edinburgh Castle – Historic castle that served as a royal residence, prison, fortress, and military garrison over the years.
Westminster Abbey – The location of royal coronations, burials, and weddings, including that of Prince William to Catherine Middleton.
Windsor Castle – The official residence of the royal family, Windsor Castle is one of the oldest, still running, castles in the world.
Snowdonia National Park – The largest national park in Wales, Snowdonia is perfect for hiking, camping, kayaking, and there's even a zipline coaster and a mountain railway.
Palace of Westminster – An iconic landmark, the Palace of Westminster is the meeting place for the UK's two houses of Parliament.
Trafalgar Square – A famed public square and significant landmark filled with historic statues and sculptures.
The Roman Baths – One of the finest historic sites in the UK, the natural thermal springs of the Roman Baths still flow hot today.
Loch Ness – We've all heard of the mythological creature adoringly known as Nessie who has made Loch Ness her home. Visit for yourself and see if you can catch a peek of her.
Yorkshire Dales National Park – Encompassing valleys, hills, and villages, this national park is full of attractions and events where the entire family can enjoy the outdoors.
Kensington Palace – Take a tour of the official London residence of the Prince and Princess of Wales and get an insider's view to how royalty lives.
York Minster – One of the most magnificent cathedrals in the world, York Minster has a rich history, beautiful architecture, and several tours and events throughout the year.
National Museum of Scotland – You'll find everything from ancient African queens to Japanese contemporary design here.
Dartmoor National Park – Letterboxing, hill walking, geocaching, canoeing, whitewater kayaking, rock climbing, and fishing are just a few of the outdoor activities you can partake in at the park.
Ben Nevis – You can explore Scotland's iconic mountain which was once a massive active volcano.
Warner Brothers Studio Tour – You can't go to the UK and not take a tour of The Making of Harry Potter, which is full of sets, props, costumes, and more.
Piccadilly Circus – Piccadilly Circus is one of the most famous intersections in the world because of its architecture, advertisements, and more. Think of it as the UK's alternative to Times Square.
Oxford Street – One of the busiest shopping streets in Europe, you're not going to want to miss this.
King's Cross – A bustling train station that all Harry Potter fans will surely recognize.
London Bridge – See the site of the famous nursery rhyme, not to be confused with the famed Tower Bridge.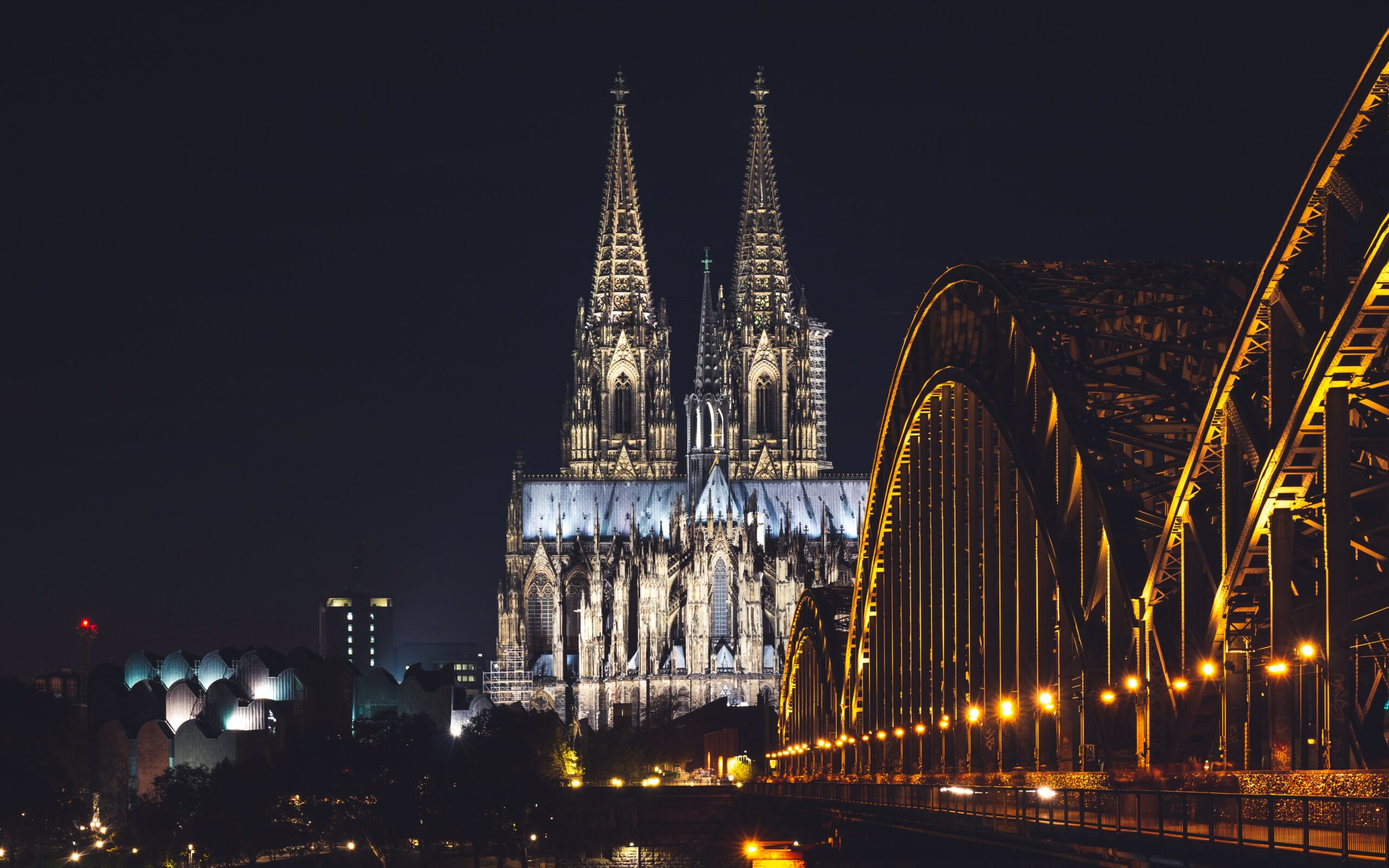 What are the most famous attractions in Germany?
Neuschwanstein Castle – The inspiration for the Disney Cinderella castle, this architectural beauty is the brainchild of Ludwig II.
Brandenburg Gate – Now a national symbol of peace and unity, the Brandenburg Gate was once a symbol of German division during the Cold War.
Reichstag Building – This historic landmark once served as the seat of Parliament in the German Empire.
Cologne Cathedral – The Cologne Cathedral is one of Europe's most important pilgrimage sites.
Memorial to the Murdered Jews of Europe – Also known as Germany's Holocaust Memorial, this is a place of contemplation and remembrance.
East Side Gallery – An open art gallery on the longest surviving section of the Berlin Wall.
Berlin Cathedral – This richly decorated cathedral is a major attraction that opened in 1905.
Europa-Park – The largest theme park in Germany and the most popular theme park in Europe after Disneyland Paris.
English Garden –
Marienplatz – Marienplatz Square is often called 'the heart of Munich' and is a wonderful way to experience the bustle of local life.
Munich Residenz – Visit the largest city palace in Germany and explore its rich architecture, decor, and exhibits from the royal collection.
Berlin Zoological Garden – The oldest and most popular zoo in Germany, Zoo Berlin is home to over 20,000 animals.
Victuals Market – Originally a farmers' market, this now popular gourmet market is a must-visit when you're in Munich.
Miniatur Wunderland – The largest model railway and miniature airport attraction in the world.
Mercedes-Benz Museum – Uncover the history of this famed brand and see some breathtaking vehicles and over 1,500 exhibits.
BMW Welt – Museum, exhibition, and event venue, the BMW Welt brings to life over a hundred years of automotive history.
Phantasialand – This large theme park will keep both kids and adults entertained.
Museum Ludwig – Houses a collection of modern art including one of the largest collections of Picasso's works in all of Europe.
Porsche Museum – This automobile museum has artifacts from the brand's history, factory tours, and more.
Rhine Gorge – This beautiful and scenic river is a must-visit when in Germany; plan a guided tour, picnic, and more.
Cologne Chocolate Museum – Learn about the 5,000+ year history of cocoa at the Cologne Chocolate Museum while trying out various different kinds of chocolate.
LEGOLAND Germany – A favorite with kids (and adults) all over the world, LEGOLAND Germany stands up to the hype their reputation has.
If you like this post about United Kingdom vs. Germany: Which Is Best to Travel? Let us comment below. 🙏 And we suggest you read a similar comparison between Turkey vs. Greece: Which is best to travel?
Interesting infographic about the United Kingdom vs. Germany: