You don't have to leave the country to have a memorable adventure and to experience new things. The United States is filled with amazing things to see and do, from popular sites which people come from all over the world to see, to roadside attractions you only knew existed because you drove by it.
Each U.S. state has its own culture and history which you can experience. Some of these are worth traveling to specifically, while others may be more of a pit stop on a long drive. With a little bit of research and a lot of love, we've compiled everything there is to see in Alabama all the way to Wyoming.

Alabama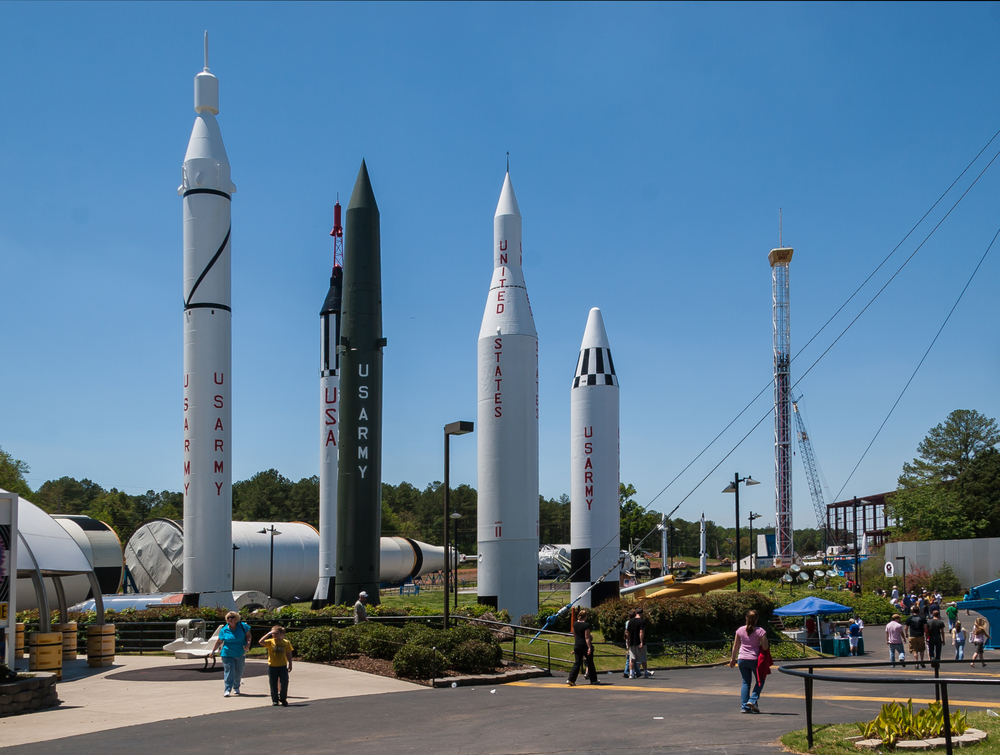 U.S. Space and Rocket Center – When you think about the U.S. space program, you usually think about places like Cape Canaveral or Houston. Funnily enough, all of the equipment that sent Americans to space was developed in Huntsville, Alabama. You'll be able to see the only fully stacked shuttle display, Apollo 16, and the largest collection of space hardware in the world.
Battleship USS Alabama – The former U.S. battleship is now a museum that can be found on Mobile Bay. The entire family will love being inside the real USS Alabama battleship and seeing historic aircraft, real WWII-era weapons, and even a flight simulator.
Alaska
Kenai Fjords – Take a cruise on the Kenai Fjords and come across some of the most breathtaking scenery and wildlife you'll see in your lifetime. Cruises usually last around five hours, during which you'll come face to face with puffins, sea lions, and whales!
Denali National Park – Home to the highest point in North America, Mt. McKinley, exploring this 6-million-acre national park is on the bucket list of many travelers. Stay at a wilderness lodge for the ultimate outdoor experience.
Arizona
Grand Canyon – You can't talk about attractions in Arizona and not include the Grand Canyon. It is one of the most awe-inspiring natural wonders in the world and you can participate in activities such as camping, rafting, hiking, and trekking.
Lake Powell – Straddling the border of Arizona and Utah, Lake Powell is one of the most gorgeous natural attractions you'll ever see. Over two million people visit the panoramic reservoir every year.
Arkansas
Hot Springs National Park – America's oldest national preserve, go relax and be healed in the bubbling pools of naturally hot water at Hot Springs National Park.
Crystal Bridges Museum of American Art – The modern exterior of the museum is a sight in itself, but inside, you'll come across timeless pieces by Andy Warhol, Georgia O'Keeffe, and several other famous artists.
California
Alcatraz Island – Today, visitors can tour the former Alcatraz Federal Penitentiary which once imprisoned infamous criminals like Whitey Bulger and Al Capone.
The Golden Gate Bridge – One of the most photographed bridges in the world, the Golden Gate Bridge is just one of those attractions you have to see when in California.
Colorado
Red Rocks Amphitheatre – The Red Rocks Amphitheatre in Denver has one of the best natural acoustics you'll ever hear. It doesn't hurt that you'll be surrounded by sweeping views of the Fountain Formation.
Rocky Mountain National Park – With shimmering alpine lakes and mesmerizing mountain peaks, Rocky Mountain National Park is a picture-perfect place to enjoy the outdoors.
Connecticut
Yale Peabody Museum of Natural History – History buff or not, you're going to want to spend hours at this educational, fun-filled museum. Their collection includes an Egyptian mummy, dinosaurs, and Roman antiquities.
Louis' Lunch – Louis' Lunch is the birthplace of the hamburger. Really – the Library of Congress recognizes them as the inventor of all-beef patties as well as the oldest continuously-operating burger place in the United States.
Delaware
Rehoboth Beach – Perfect for your next summer getaway, the entire family can enjoy swimming, playing beach and water sports, crabbing, going to the local farmers' market, or indulge in tax-free shopping.
Air Mobility Command Museum – You'll get to see aircraft from different events and periods at the museum. Kids will learn a lot about the history of military aviation while being wowed by seeing the aircraft up close.
Florida
The Wizarding World of Harry Potter – located inside of Universal Studios Orlando, this is a must-visit for any wizard or muggle. You can drink butterbeer, go on exciting rides, and stock up on tons of HP merch.
Disney World – The happiest place on earth is self-explanatory. You can't go to Florida and not stop to see Mickey Mouse.
Georgia
World of Coca-Cola – A museum unlike any other, the World of Coca-Cola is a 20-acre complex that showcases the history of the company. You can sample over 100 different beverages from around the world!
Savannah Historic District – You'll enjoy walking through one of the largest and most charming National Historic Landmark Districts in the nation. There's beautiful green spaces, stunning Victorian architecture, and an all-around allurement you won't be able to get enough of.
Hawaii
USS Arizona Memorial – This museum is housed in the remains of an original battleship and honors the US sailors and marines who lost their lives during the Pearl Harbor attack.
Punaluu Black Sand Beach – Why go to Hawaii if you don't plan on catching some rays at this dramatic black sand beach? It is a sight to see and we're sure you'll love spending a day there.
Idaho
Craters of the Moon National Monument and Preserve – This 400-square-mile nature preserve provides unique opportunities to hike through caves, walk on giant basaltic lava fields, and peer into the world's deepest rift crack.
Illinois
Millennium Park – When I say "The Bean", you guys know exactly what I'm talking about. Chicago's most-visited park is filled with modern architecture, sculptures, and even a secret garden.
Indiana
Indianapolis Motor Speedway – Home of the Indy 500 and other renowned events, you can also explore the Speedway Hall of Fame, play golf, or drive a real Indy car yourself.
The Children's Museum of Indianapolis – Your kid(s) is going to talk about this museum non-stop if you take them there. It's nearly 500,000 square feet of fun and has everything from a 35-foot steam engine to full-size dinosaur skeletons.
Iowa
Field of Dreams Filming Location – The Field of Dreams is an 80s classic and tons of people enjoy the movie even today. You can visit the farmhouse and baseball field where it was all filmed.
Kansas
Monroe Elementary School – One of the most iconic locations in our nations' history, this was once one of the four all-black elementary schools in the area that sparked the end of segregation in public schools. Today, it's a civil rights museum with multiple exhibits dedicated to its past.
Deanna Rose Children's Farmstead – Go back in time to Kansas in the 1900s where you can learn about farming and meet over 200 of their furry residents.
Kentucky
Louisville Mega Cavern – What was once a functioning mine is now a massive underground space filled with tram tours, zip lines, ropes courses, and dirt biking trails.
Kentucky Bourbon Trail – Comprising ten distilleries and the oldest bar in town, be sure to drag a designated driver along for the ride.
Louisiana
Bourbon Street/ French Quarter – Louisiana offers plenty of other great things to see and do, but walking the French Quarter is a must! They have tons of popular festivals like Mardi Gras and Jazz Fest, but if you miss those, you can still indulge in Cajun and Creole cuisine or take in a jazz performance throughout the year.
Maine
Acadia National Park – 47,000 unspoiled acres of the great outdoors gives you a chance to swim in hidden beaches, hike on narrow trails, or climb the Cadillac Mountain.
Maryland
Downtown Annapolis – The sailing capital of the nation, you can spend your time taking in the breathtaking architecture or visiting the naval history museum at the United States Naval Academy.
Baltimore Inner Harbor – Talk a walk along the promenade as you take in stunning views of Baltimore City. Don't forget to have one of their famous Maryland crab cakes while you're there!
Massachusetts
Faneuil Hall Marketplace – The marketplace is one of the most visited places in the United States and now houses unique shops and restaurants – don't leave without having a cup of New England clam chowder or a lobster roll.
Michigan
Henry Ford Museum  – In addition to the first car Ford ever built, the museum also houses the Rosa Parks bus, the Lincoln JFK was riding when he was assassinated, and many other antique machines, automobiles, and locomotives.
Minnesota
Paul Bunyon and Babe the Blue Ox – You're not going to Minnesota just to see this, but if you're there, you're not leaving without seeing it. The two-and-a-half ton, 18-foot statue is one of the most unique sites you'll see in the state.
Mall of America – When it opened, the Mall of America was the largest mall in the United States. Other than an array of shops, they also have a movie theater, a mini-golf course, an aquarium, and a Nickelodeon Universe theme park.
Mississippi
Vicksburg National Military Park – Now a national park, this was once the site of the 1863 Battle of Vicksburg during the American Civil War. You can explore over 20 miles of trenches and see 1,325 historic monuments which include the restored USS Cairo.
Missouri
Sight & Sound Theatres – This is one of the most unique attractions on our list. Sight & Sound Theatres brings bible stories to life with live animals and a massive stage that surrounds you on three sides.
Gateway Arch – An iconic monument, don't miss the opportunity to take a tram ride to the top of the arch.
Montana
Glacier National Park – 16,000 square miles of rivers, mountains, and untamed wilderness await you in Montana.
Nebraska
Henry Doorly Zoo – Voted one of the best zoos in the world, Henry Doorly Zoo has some unique exhibits like Kingdoms of the Night, Desert Dome, and the Butterfly and Insect Pavilion.
Chimney Rock – The National Historic Site is a 325-foot spire made of rock. It is estimated to be between 23 and 34 million years old. You can learn all about its history at the Chimney Rock Visitor Center and see why so many settlers have described it during their migration.
Nevada
Las Vegas Strip – What happens in Vegas doesn't always stay in Vegas. Keep that in mind as you take in the sights and sounds of Sin City.
Red Rock Canyon National Conservation Area – If Vegas isn't your thing, go hiking or mountain biking and take in the views of Red Rock Canyon.
New Hampshire
Mount Washington – Go on a scenic drive, hike, or take the Cog Railway to the Mount Washington Summit – the highest point in New England!
Kancamagus Highway – If you're in New Hampshire during the fall, take a scenic drive on this highway that is famed for its foliage.
New Jersey
Atlantic City Boardwalk – Still one of the greatest gambling destinations in the U.S., Atlantic City is home to several renowned casinos. Even if you're not a gambler, visit the iconic boardwalk which comes alive in the summer.
New Mexico
White Sands National Monument – Imagine an endless expanse of stunning white dunes – it's a sight that will take your breath away. You can sled down the rare white gypsum or even set up camp there for a couple of days.
New York
Empire State Building – Go straight up to the Empire State Observatory and see incomparable views of New York from above. They also have tons of exhibits and installations – the King Kong one is a fave.
Central Park – One of the most filmed locations in the world, you'll love exploring the 843 acres of lush greenery found right in the heart of Manhattan.
Statue of Liberty – The big green lady is our nation's symbol of freedom and opportunity. You can't visit the Big Apple and not stop by to say hello.
North Carolina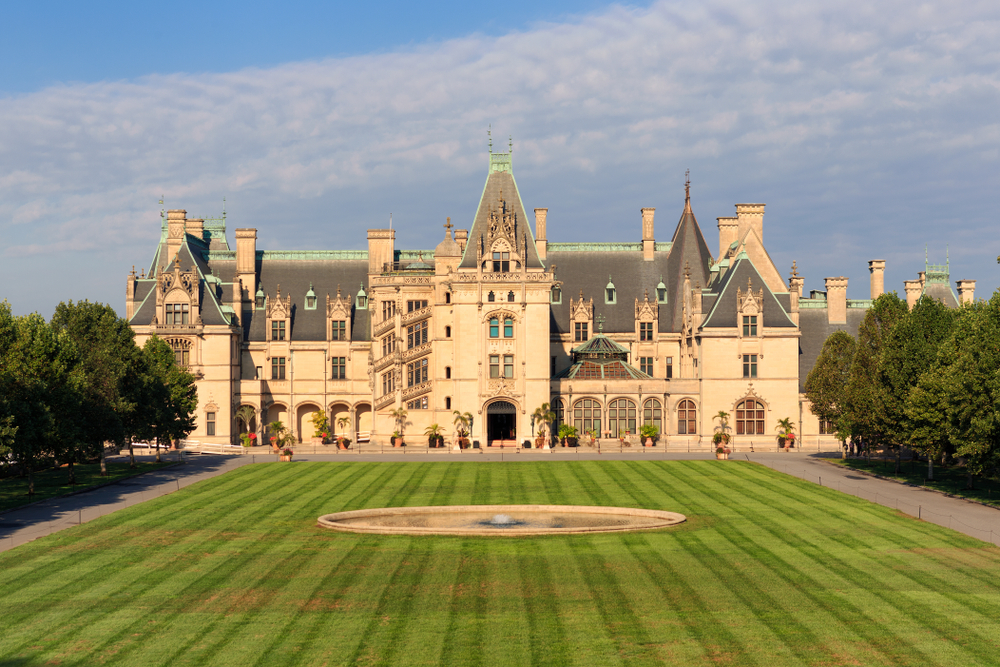 Biltmore Estate – The historic Vanderbilt family estate is one of America's greatest castles. Explore the 250-room mansion and expansive gardens while in North Carolina.
North Dakota
Dakota Thunder – A popular roadside attraction in the midwest, Dakota Thunder is a massive 26-foot-tall bison. It is the largest sculpture of an American bison in the world.
Theodore Roosevelt National Park – Picnicking, hiking, camping – there are so many things to do in this spectacular park. The bizarre rock formations are somewhat of a legend in the area.
Ohio
Rock and Roll Hall of Fame – Lyrics that were handwritten by John Lennon and the iconic red latex suit worn by Britney Spears are just a few of the legendary items you'll see here.
Oklahoma
National Cowboy and Western Heritage Museum – Get a fully immersive experience of the Old West at this museum, which also showcases over 2,000 photographs and works of art from that time.
Oregon
Crater Lake – The deepest lake in the United States, Crater Lake was formed by the collapse of Mount Mazama and is one of the most beautiful natural sites you'll see in the state.
Pennsylvania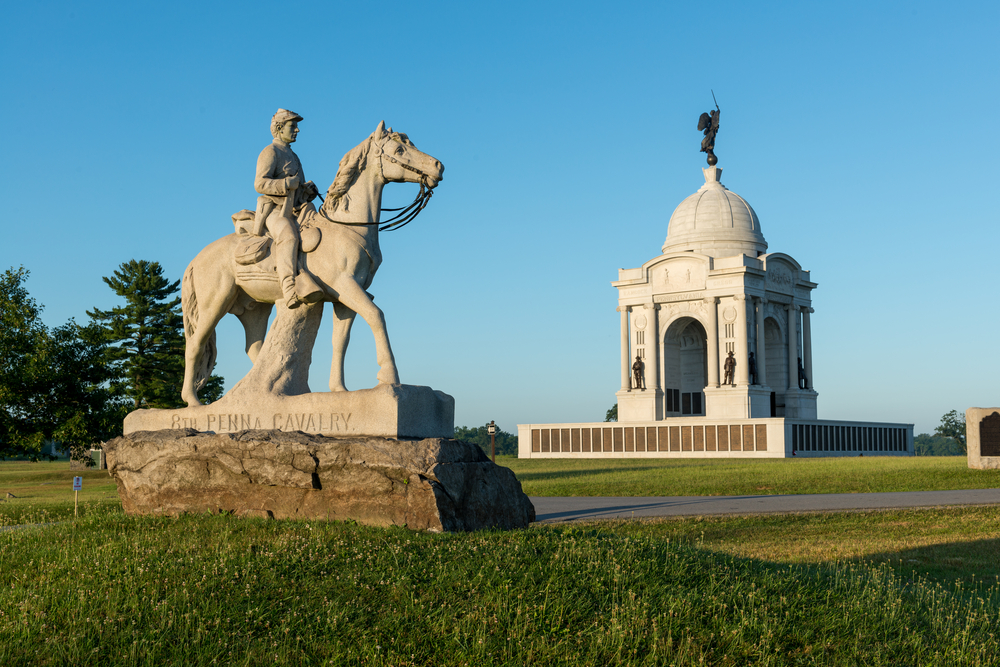 Gettysburg National Military Park – This historic battlefield was the site of an important turning point during the Civil War. You can go on a tour and learn important tidbits which will interest the entire family.
Rhode Island
Newport Mansions – One of the things that visitors love to do when they're in Rhode Island is to drive and see all the magnificent mansions in Newport. Popular estates include the Marble House, Rosecliff, and the Vanderbilts' Breakers.
South Carolina
Historic Charleston – Walk through the antebellum mansions and gardens, take in the southern architecture, and soak in the history and charm of Charleston. They have some great carriage tours as well as a growing food scene!
South Dakota
Mount Rushmore – The iconic sculpture of four of our nation's finest presidents is worth a stop when in South Dakota. You can walk the Presidential Trail for the perfect photo opp, as do over two million people every year.
Tennessee
Graceland – The home of the king, Elvis Presley, is no small attraction. The longtime home of the iconic singer is filled with memorabilia!
Sugarlands Distilling Company – Nothing says country music capital like moonshine. Tour the company and have authentic moonshine in flavors like Appalachian Apple Pie or Maple Bacon.
Texas
San Antonio Riverwalk – Often called "the southern version of Venice", this space is lively and encompasses everything you expect Texas to be. There are shops, restaurants, street vendors, and so much more.
Utah
Zion National Park – This is one of the most magical natural landmarks you'll see in Utah. The half-mile-deep canyon is filled with emerald pools that stand out against their backdrop of red rocks.
Vermont
Ben & Jerry's Factory – Whether you're a fan of ice cream or not, you're going to want to tour the Ben & Jerry's Factory. The iconic ice cream company headquarters offers thirty-minute tours and gives you access to flavors you won't usually get in your local grocery store.
Virginia
Colonial Williamsburg – Immerse yourself in historic America by visiting Colonial Williamsburg. The live-action museum encompasses the entire neighborhood and gives you the chance to see historic reenactments, tour blacksmiths' shops and other unique crafts, and enjoy colonial-inspired activities and dining.
Washington
Chihuly Garden and Glass – This stunning glasshouse was created by artist Dale Chihuly. Inside, you'll find exhibits of his glass art and additional features such as a garden and theatre.
Pike Place Market – This open-air market is a must-visit when in Seattle. It's so lively and filled with stalls full of works by local artisans, foods, brews, and other crafts. You can shop, eat, drink, and take part in events and workshops such as on-site cooking classes.
West Virginia
Trans-Allegheny Lunatic Asylum – Not for the faint-hearted, the Trans-Allegheny Lunatic Asylum was an operational psychiatric hospital until the mid-1990s. You can go on one of their historic tours, but what we really love is their spooky ghost tours which can last all night long.
Wisconsin
Wisconsin Dells Waterpark – The largest indoor and outdoor waterpark across the United States has over 200 water slides that are just waiting for you to ride. Particularly famous for their cheese, you'd never expect the state to be as thrilling as this!
Wyoming
Grand Teton National Park – A haven for people who love the outdoors, you can do everything from mountaineering and hiking to fishing and backcountry camping. Bring your camera along to capture all of the amazing sights like the mountains and valleys as well as the several animals you're guaranteed to spot.
Didn't see your favorite attraction from your home state on our list? Leave us a comment below and let our readers know about it!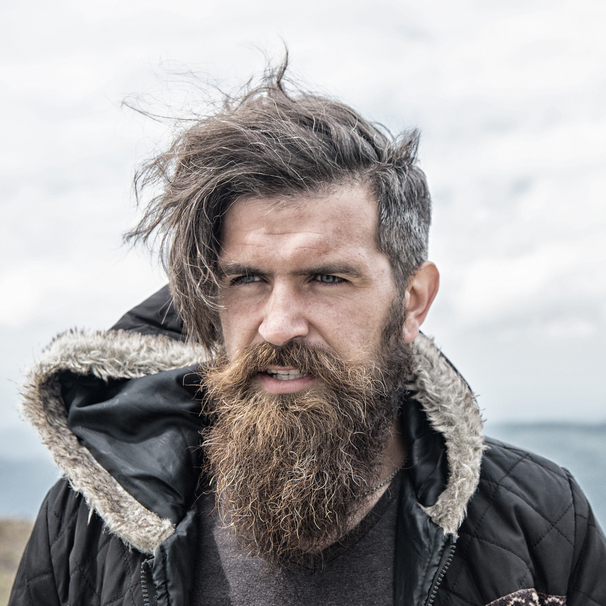 I am a professional travel writer and travel enthusiast who traveled the world twice, so I am sharing my firsthand knowledge about everything related to travel and spending time abroad.