Gone are the days when people have to visit their local travel agent to book a flight to go on holiday. It's all done online these days, but there are hundreds of flight booking sites these days and it can get really confusing, not to mention overwhelming, as to which one to use. Here are the top 5 cheap flight booking sites and apps to use to fly the world to make the job of booking easier than ever.
Skyscanner has a no-clutter website with a simple search engine for finding the best flights with options to add hotels and cars. They compare many routes and airlines to find you the cheapest tickets.
The results can be sorted by best, cheapest, or fastest flights. In addition, if you're not ready to book straight away, you can sign up and receive a price alert email if the flight price goes up or down. You can filter by stops, departure time, duration, and airline. There are also links to airlines and other flight booking sites for you to compare prices.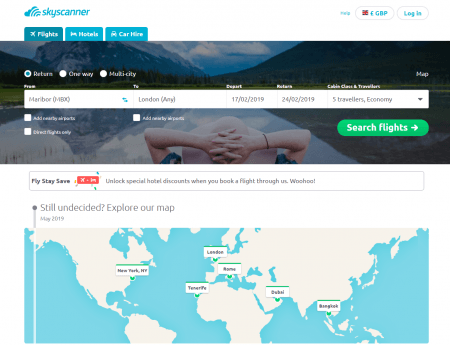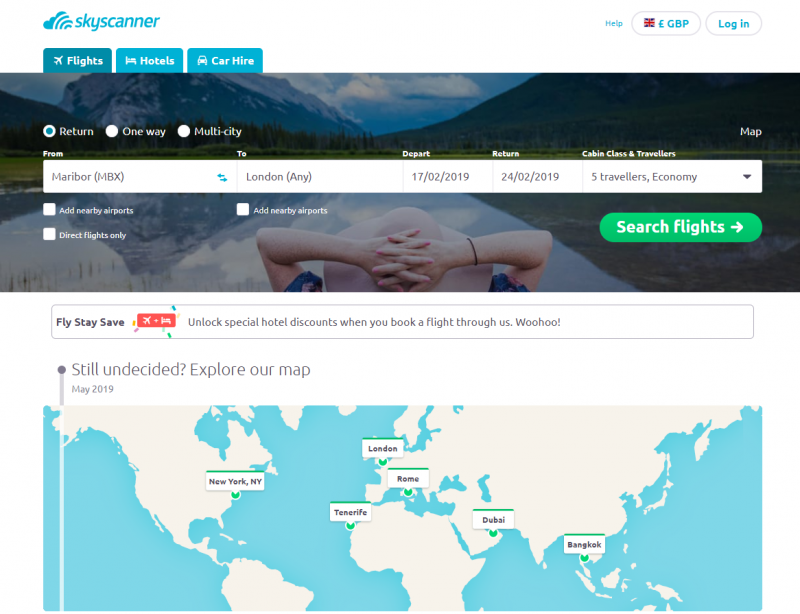 Skyscanner also provides expert advice on how to land last-minute deals and there is a separate search field you can use for this.
Plus, you can download your very own Skyscanner App to your mobile, so you can book flights and receive alerts on the go.
Expedia has a simple website and there are more choices than Skyscanner when looking for your perfect trip. As well as booking your flight, you can also choose hotels, cars, cruises, and bundle and save which are combined flight+hotel or flight+car packages. You can also search for things to do and vacation rentals in your destination.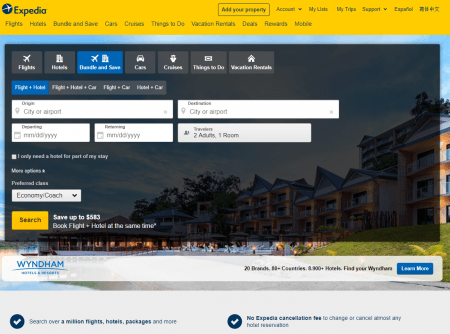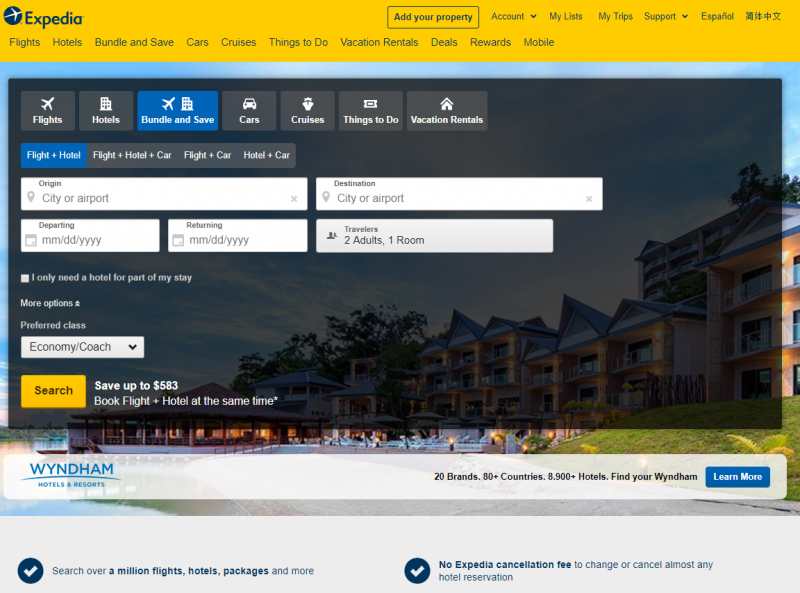 You can search over a million flights with discounts for booking flights and hotels together and any searches you make are automatically saved.
The results can be filtered by price, duration, arrival and departure times, number of stops, and airlines. There are also links to other booking sites as well as flight ratings and flight details including baggage fees.
If you sign up for the Expedia App, you'll receive up to 30% hotel discounts and real-time updates.
Kayak is another flight booking website that has a simple search field with the added benefit of checking boxes to compare Kayak's prices with other booking sites. If you do this, a new window will pop up for you to easily compare. There are different options for packages and deals and there is information on different routes and destination guides. Also, you can create price alerts or add flights to your watchlist.
You can use their flex search which will let you search for flights up to 3 days either side of your dates.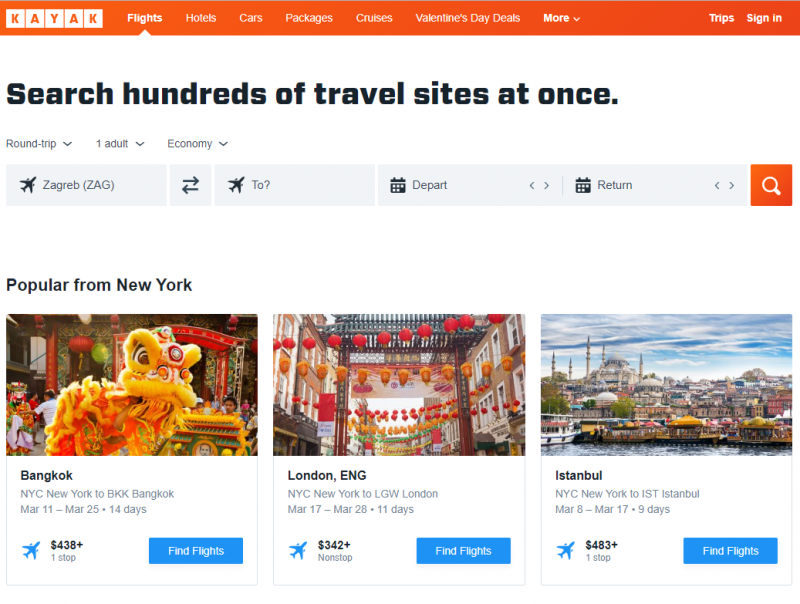 You can sort your search by cheapest, quickest, take-off and landing times and filter by airports and airlines, even type of cabin. Kayak's website also gives advice about whether you should book your flight based on analysis of current and past flight prices. There are options to click on other booking sites and airlines.
Kayak's App will not only allow you to make your travel plans on your mobile, but it will also give you access to mobile deals which aren't available on the website.
Out of all the booking sites available, Kayak has consistently offered the best and cheapest flight deals.
Priceline has search options for flights, hotels, hotel+flight, cars and cruises. They also offer deals which will suit every pocket, a 24/7 helpline, and if you find a lower flight cost, they will give you a 100% refund of the difference.
You can filter your search by arrival and departure time, airline, duration, and number of stops and they also specify that if you book immediately you can cancel for free within 24 hours.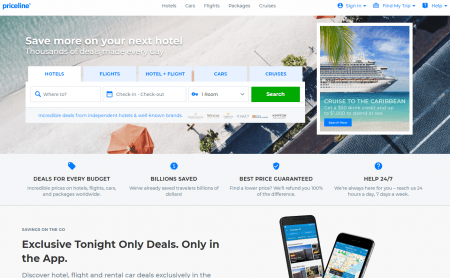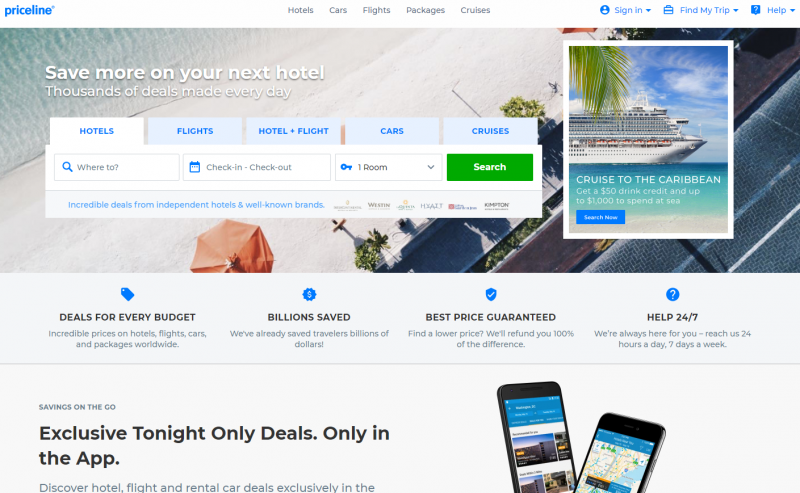 One of the best things about Priceline is their Express Deals where you can specify dates and destination airport, but you won't find out the airline and travel times until you complete the booking. However, the discounts are good if you are happy to be flexible.
Priceline's App allows you to stay connected at any time and from anywhere and you can also sign up to receive emails which give to access to coupons, offers and promotions.
Cheapoair.com offers a Price Match Promise, so if you find your flight at a lower cost, they'll match it. The booking system is easy and there is a welcome lack of advertisements on the search results page. If you set up an account with them, they are currently offering 20% off flights. They also claim to have the fastest way to compare over 450 airlines cheap flights.
They have 24/7 customer care service where you can contact them and find out about special deals and fares that are not available on their website.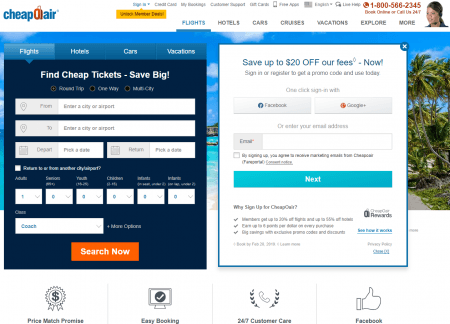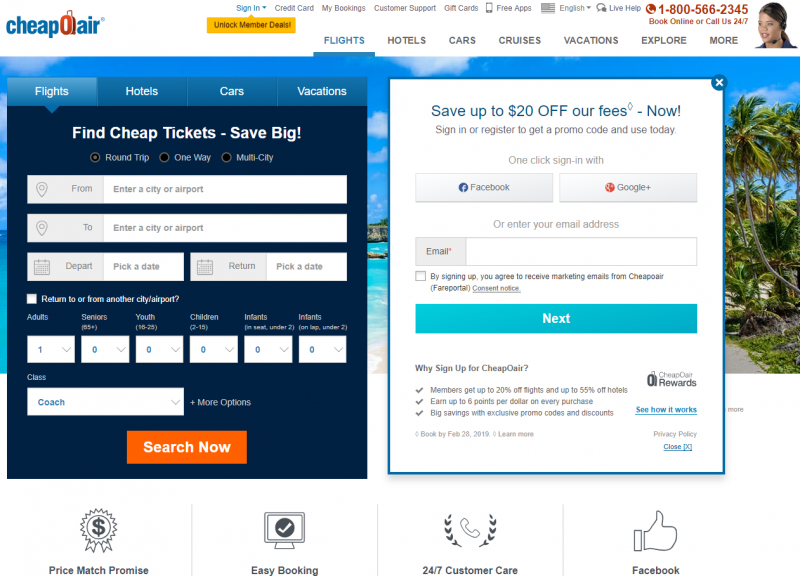 You can sort your flight search results by flight times, number of stops, airports, airlines, and layover times and you can also change the results to show costs for direct routes and alternative dates. You can also see how many tickets are left at that particular price. Pop-ups will appear that tell you how many people are looking at the same flights.
The Priceline App is available for free and you can also register your email address and receive deals and alerts to your inbox. Discounted fares available are also updated on a daily basis.
These top 5 cheap flight booking sites each offer a range of options, cheap prices, and an easy way to find your ideal flight. Whichever one you choose, you can be sure that you'll find the best deal for you.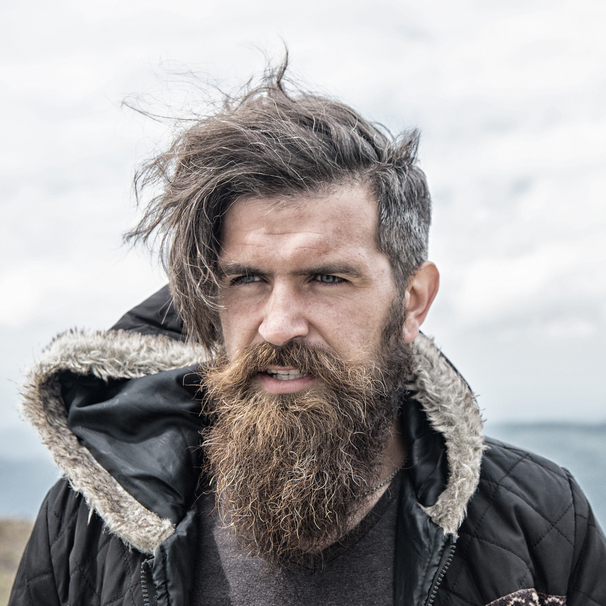 I am a professional travel writer and travel enthusiast who traveled the world twice, so I am sharing my firsthand knowledge about everything related to travel and spending time abroad.