We are all feeling a little restless these days as stay-at-home orders and travel bans are enforced all over the world. Get creative and use our awesome TravelSites tools to travel to different countries all from the comfort of your home. We have highlighted some of the best ways to visit the temples of Japan and learn about the flavorful cuisine of India without breaking any rules.
Check out the best-rated travel blogs
Check out our list of top travel blogs that will let you vicariously live through adventurers crossing the deserts of Africa or camping in South American rainforests. What's great about our list is that there are travel blogs by people of all ages, backgrounds, and traveling styles, no matter if you prefer to backpack on a budget or live it up with limousine service. Check out our list of travel blogs.
Nomadic Matt – A New York Times bestselling author, Nomadic Matt is one of our favorite travel blogs. He has got some great resources on travel insurance, the best travel credit cards, and even opportunities to teach English abroad. His blog posts discuss everything from "the best things to see and do in Hong Kong" to "the ultimate guide to traveling cheap". But if it is different countries you want to explore while isolating at home, you'll see that he covers destinations like Barcelona, Spain, Japan, Las Vegas, Canada, Budapest, Chile, and more.
The Broke Backpacker – Will Hatton, aka The Broke Backpacker, has been traveling the world for over ten years while making the most of a tight budget. His blog is the ultimate resource for aspiring adventurers and his posts will take you to places like Pakistan, Cambodia, the Philippines, Czech Republic, Holland, Spain, Peru, Nicaragua, and much more.
–
Marvel at beautiful pictures on Instagram travel pages
Instagram bloggers have gained popularity in recent years because the old saying is true – a picture is worth a thousand words. These adventurous travelers go places many of us only dream of and share it with the world with amazing photographs of their journey. Not only will you get to see places, but you will also see the people, foods, and other aspects of a destination that can't always be captured with words. Check our list of inspiring Instagram travel blogs.
Earthpix – Earthpix is an Instagram account focused on travel-related photographs from all over the world. The images are submitted by individual photographers that tag the account in their posts. You'll be able to explore hidden swimming holes in Arizona, jump into the ocean in Portugal, or walk under the cherry blossoms in Paris. There is no limit to what you'll be able to see in this account.
Beautiful Destinations – With thousands of photos reshared from other users' accounts, Beautiful Destinations takes the best travel photographs on Instagram and curates them in one easy-to-follow page. They have some of the most amazing photographs and videos of animals in their natural habitat. You will get up close and personal with chimpanzees in Sumatra, rhinos in Botswana, and dolphins in the Maldives. Their posts are incomparable and are taken by some award-winning photographers and movie directors.
–
Learn a new language
There is no better way to spend your time isolated at home than by learning a new language. It is a great activity to do with your partner or kid(s), and after things go back to normal, you'll have a new skill to add to your resume. Even better, you can use it for a future trip. TravelSites has identified some awesome online resources where you can pick up on a new language. Most of these platforms are available at no cost and are quite easy to use. The ones listed below are some of the best rated according to our users but click here to check out the full list.
Coursera – Speak like a local of any region you're interested in by using Coursera. The online learning platform has courses and degree programs offered by universities. The video lectures teach students every aspect of learning a new language, starting from the very basics. There are additional community discussion forums and peer-reviewed assignments that really help. By the time social distancing is eased off, you will be able to speak the language of your choice.
italki – The language learning tool italki connects students with experienced native language teachers from all over the world. You will be able to have real-life conversations via a video chat platform so you can really practice and hone your skill. Those of you who learn better one-on-one, italki is the right choice for you.
–
Watch exciting travel channels
You can spend hours, if not days, diving into the many exciting travel channels that are available on platforms like YouTube. These people use GoPros and other recording devices to capture their amazing journey across the world. These travel vlogs follow people on their trips, documenting every aspect that they experience. It is a great way to immerse yourself in a new land and get acquainted with the culture, people, and food without ever getting on a plane. Click here to check out our list of top travel-related vlogs that are funny, interesting, and full of great tips and tricks.
Mr. Ben Brown – Ben Brown is a London-based photographer and filmmaker who has a popular YouTube channel of vlogs from his travels to different parts of the world. He'll take you along as he goes fishing in Cape Town or camping in Wales. People really love watching Mr. Ben Brown because he's honest with his viewers, giving them an in-depth look into his experiences and emotions as he goes on adventure after adventure. You'll be able to live through him, going the places he goes, eating the foods he eats, and meeting the people he comes across.
Wolters World – Wolters World is a YouTube vlog site by Mark Woltors which documents his journeys to different locations worldwide. He has over a million subscribers who are all captivated by Wolters' vivid and honest videos. He doesn't just showcase different locations to people but also delves into the culture, food, and people of the various cities he is in. The videos discuss a variety of travel-related topics that will help you with your post self-isolation vacations.
–
Read inspiring travel books
Lose yourself in a popular destination by delving into the many travel books that have been published over the years. You can pick one based on a destination that you have always loved and have wanted to visit. Travel books are not just limited to guides and fact-based publications; you can also throw yourself into fictional novels that explore another land or of biographies of people who have a life-changing experience. Below are some of our favorites but you can click here to check out our full list.
The Lost Art of Reading Nature's Signs – Written by British naturalist Tristan Gooley, The Lost Art of Reading Nature's Signs is an amazing book that goes beyond the common survival manual or guide that you may be used to. Gooley uses his decades of experience traveling across the world to write about useful tips and tricks that will help you understand and connect with nature. The book goes beyond your surroundings and forces the reader to take a deeper look into their spiritual being. The book is filled with information, is easy to read, and is filled with fun anecdotes from Gooley's experiences.
Grandma Gatewood's Walk – Grandma Gatewood's Walk is based on the story of a 67-year-old grandmother, Emma Gatewood. At her age, Emma found the drive to leave her small town and go on an 800-mile walk to the top of Mount Katahdin. She then became the first woman to hike the entire Appalachian Trail alone, making her a local celebrity and the focus of several magazine articles and television appearances. This book was written by journalist Ben Montgomery based on Gatewood's personal diaries and travel journals.
–
Laugh at funny stories on travel reddits
Reddit is this collection of forums that covers everything from politics and entertainment to parenting tips and travel. It is one of the most utilized platforms on the internet so it is no wonder that it's a great place to spend time browsing their travel-related subreddits. These communities are filled with information and are free to use, so they are a great resource for learning about a new place or planning a trip you can take after the travel ban has been lifted. Click here to check our full list of best travel Subreddits.
r/travel – An online community used by travelers from every corner of the world, the subreddit r/travel is full of unique and interesting pictures and posts. In addition to a list of all the posts, the subreddit also has posts separated by categories like departures, arrivals, travel tips, destinations, and related subs. Spend hours of your quarantine finding new places to visit for your next vacation, seeing photographs of breathtakingly beautiful places, and learning tips and tricks other travelers have already tried and tested for you.
r/backpacking – A subreddit solely dedicated to travel or wilderness backpacking, r/backpacking has over 1.7 million members. See people who are swimming in Chile's Atacama Desert or pondering as they see the jetties in Goa. Learn about their backpacking adventures, how they got to their locations, and what they experienced; live through their words and pictures and go on a backpacking adventure without having to carry the actual backpack.
–
Chat with other people on travel forums
TripAdvisor, Fodor, Lonely Planet – these are just a handful of online resources that have forums where people can share their experience. Similar to the ones you find on Reddit, these forums also have many domestic and international users. You can discover what travelers are talking about all over the world, find new places to explore, and even pick up on the latest travel products and gadgets. We've listed some of the most popular travel forums below but you can click here to see our full list.
TripAdvisor Forum – One of the largest online travel resources in the world, TripAdvisor is used by millions of people every year. Their forum is extremely easy to use, especially since you can choose categories based on destination. The platform is extremely helpful, introducing users to experiences like the cherry blossoms in Japan, the architecture in Turkey, and the canals of Venice. In the forums, you'll see people asking questions about anything and everything you can imagine – this will make you feel like you actually visited a place without ever getting off your sofa.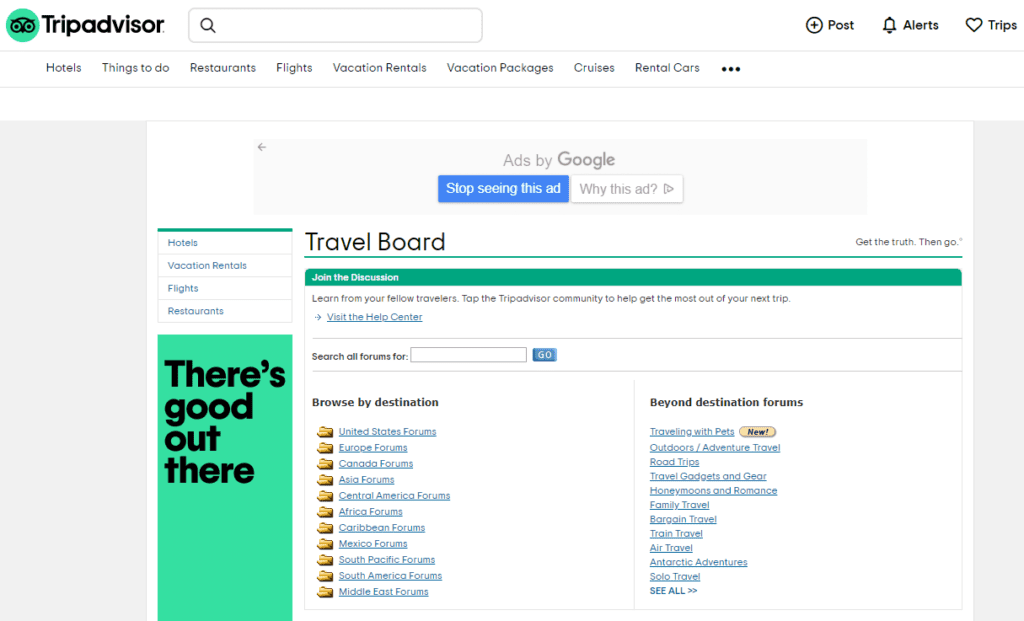 TravelFish – With a focus on Southeast Asia, TravelFish is an awesome website you can visit if you want to virtually visit countries like Thailand, Cambodia, Laos, Vietnam, or Indonesia. In addition to their bustling online discussion board, you can also make use of their other resources like background information on countries, pre-planned itineraries that others have used, and reviews on the hotels and restaurants that are there. Browsing the forum will transport you to that place, letting you immerse yourself in an exciting experience from the comforts of your home.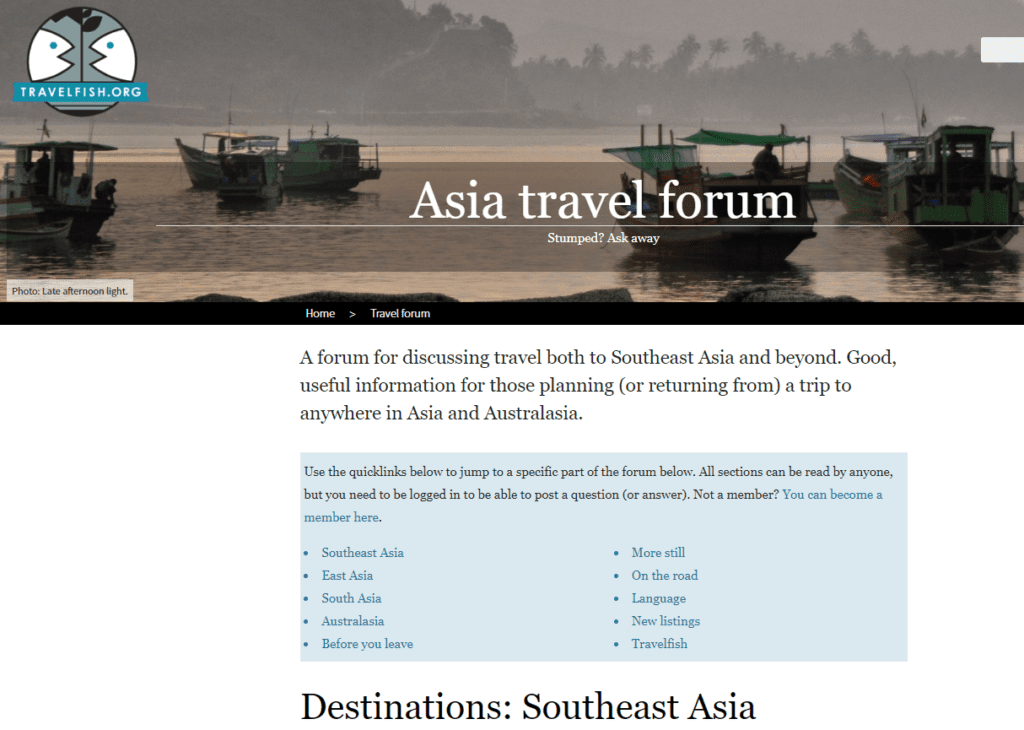 –
Use these forums, books, videos, and your imagination to transform your living room into a sunny beach with golden sand or a lush rainforest teeming with wildlife. Just because we're in self-isolation, it does not mean we can't travel the world with these useful resources. It is also a wonderful way to gather information and plan the trip of a lifetime so you're prepared for your post COVID-19 vacation!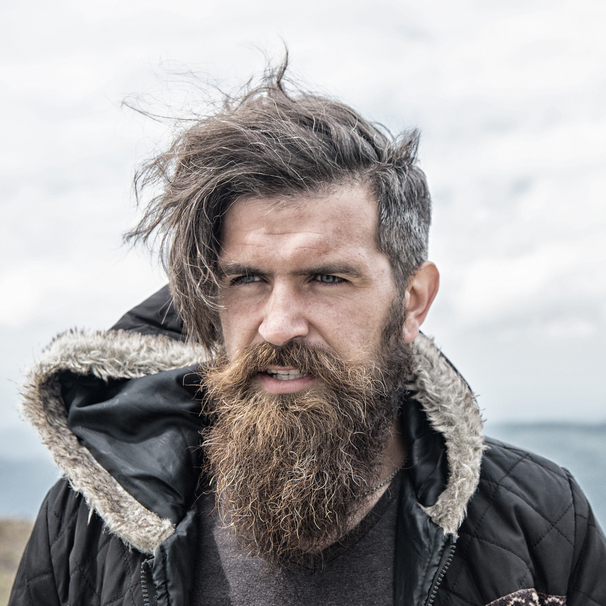 I am a professional travel writer and travel enthusiast who traveled the world twice, so I am sharing my firsthand knowledge about everything related to travel and spending time abroad.