Camping has always been one of my favorite things to do, and though it's popular with many, it wasn't until 2020 that camping really took off. It is the perfect option as more Americans opt for road trips and outdoor adventures in an attempt to go on a vacation but still remain socially distant from others. Several studies even show that the sales of camping-related products have increased during the pandemic and that there is a lack of space in some of the most scenic campgrounds in America.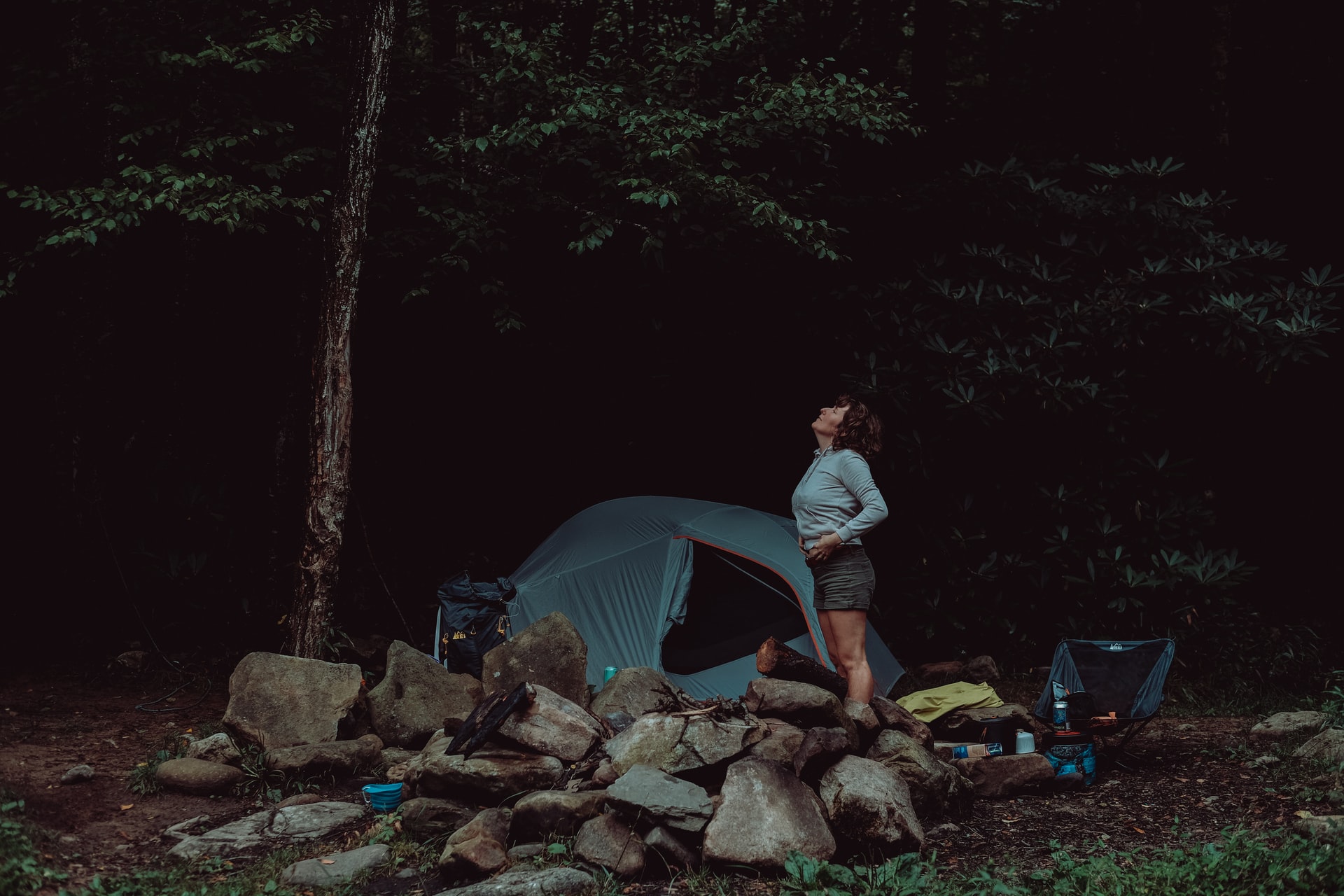 It's important to remember that there are thousands of campgrounds in the US and not all of them offer an exquisite view or unique experience. In fact, you'll probably find that most of them are just a patch of earth with views of nothing more than some wooded areas and the communal restrooms.
But I've found some of the best places to camp that will transport your mind from 'winging it in the woods with a can of beans' to 'breathtakingly beautiful, embrace and appreciate nature, full-on vacation mode'. This list of awesome campgrounds is in no particular order and they vary in state, amenities, and features, but one thing that they all have in common is that you'll fall in love with the smells, sights, and sounds of these places.
Begin discovering some of the most popular campsites in America and kickstart your next adventure now.
1. Buccaneer State Park – Mississippi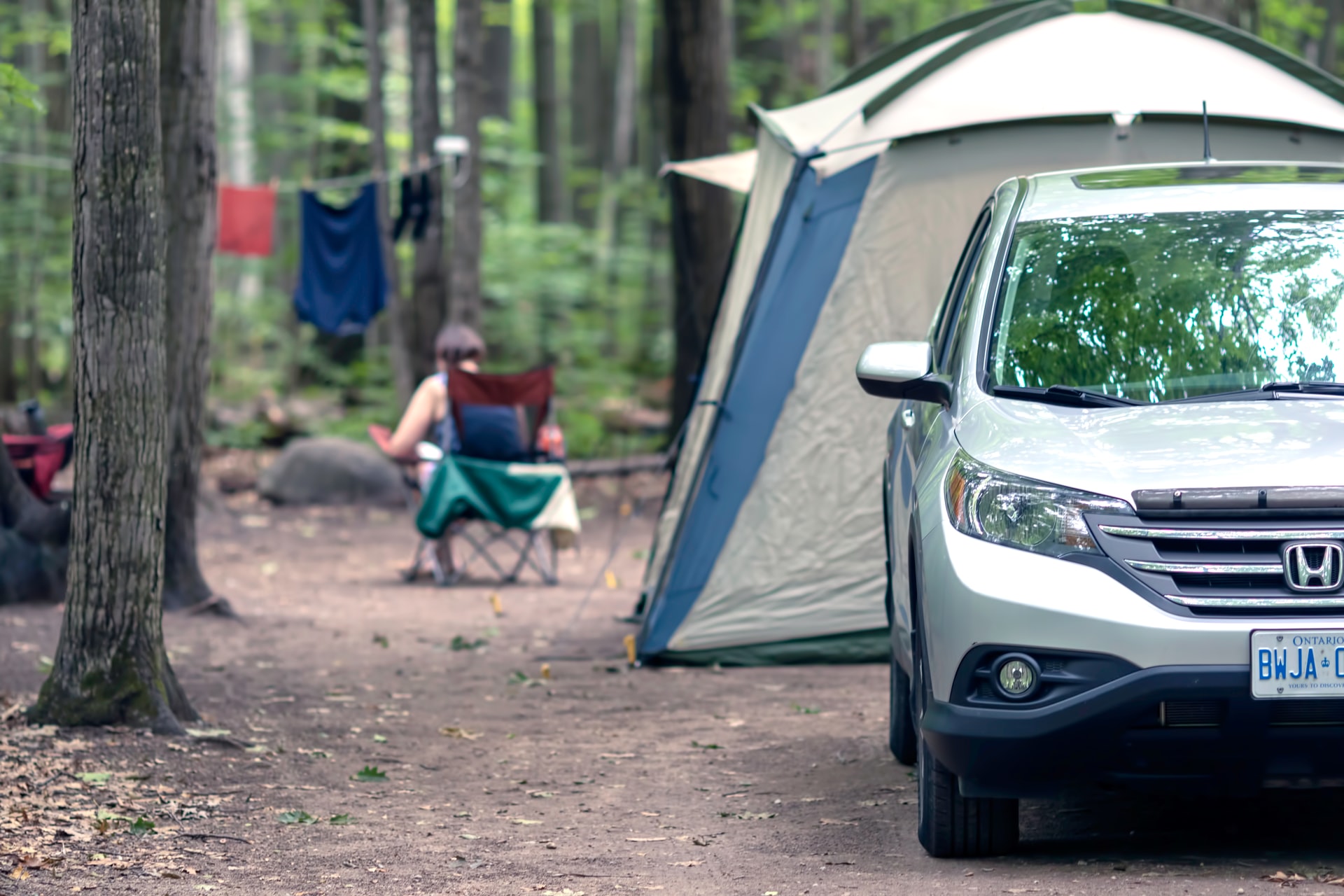 After being completely devastated from the effects of Hurricane Katrina, Buccaneer State Park took years to completely reinvent itself. The campground especially has seen some extensive changes, but after being completed, was recognized as one of the best campsites in the state.
Their developed camping area has over 200 premium campsites, each with full amenities such as electricity, central dumping stations, and restrooms. I would personally recommend booking one of the 70 campsites that are set on a grassy field overlooking the Gulf of Mexico – the views are out of this world and you're not going to want to wake up to any other sight after this. These campsites are also convenient because they have easy access to parking – perfect for those who aren't keen on a hike or for campers who are disabled. There are even 25 primitive campsites much deeper in the woods closer to the Grand Bayou for those who prefer a true out-in-the-woods experience.
Additional features and amenities include the Pirate's Alley Nature Trail and the Jackson's Ridge Par 3 Disc Golf Course that lets you play along the beautiful Gulf of Mexico. There are three bathhouses that have hot showers and are ADA accessible spaced throughout the campground, several scattered ADA-accessible covered pavilions for picnics, a seasonal store with camping supplies, ice, apparel, convenience store items, and even souvenirs, and a seasonal recreation center complete with pool tables, ping pong tables, foosball, and video game consoles. There is also a laundry room within the recreational complex if the need to have clean clothes arises during your visit; it's perfect for those who are going to be on the road for an extended period of time and need to refresh whatever they've packed.
The absolute best feature of the campgrounds at Buccaneer State Park is the Buccaneer Bay Waterpark complete with rides, slides, and everything else that visitors of all ages will enjoy.
2. Kirk Creek Campground, Big Sur – California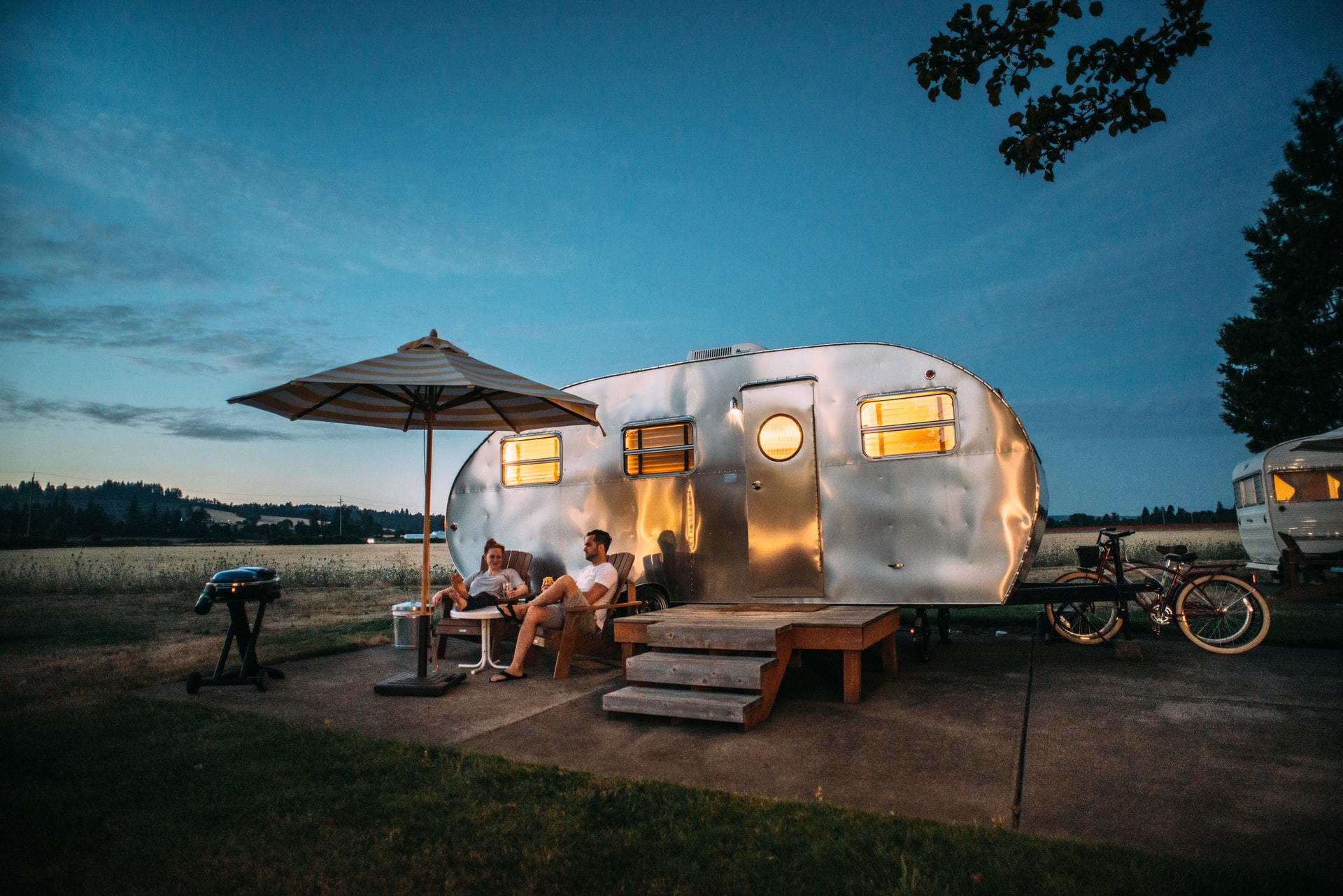 Imagine unzipping your tent when you wake up and watching a stunning sunrise glistening over the Pacific Ocean – I mean, doesn't just reading about it sound marvelous? The Kirk Creek Campground in California is located along the state's central coast near the famed Insta-worthy Big Sur. The campsite is perched on a bluff right above the water, giving campers a vista of the ocean, rocky beach, and a picturesque cove, all of which combined are postcard perfect.
There are several single-family sites for tent and RV camping available at Kirk Creek. Note that these do not have utility hookups but each site does have an accompanying campfire ring with a grill as well as a picnic table. Vault toilets are available throughout the campground and the parking, while nearby to the sites, are on gravel and grass surfaces.
Not only can you spend your time taking in the views, but you're not going to want to miss the campsite's trails that will take you through lush meadows, towering Redwoods, cascading waterfalls, and streams that have something magical about them. Many of the scenic trails will lead you into the Los Padres National Forest. You'll also be just a few miles away from Sand Dollar Beach, one of the longest stretches of swimmable, sandy beach along the Big Sur Coast, so be sure to pack your swimsuit and sunscreen.
While there are several campgrounds in Big Sur, Kirk Creek is an oceanside paradise with some of the best views, so if they have a campsite available, opt for a stay here. Try to visit between November and February as whales migrate along the coast annually and can often be seen from the campsites themselves.
3. Desoto State Park – Alabama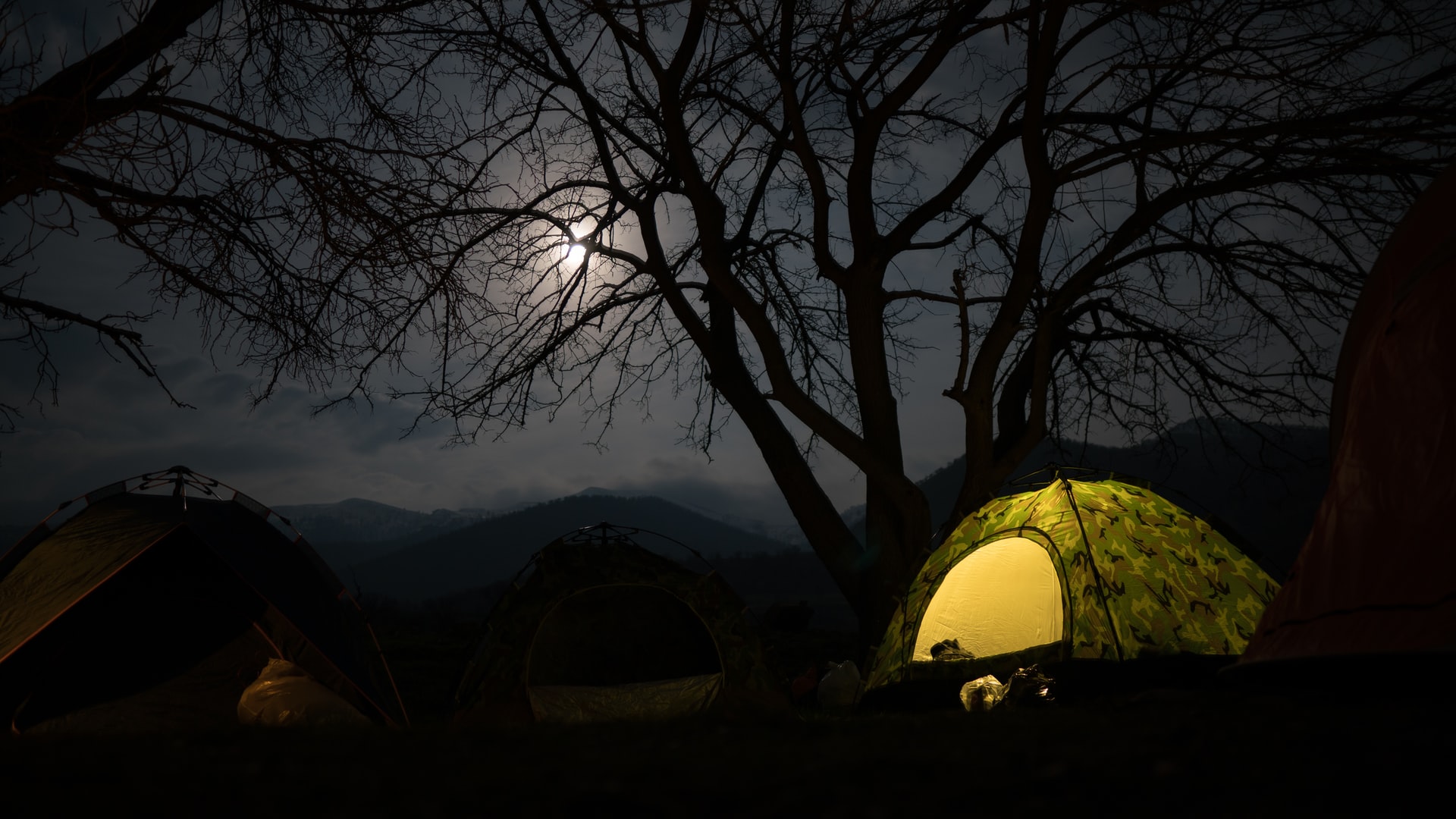 No matter if you prefer a rustic camping experience or a more modern one, Desoto State Park has the perfect campsite for you. While there are only two backpacking sites for those who want the more primitive getaway, there are over 90 full hook-up camping sites, cabins, cottages, and chalets for you to choose from. The hook-up campsites are very large and can accommodate anything from tents and pop-up campers to travel trailers and RVs. There are extremely clean restrooms within walking distance of all the campsites, yet are not too obvious from the sites themselves – so you can enjoy the view of the cliffs, rocks, and woods without seeing restroom structures.
Most of the campsites are situated on Lookout Mountain, which will put you right in the heart of Northeast Alabama's flourishing flora and fauna. You'll be perfectly situated to enjoy a scenic camping experience as well as bird-watching, hiking, and even swimming in the park's seasonal swimming pool.
4. Apgar Campground, Glacier National Park – Montana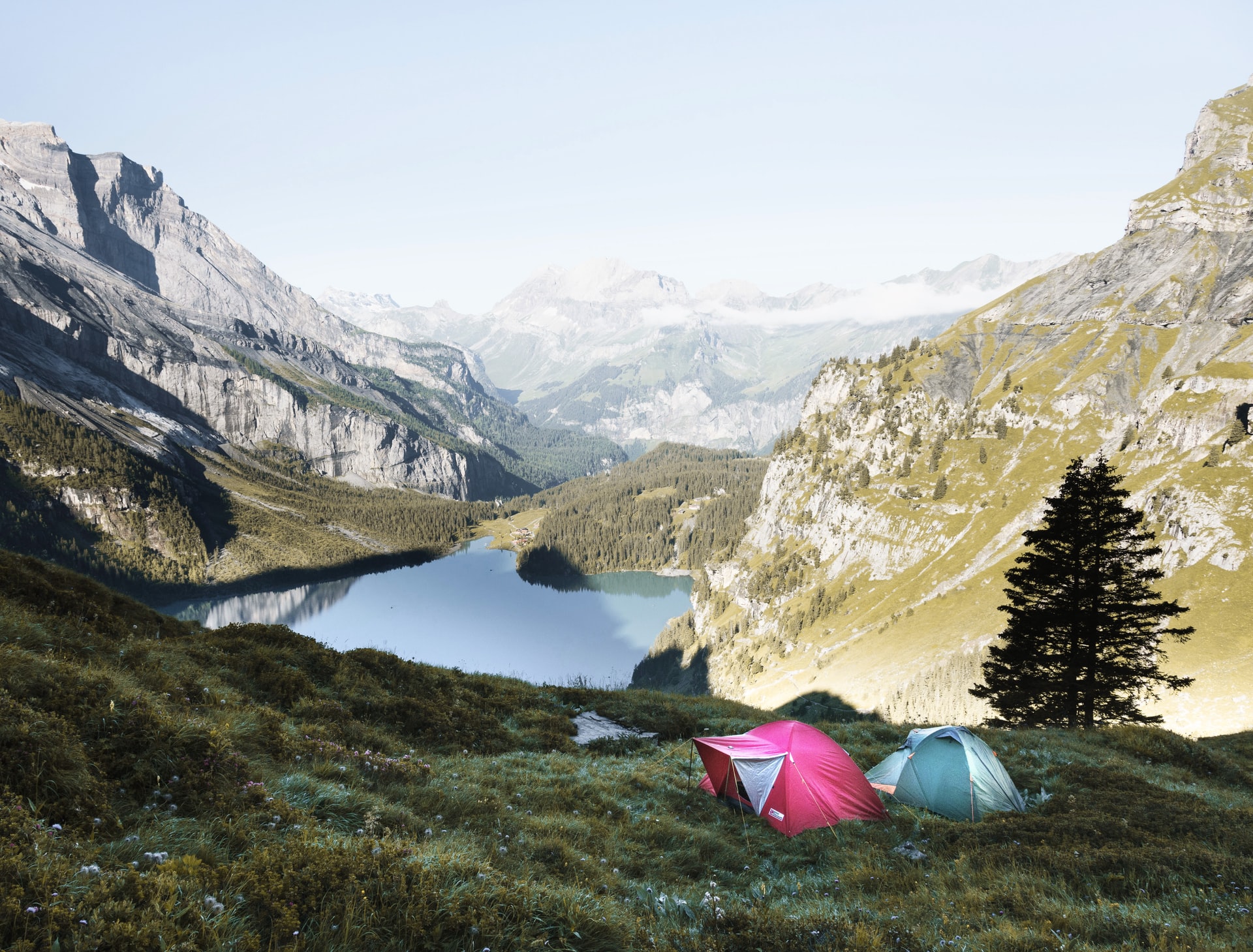 Apgar Campground, which is located near Apgar Village and the west entrance into Glacier National Park, is the largest campground inside the renowned national park. The site lies just a few hundred yards from Lake McDonald – the famous glacier-fed lake within the park. It is one of the most popular campgrounds in the entire country, which means that it is almost always crowded so don't go there expecting an escape from others. Instead, you will see some of the most unforgettable scenic views of Montana that will make camping with other people around absolutely worth it. In fact, you may even recognize the panoramic lake from movies such as 'Big Eden' and Robin Williams' 'What Dreams May Come'.
There are tons of facilities available within the campground such as casual dining establishments, a general store with basic camping supplies, additional gift stores, and a visitor center full of information on the sites and trails. You can spend your days swimming and sunbathing on the beautiful sandy beach or getting out on the water on a canoe or kayak you can rent on site.
5. Garden Key Campground, Dry Tortugas National Park – Florida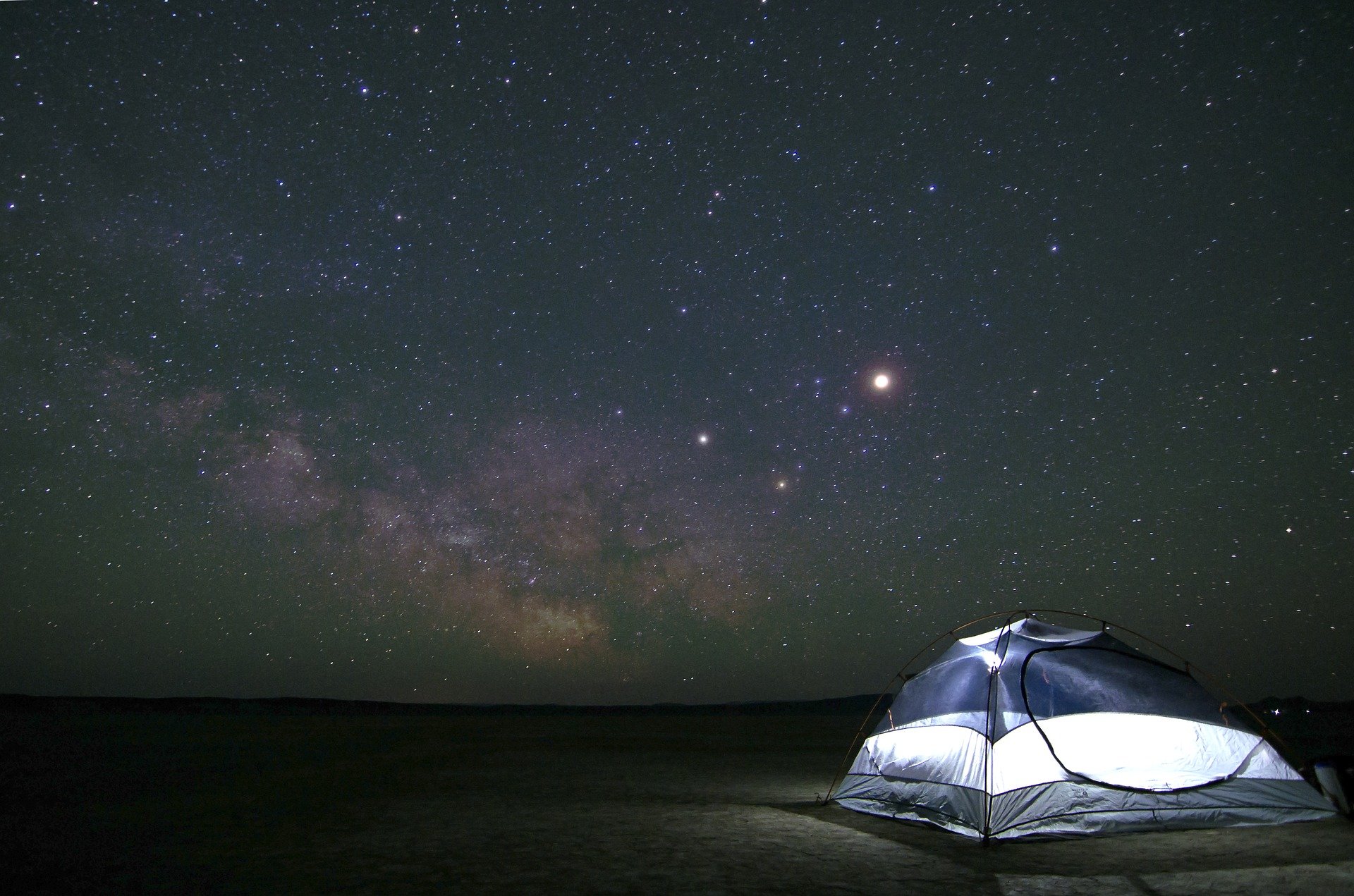 I can't think of any other campsite more worthy of being on a list of amazing campgrounds in the US than the Garden Key in Florida's Dry Tortugas National Park. A two-hour ferry ride from Key West, you'll be able to have the ultimate tropical camping experience.
The primitive campground has only ten sites, available on a first come first serve basis – but there is a nearby overflow section on a grassy knoll that you can share with other campers until a regular site becomes available. The campsites are located right on the beach, by the crystal clear waters, and can each accommodate up to three 2-person tents. While there are shared tables and grills in the overflow sites, each designated camping site has picnic tables, elevated grills for charcoal fires, and hooks to keep items above ground for safekeeping.
While it doesn't have a lot of features and amenities, what makes Garden Key a truly incredible camping site is its location. You'll be set up right on the golden sand beach under the shade of mangrove trees; you'll be steps from the clear waters where you can take a dip or go snorkeling along one of the largest barrier reef systems in the world. Go explore nearby historic forts and lighthouses. Take in the breathtaking views as the sun sets and then be prepared for a stargazing experience unlike anything else you've ever seen. Also keep an eye out for dolphins and sea turtles, especially during the ferry ride to and from the campsite.
6. Havasu Falls Campground, Havasupai Indian Reservation – Arizona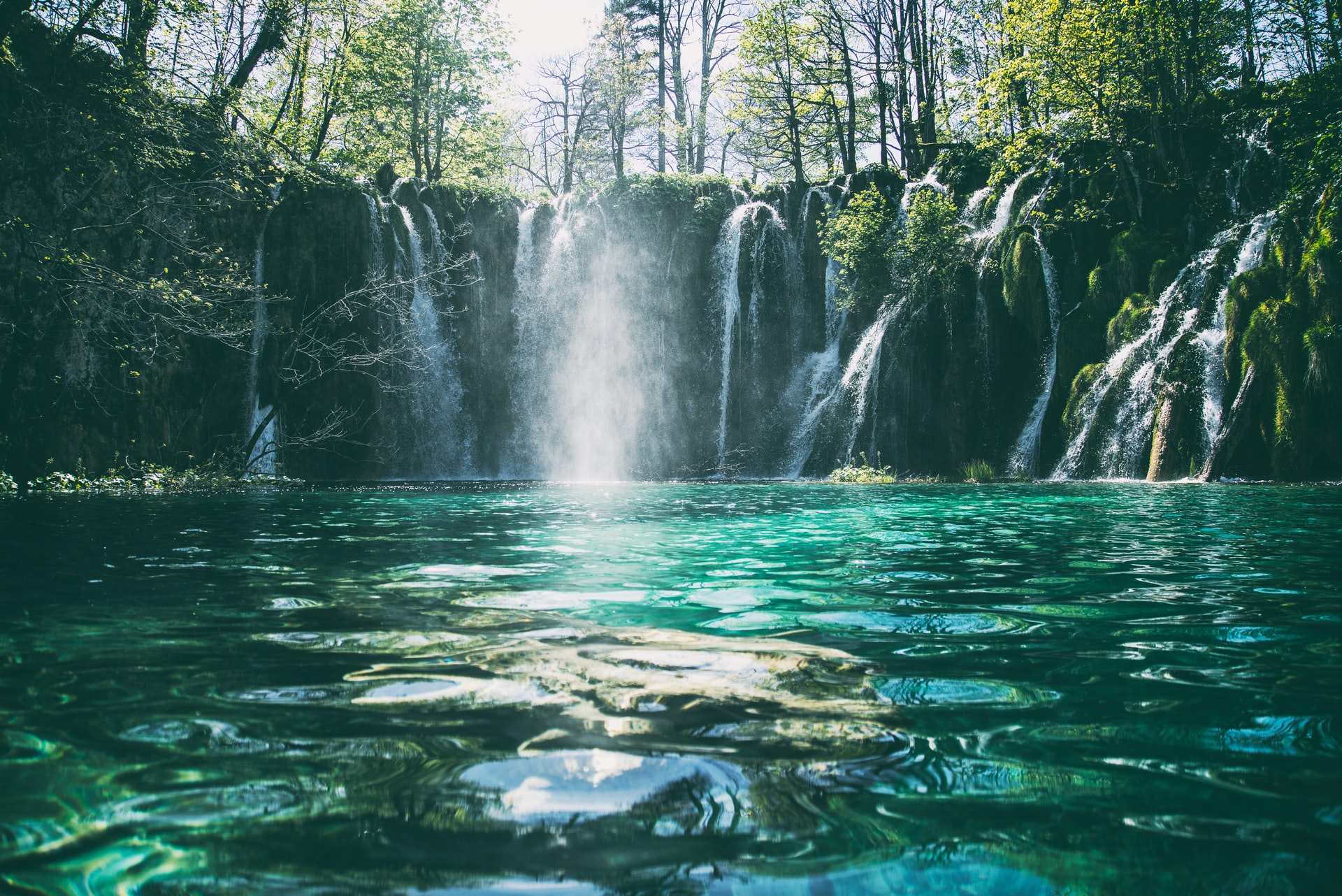 You're going to have to shed some blood, sweat, and tears to get to the Havasu Falls Campground in Arizona, but let me tell you right now that it will be completely worth it. Camping at Havasu Falls is one of those life-altering experiences that will stay with you forever.
The hard work starts before you even get there because you will need a permit to stay on the campground since it is a sacred and vulnerable part of the Havasupai Indian Reservation in the Grand Canyon. It's not easy to get a permit, and even if you do secure one, the hard work continues since it's a 10-mile hike to reach the campground.
The reward at the end of your journey is indescribable, but I'll try: one, you'll be invited to visit the Supai village where you can meet members of the tribe and explore their way of life from a respectable distance. Make it a point to educate yourself on the area and the tribe for best practices before going. Second, the minute you lay eyes on the turquoise pools of water and picturesque waterfall reflecting off the red rock formations surrounding it, you'll forget all about the pains of hiking for ten miles in the middle of the night (to avoid the heat).
The desert paradise has no amenities yet still deserves to be called the best campground in Arizona so you can only imagine how beautiful it is there.
7. Jedediah Smith Campground, Jedediah Smith Redwoods State Park – California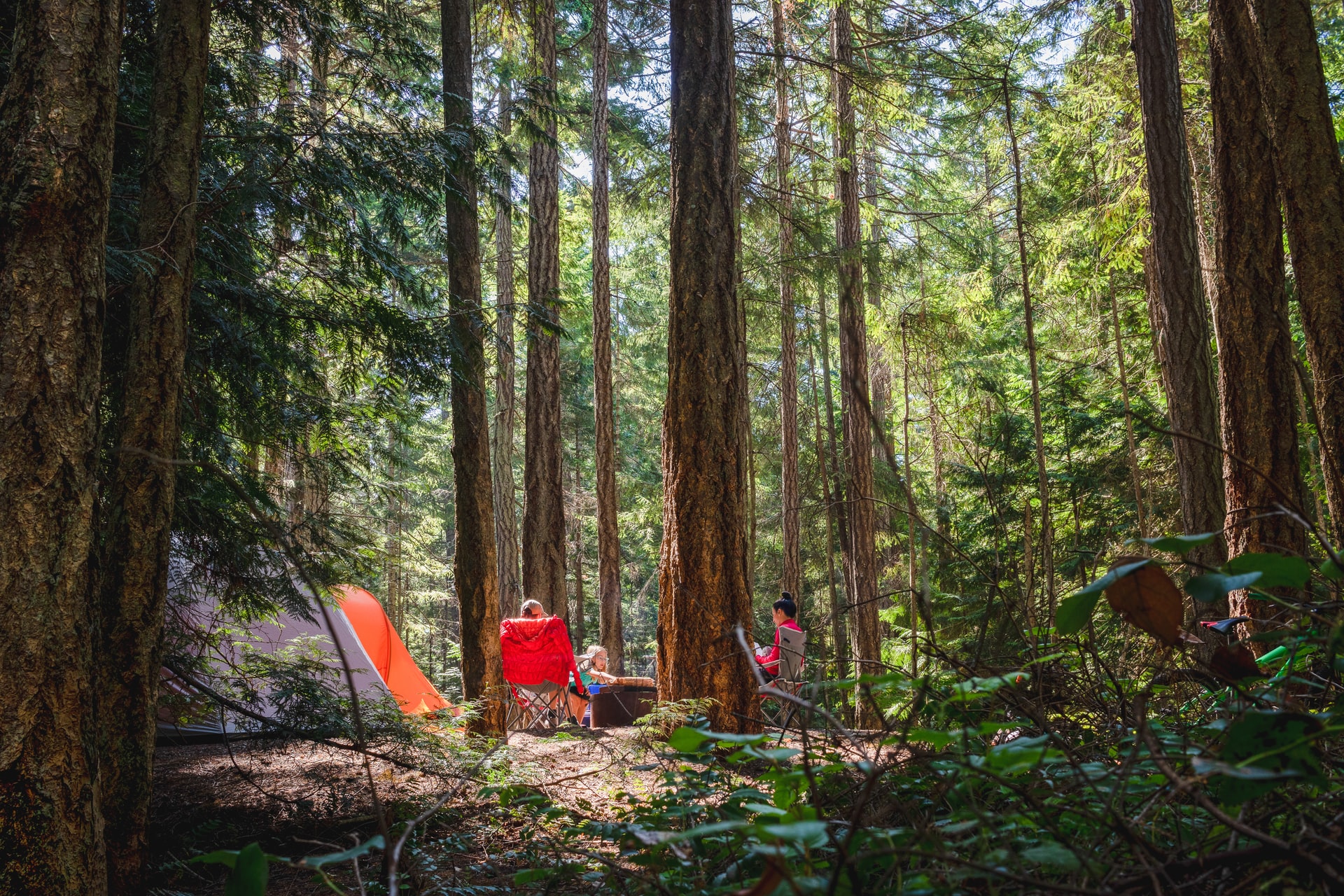 There are two reasons I've included California's Jedediah Smith Campground on this list: the absolute seclusion offered to campers and the fact that you'll be camping among California's stunning giant redwoods.
In fact, I don't think there's any other place that offers that perfect combination of silence and majestic, towering redwoods. The campground is well spaced, meaning that you won't run into other campers unless you head out to some of the more popular shared areas. The natural beauty and solitude will do wonders if you decide to relax, unwind, and make the best of your situation.
You can spend some time exploring the major free-flowing Smith River which is within walking distance from all campsites or the 20+ miles of nature and hiking trails that go through the campgrounds and surrounding state park. Keep your eyes peeled for wildlife like black bears, coyotes, deer, mountain lions, and bobcats during your time in the pristine ancient forest.
8. Petit Jean State Park – Arkansas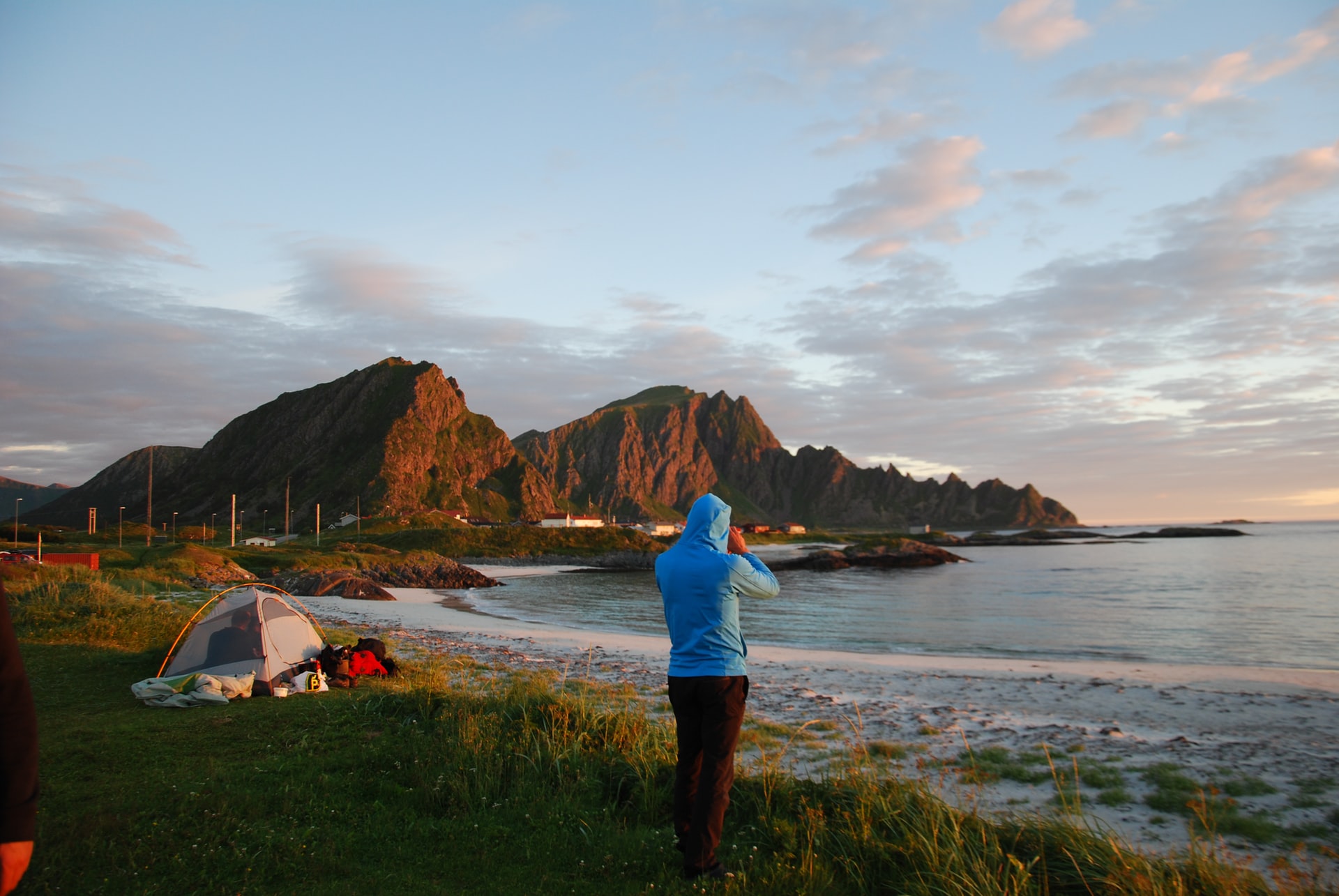 This is the perfect camping site for those who are interested in geology and history since the park is filled with natural rock shelters that house ancient pictographs painted from minerals in the area. The campground is set atop a mountain which offers fantastic views of your surroundings. You're not going to want to sit around and stare for long though; instead, head out and explore those natural rock shelters where Native Americans resided over 1,000 years ago. Go on a hike on the many trails winding throughout the park and stop at the multiple lookout points for views unlike any other.
There are 125 campsites in total including 26 pull-through sites and all of them are within minutes of all the facilities offered at Petit Jean. You can bring your own tent to set up, park your RV, or even rent one of the many yurts scattered across the park. Each yurt comes fixed with cots, a stove, lantern, and an ice chest and can accommodate up to six people. Thirty-five of the campsites are Class AAA sites which means they have running water, 50 amp electrical, and sewer hookups. There are 90 Class B sites with only water hookups and electrical outlets. All campsites have access to one of four modern bathhouses with flush toilets and hot showers. While many of the campsites have a wooded surrounding, there are a few sites along the lakeshore you can choose if that's what you prefer.
9. Twelvemile Beach Campground, Pictured Rocks National Lakeshore – Michigan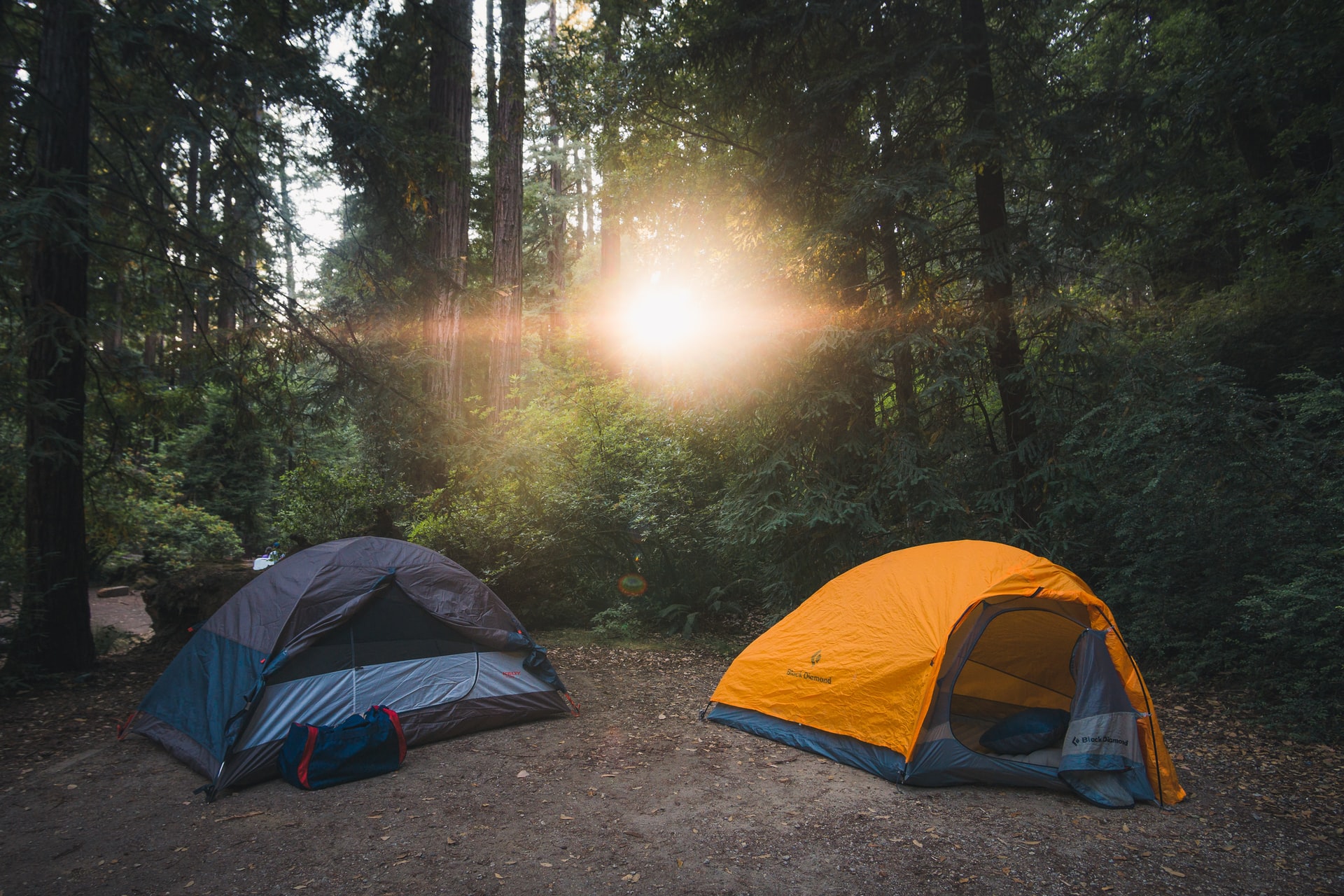 Twelvemile Beach Campground is a beautiful 36-site space located along Michigan's famed Lake Superior. The quiet and peaceful sites, two of which are handicap accessible, are situated on a sandy bluff just above the beach, which means you'll be looking out at amazing views of the sky and water.
If you're there in the spring, do not pass a hike on the trails as they'll be lined with a colorful array of wildflowers. The campground has access to the two-mile-long self-guided White Birch Interpretive Trail and the North Country Trail. A bit of further exploration and you'll run into massive sandstone formations, sparkling waterfalls, and amazing vistas of Michigan's natural beauty. Go for a swim on the chilly lake or stargaze into the vast sky at night.
Additional facilities and amenities include picnic tables, fire rings, pit toilets, running water, and an interpretive amphitheater.
10. Rocky Neck State Park – Connecticut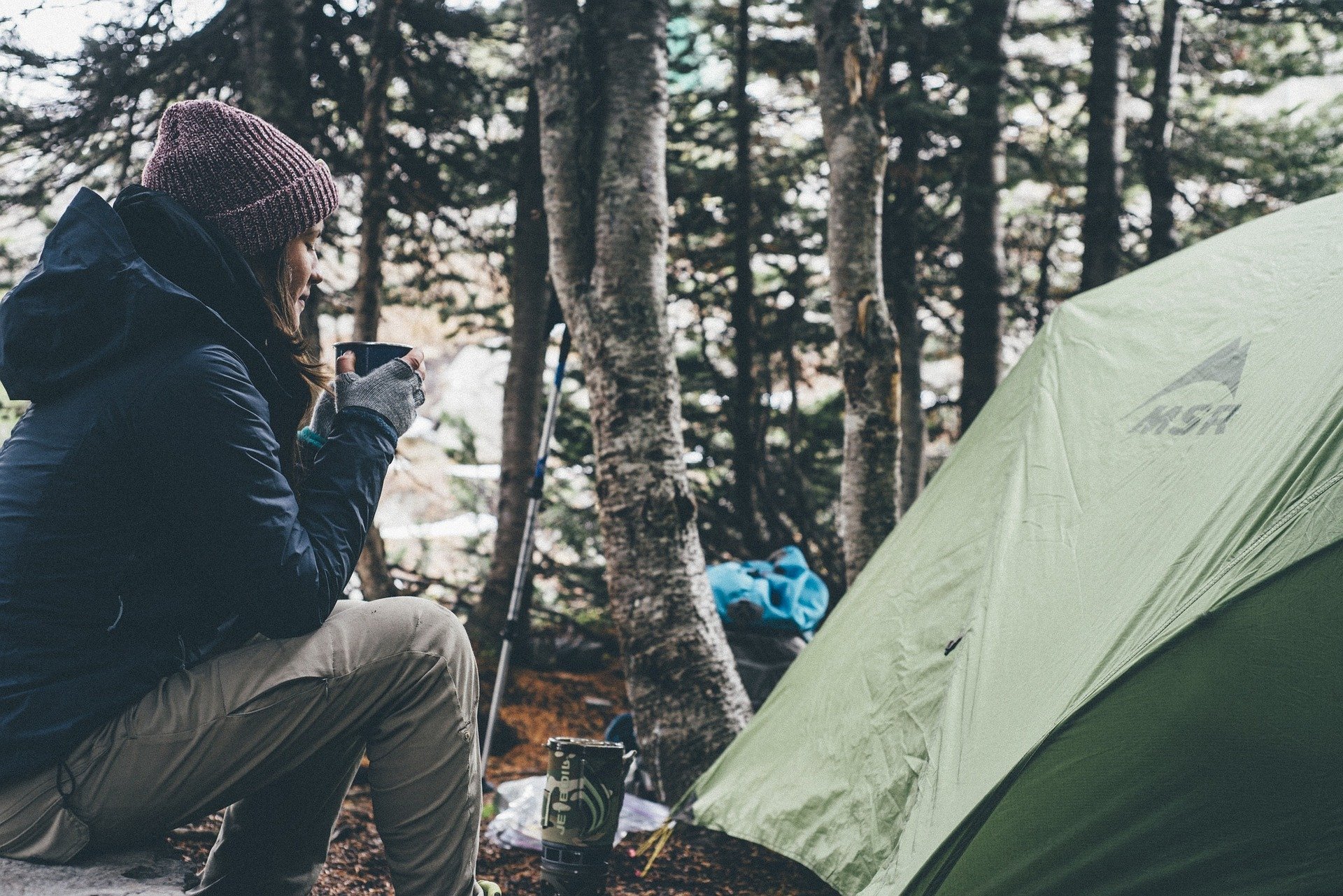 With its rolling hills along the Long Island Sound and lush wooded surroundings, Rocky Neck State Park in Connecticut is one of the most popular campgrounds in the state. The park opens up to tent and RV campers from May to September; there are 160 sites scattered throughout the woods in the shade and in the open – all away from the water.
While there are no electrical hookups, campsite facilities do include a central bathhouse with restrooms, group picnic pavilions with additional picnic tables, food concessions, drinking water, pay telephones, and paved and gravel parking.
The campsites are only a short walk away from hiking and biking trails, the beach, and activities such as bird watching, fishing, or even crabbing.
11. White River Campground, Mount Rainier – Washington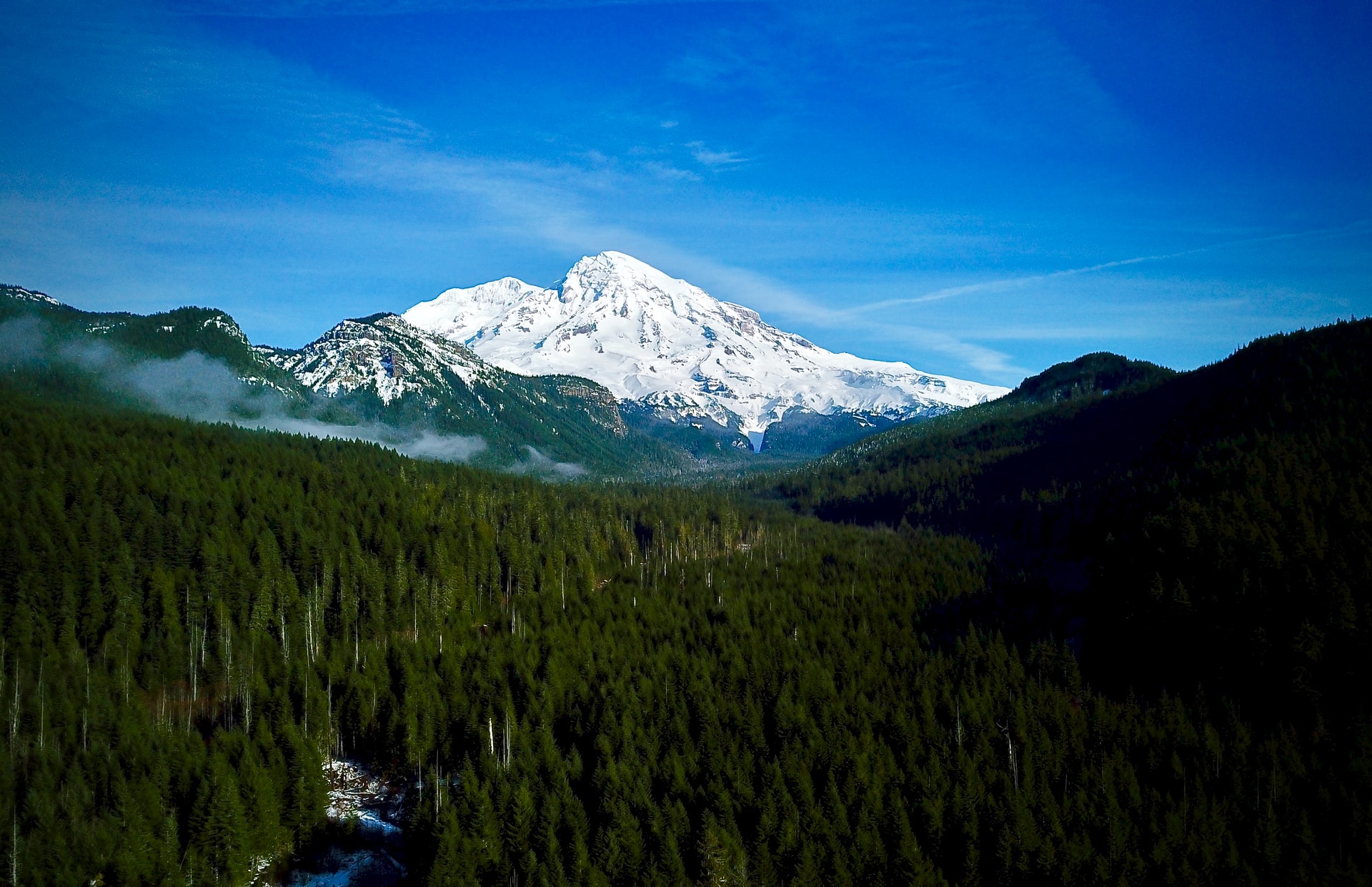 White River Campground is another one of those camping sites that gives you an experience that will stay with your forever.
There are several campsite locations, all of which are at the base of Mount Rainier, but the ones on the river are my absolute favorite. The riverside campsites are not only serene and spacious but they give you the best view of the towering 14,411-foot Mount Rainier. Even if you get any of the other campsites, you're guaranteed to see some of the most breathtaking views of the park and your surroundings. You'll be close to Sunrise Point, which is a famous Insta-worthy location that you will want to take a billion photographs of.
If you visit White River Campground between July and August, you'll also see amazing subalpine meadows of brilliant wildflowers in every color you can think of. Be sure to go on as many hikes as possible – the Glacier Basin Trail begins at the campground and the Wonderland Trail passes right through.
12. Trap Pond State Park – Delaware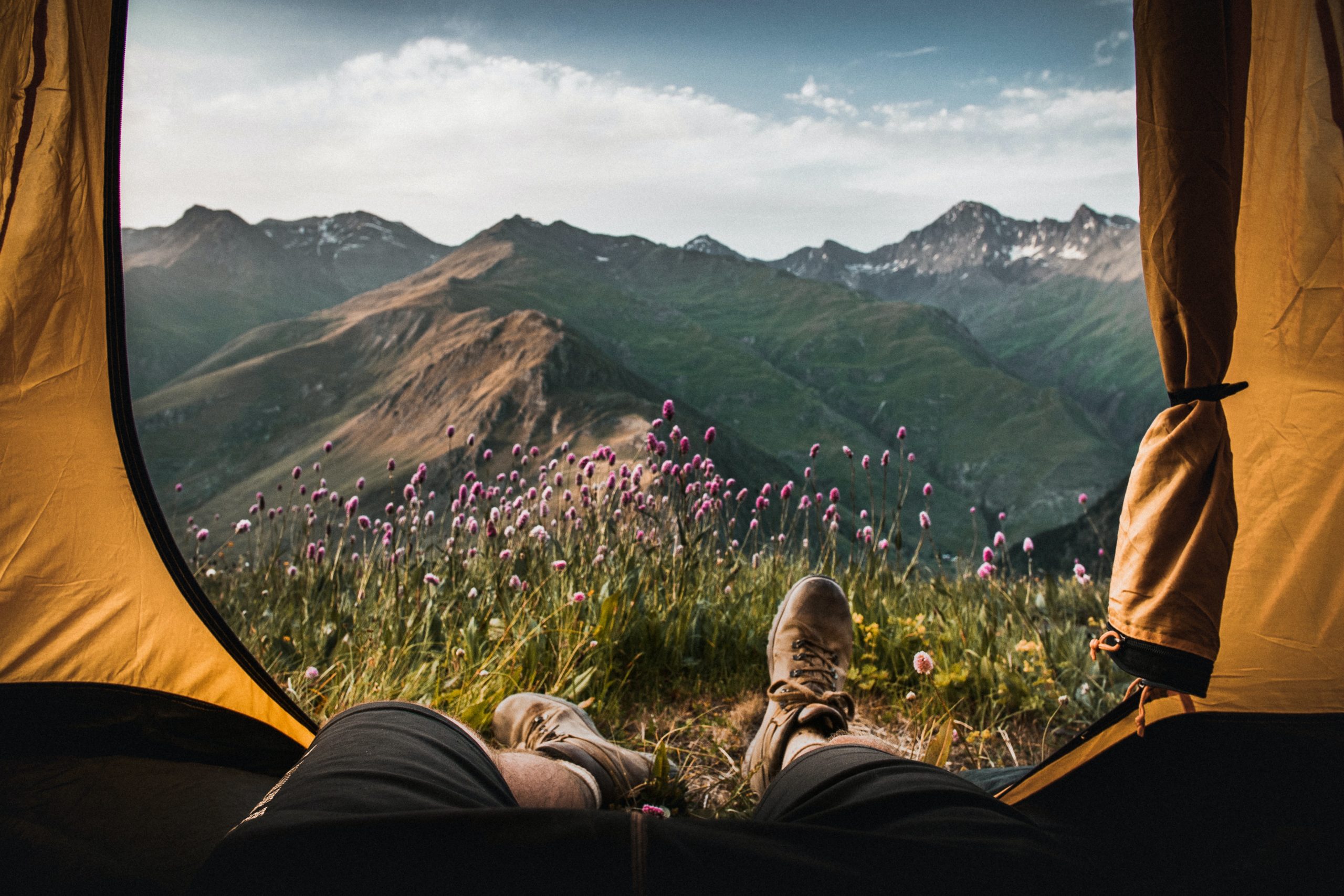 Recognized as "the most scenic campsite in Delaware" by Reader's Digest, Trap Pond State Park should be on every list of the best campgrounds in the US ever written. There are 142 campsites on the northern shore of the namesake pond that is the key jewel of the state park. While there are primitive sites for those who prefer them, 130 of the campsites are equipped with electricity hookups and water – making it perfect for tents and RVs. If you're there with a group or would like more facilities, rent out a yurt or cabin; many of those have decks from which you can enjoy nice views of the pond.
There are a lot of things you can see and do while in Trap Pond State Park such as biking and hiking through bald cypress trees and tall loblolly pines; some of the water trails even lead to really pretty cypress swamps. Keep in mind that bike rentals are completely free of charge as are horseshoes and ladder balls in the recreational area. There is a nature center and two huge playground areas that younger campers will love. You can also opt to go on a boat tour or rent out a boat and head out on your own. Other activities include bird watching, fishing, canoeing, and kayaking.
13. Haena Beach Park, Kauai/ Hosmer Grove Campground – Hawaii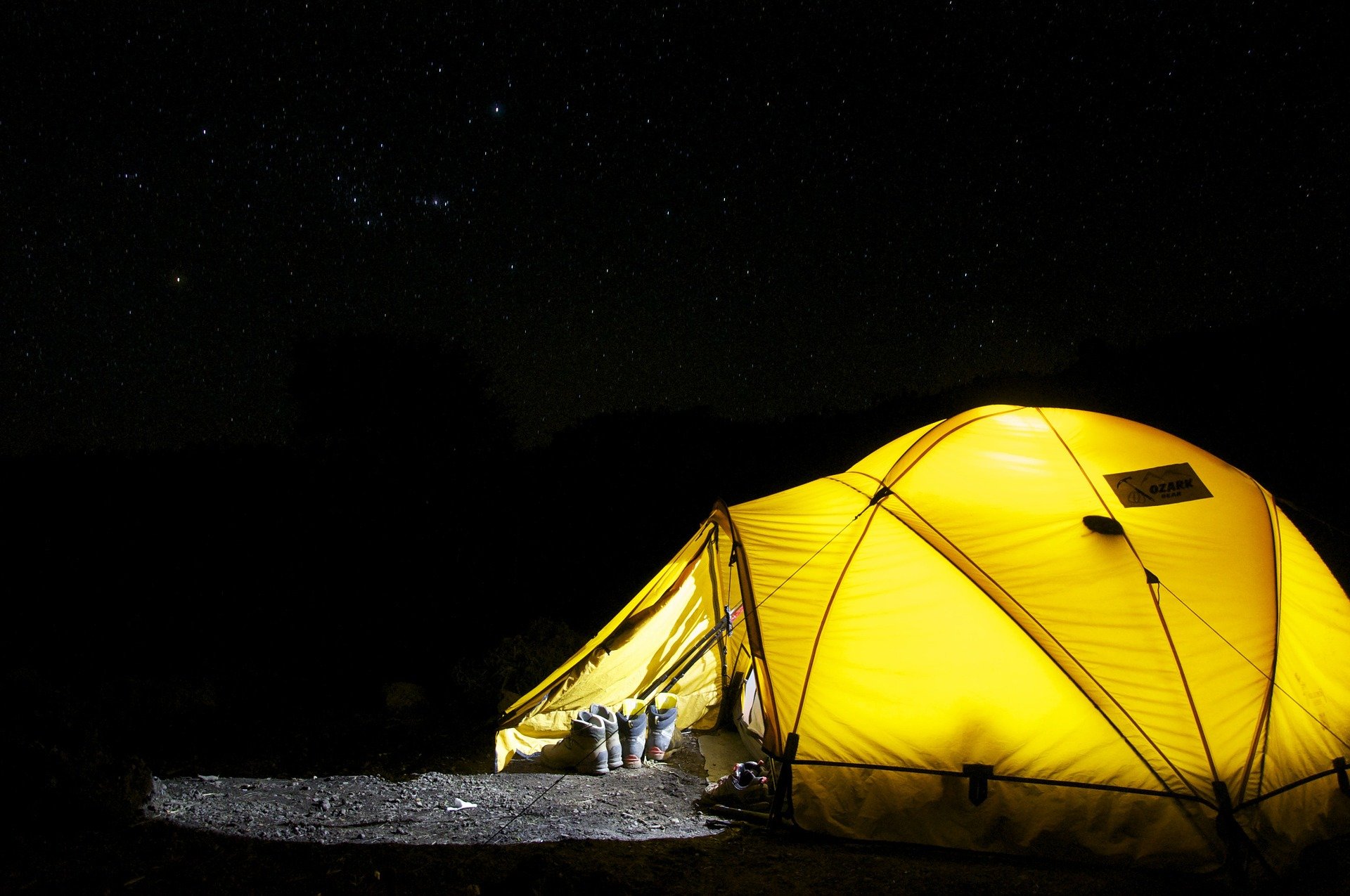 I have spent hundreds of dollars at oceanfront hotels in Hawaii just so I can enjoy the view and the country's natural beauty. Though there are several unmatched amenities and facilities when staying at a hotel, the next time I go, I'm going to opt for camping at Haena Beach Park for around $12 a night instead.
Pitching a tent at the park means that you'll be right by the water, on the edge of the incomparable Na Pali Coast. You'll wake up to a glorious sunrise that will leave you mesmerized and panoramic views of the ocean that are even better than those from fancy hotel rooms. While you can't swim or snorkel at Haena Beach Park, you can at Tunnels Beach which is only a quarter-mile walk away.
For a more extreme camping experience while in Hawaii, head to Hosmer Grove Campground. The site is located at 7,000 feet of elevation on the summit of the Haleakala Volcano. You'll feel like you're sleeping among the clouds, which is one of the many reasons why this campsite is popular. You'll also have some intense sunrises, sunsets, and stargazing opportunities.
14. Fort Desoto County Park – Florida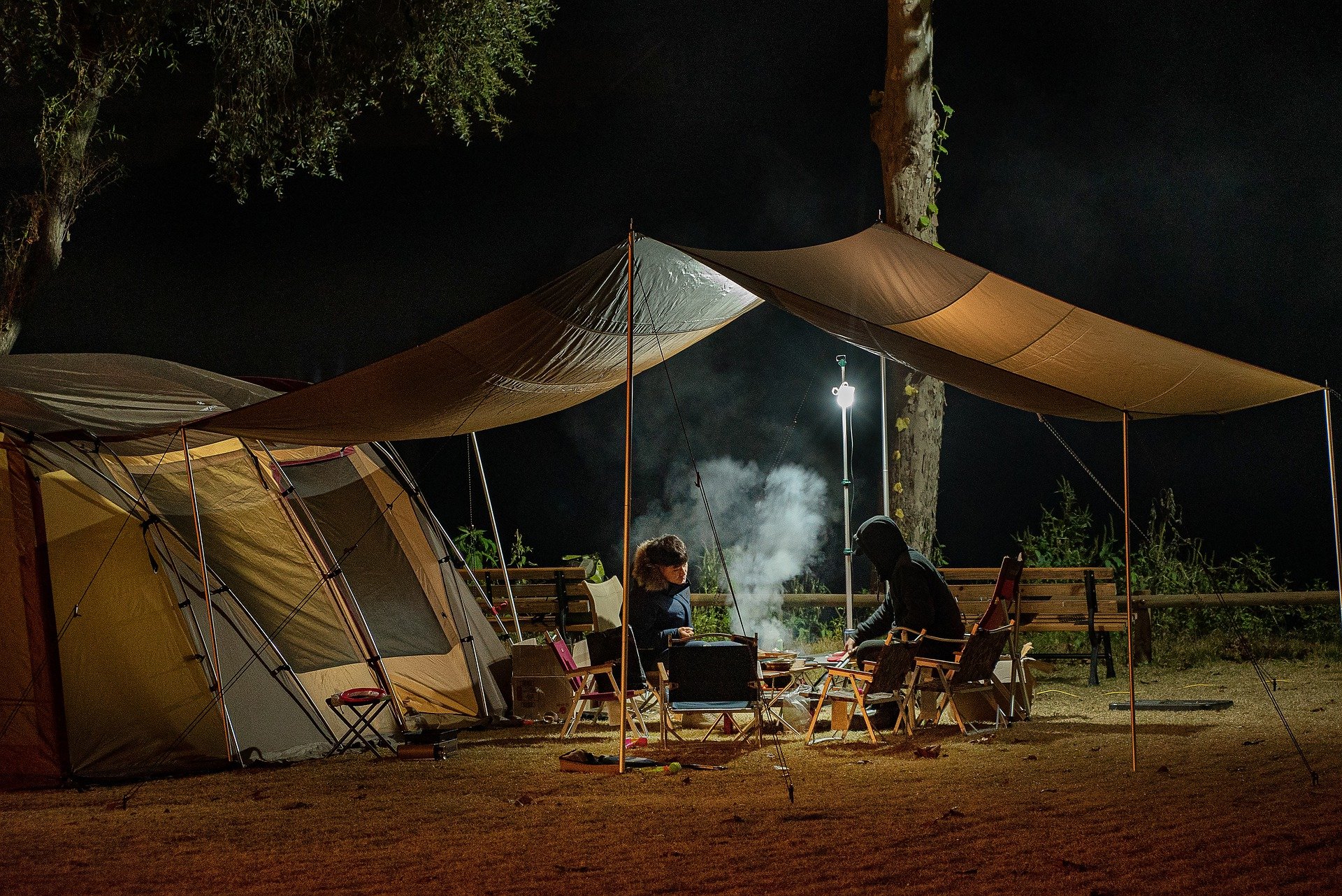 The campsite at Fort Desoto County Park is a 238-site camping area that gives you your choice of waterfront or wooded sites. Fitted with palm trees and white sand beaches, Fort Desoto offers the quintessential Florida camping experience – let's not forget the heat and humidity that also contribute.
There are sites to accommodate any kind of outdoorsmen, no matter if you're in a tent or folding camper or a larger trailer or RV. A couple of sites allow pets while all of them include water, electricity, grills, and picnic tables; they also have access to modern restrooms, showers, washers and dryers, sanitary disposal stations, a campground store, and several play areas.
Spend your time boating between the park's five islands, swimming and boating off the shores, exploring the wetlands and mangroves, or keeping an eye out to see over 300 species of birds. You'll also be just a short bike ride or drive away from the Skyway Bridge, the old fort, Egmont Key, or a swimming beach with a picturesque view of Tampa Bay.
15. Salmon River Campground/ Henrys Lake State Park – Idaho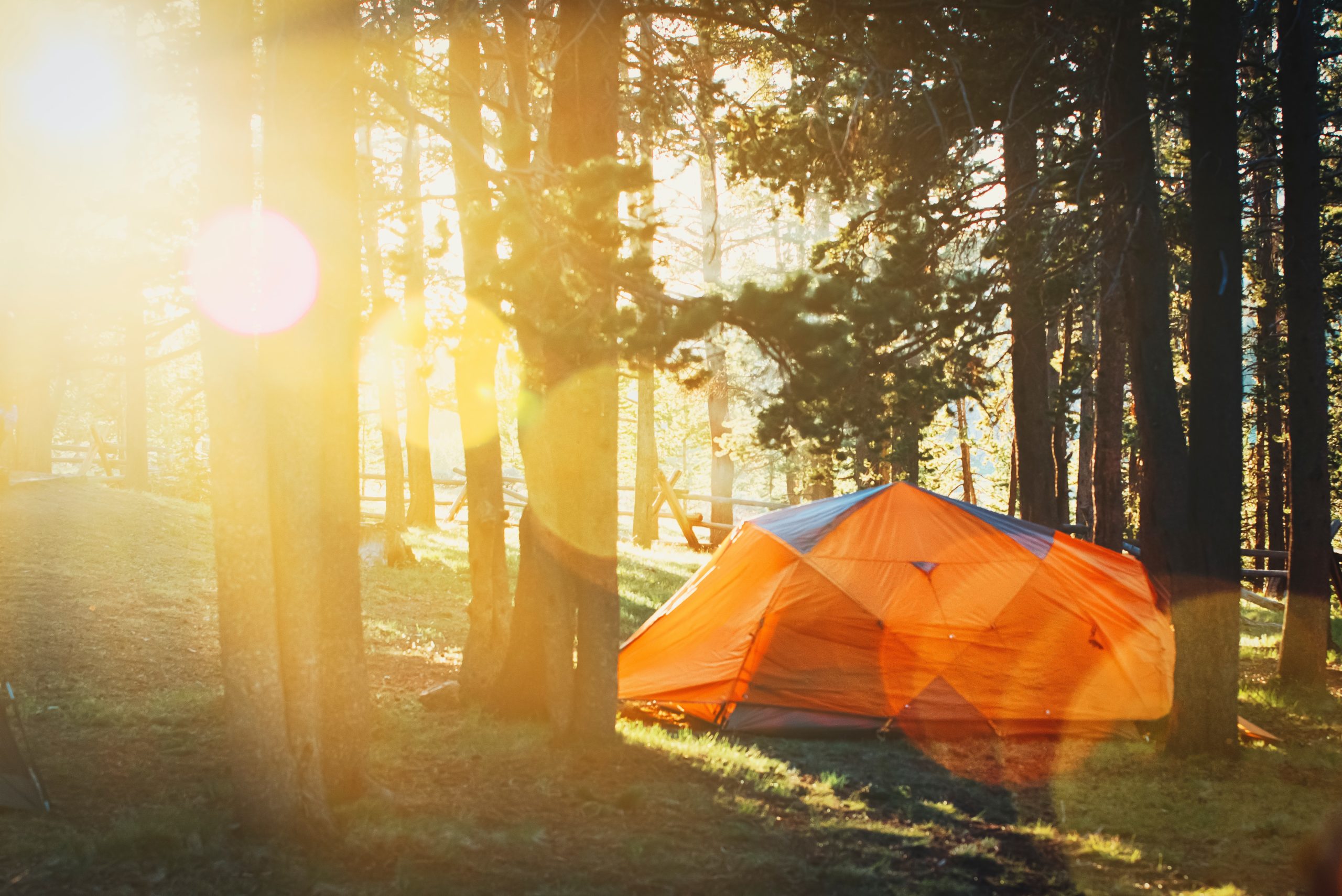 The Salmon River Campground is a paradise for outdoor adventure lovers. The campsite has the sparkling Salmon River flowing ahead of it, the lush forest flourishing behind it, and the majestic Sawtooth Mountains looming overhead. Keep your eyes peeled for wildlife in the area such as bears, deer elk, and more rarely, wolves. Other than enjoying the flora and fauna, you can also go hiking, mountain biking, horseback riding, river rafting, and fly fishing.
Less than four hours away from the Salmon River Campground is another one of my favorite spots to camp in Idaho: Henrys Lake State Park. The campsites are well-spaced so you'll have your privacy while you take in views of the gorgeous mountain lake, meadows covered in wildflowers, and towering mountains in the background. While there, be sure to indulge in some fishing or hiking – there are tons of trails surrounding the campground.
16. Cloudland Canyon State Park – Georgia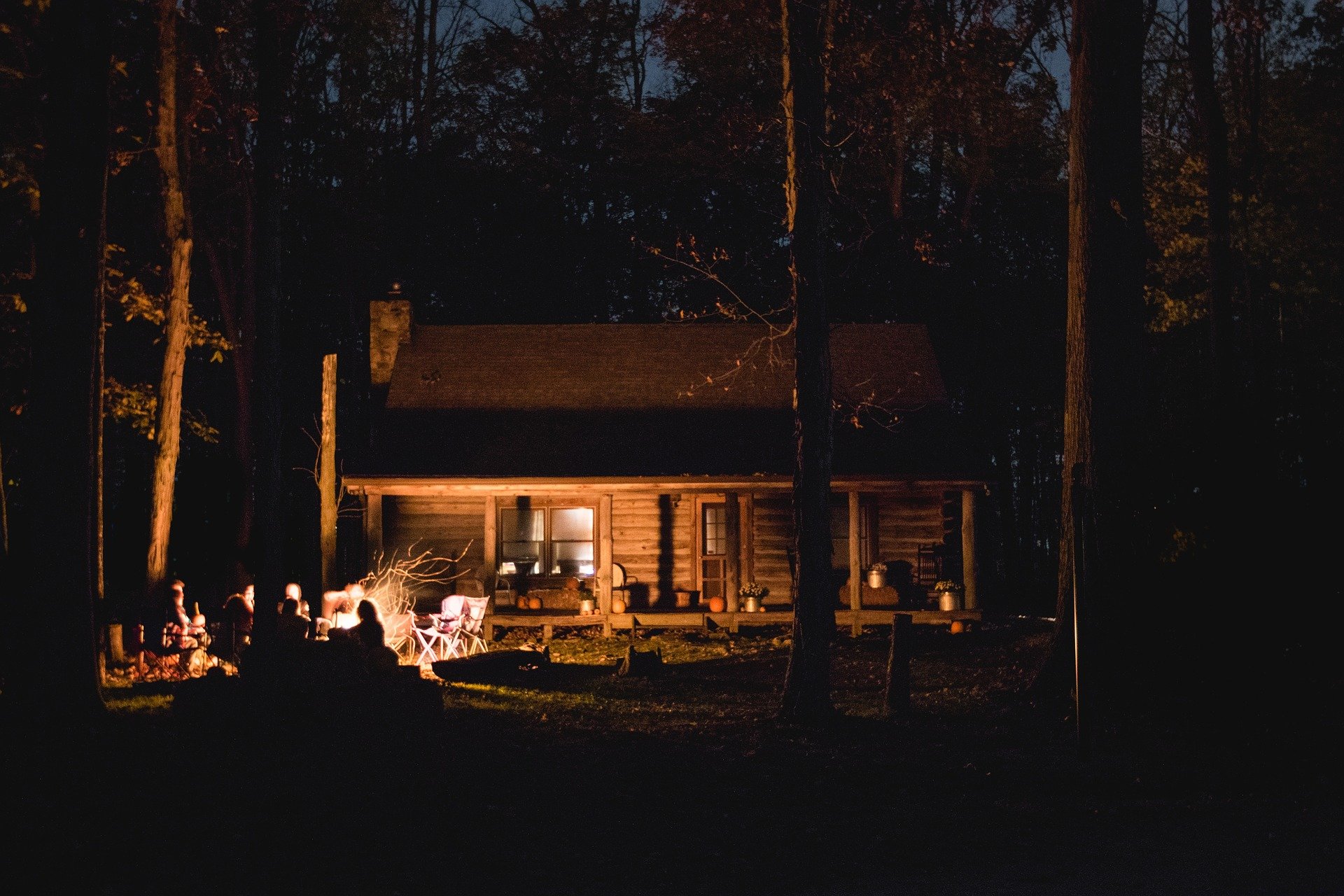 Spanning over 3,000 acres, Cloudland Canyon State Park is one of those campgrounds that you'll revisit time and time again. It is one of the most scenic parks in the state and gives you an up-close view of the surrounding rugged geology and Lookout Mountain.
You can choose to stay in one of the many tent sites, trailer sites, or RV campsites. You can also rent out one of the campsite's many cottages, yurts, or backcountry lodgings. Additional features include a group shelter, several picnic shelters, a group lodge, a pioneer campground, and a gift shop.
You'll get a stunning view of the canyon just a few steps away from the picnic area. Explore further to come across the sandstone pools and cascading waterfalls. Spend your time hiking, rock climbing, mountaineering, and much more.
17. Turkey Run State Park – Indiana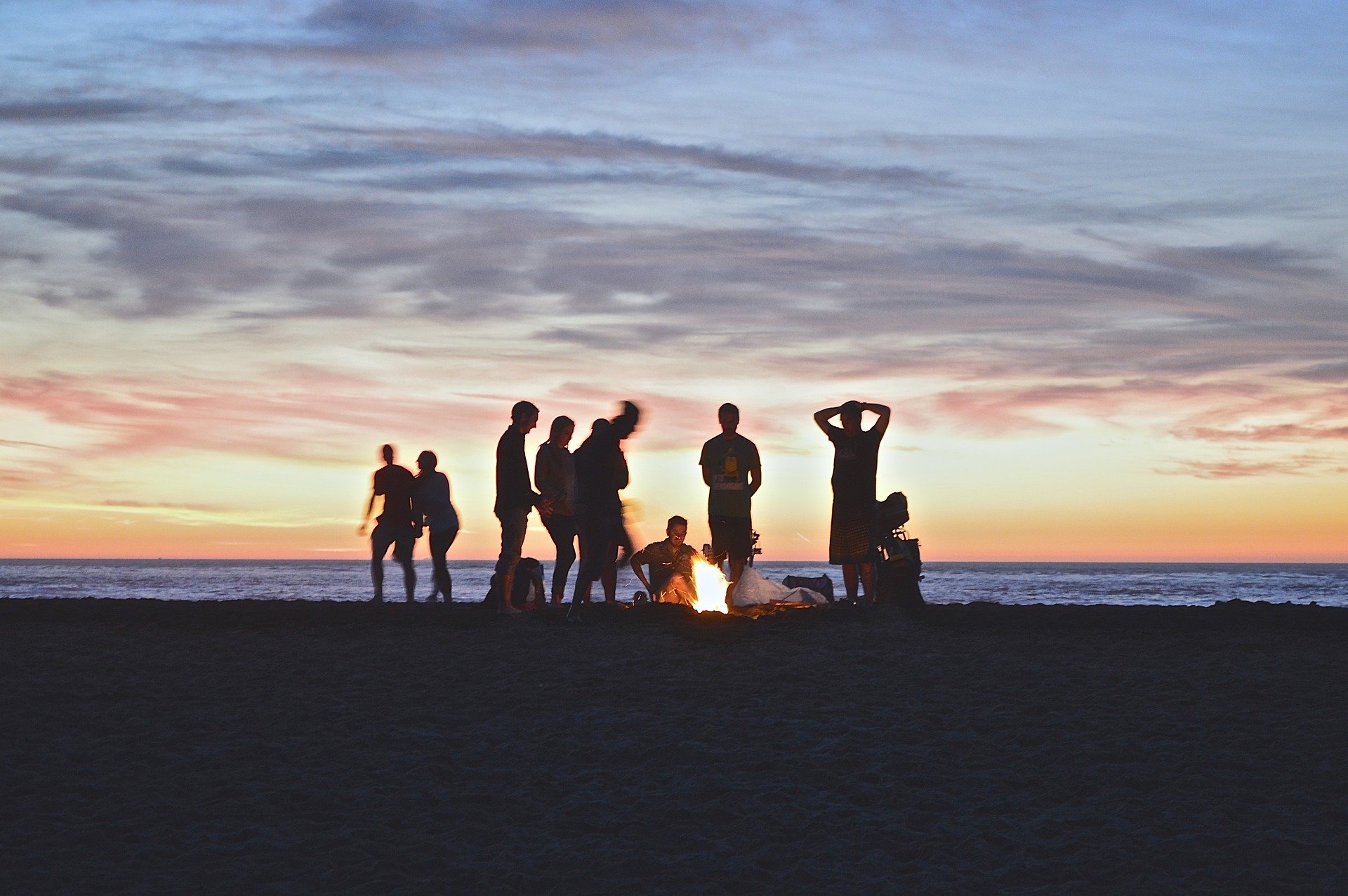 Turkey Run State Park is one of the most special campgrounds on this list. It's also the one with the most amenities, making it perfect for people who want a camping experience but don't really want to wing it with nature.
The campground is huge and has over 200 well-spaced sites that are surrounded by old-growth forests and sandstone ravines. While you can definitely choose to unwind and just connect with nature, Turkey Run also gives you the option of hiking in one of its many trails, fishing, canoeing, kayaking, or even floating with inner tubes on Sugar Creek. There is even a pretty cool suspension bridge that crosses Sugar Creek for the more adventurous campers who also want an amazing photo opportunity.
What makes Turkey Run campgrounds stand out from the others is that they also have a planetarium, tennis courts, and during the busier summer months, they schedule a lot of guided activities for campers of all ages.
18. Chatfield State Park – Colorado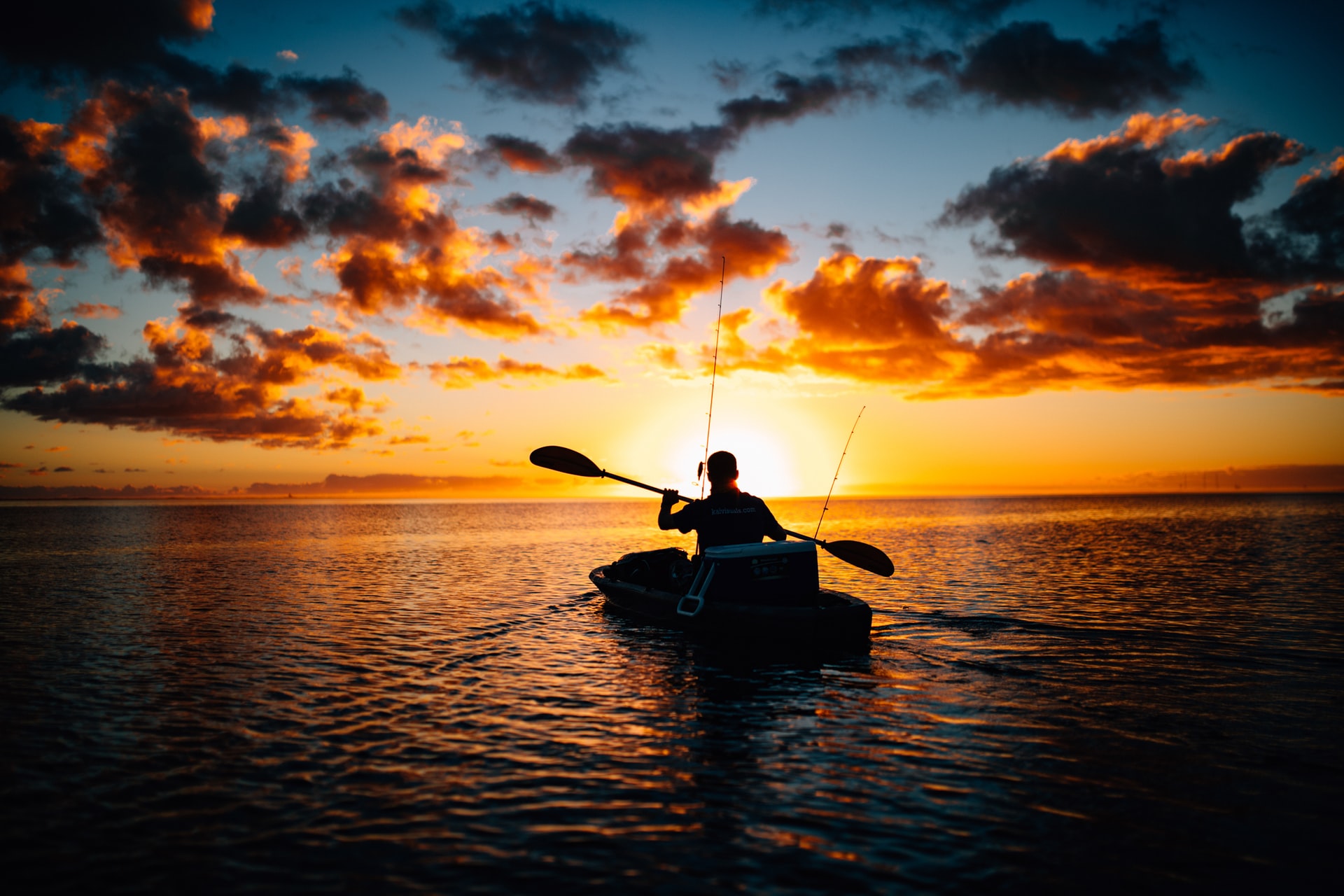 Chatfield State Park is a really big campground that can be found on the outskirts of Denver. It has tons of amenities and features, making it great for family camping trips with younger campers.
There are 197 campsites separated into four different campgrounds. Many of them have full hookups with water and electricity, while others have only electricity. You can do all the things you usually would while camping such as hiking, biking, and even boating, but Chatfield State Park also has some different activities available to its campers. Swimming at the adjacent beach, going on a fishing expedition, indulging in water sports, and going horseback riding are a few additional amenities they have.
My favorite part is the floating restaurant which is open to campers for dinner. It's a great experience and will give you the opportunity to enjoy yourself with whoever you're there with and with other campers from all over America.
There are several more campsites across the US that are worth mentioning. Below, you'll find a quick breakdown of some more of my favorites and the amenities they offer: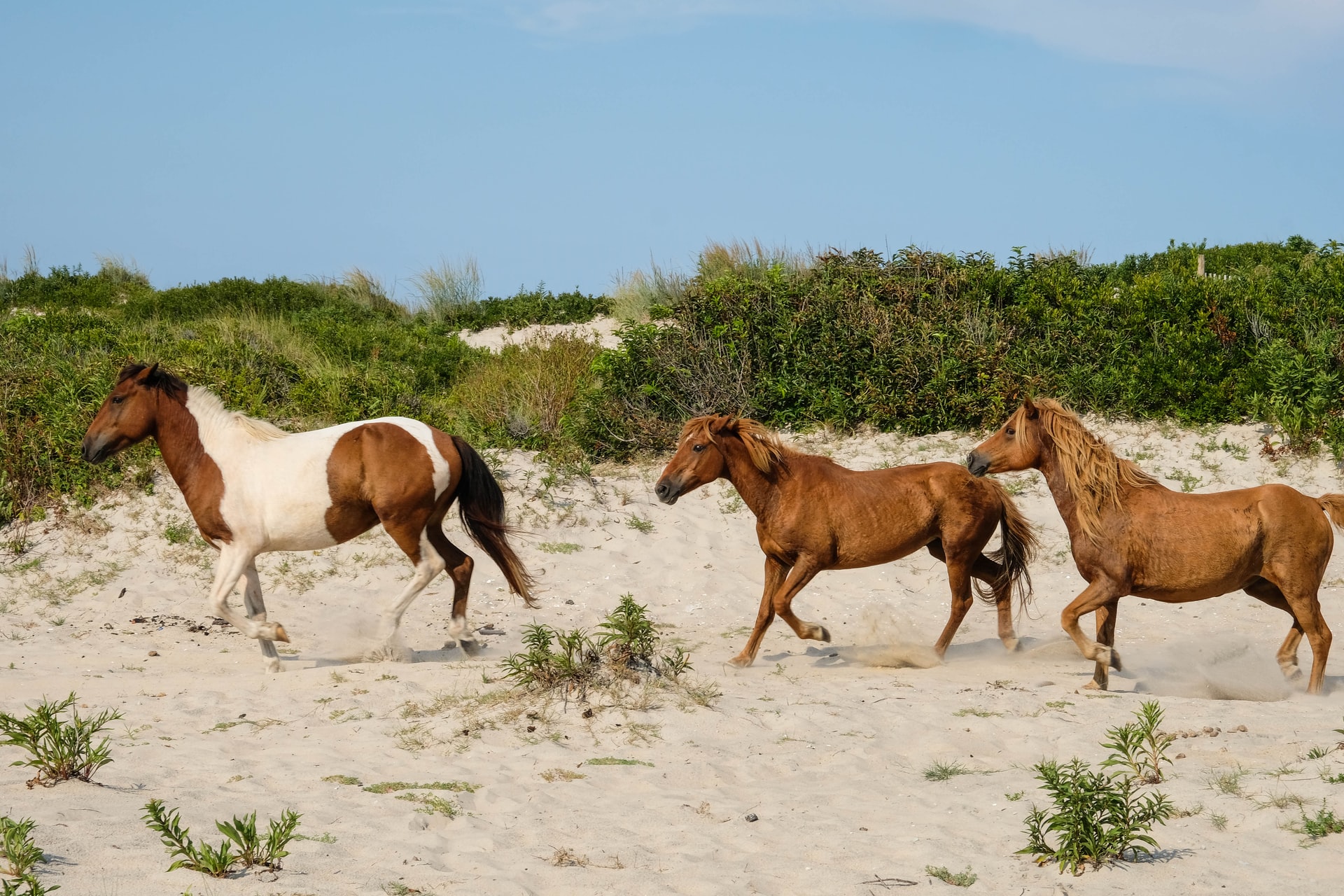 Jessie M. Honeyman Memorial State Park – Oregon
Campsites have direct access to the Oregon Dunes National Recreation Area.
There are two freshwater lakes you can take a swim in.
Activities include hiking, swimming, various watersports, and blackberry and huckleberry picking in the fall.
Garden of the Gods Recreation Area – Illinois
Towering sandstone formations that are very picturesque.
Several interpretive trails where you can walk and learn about the area's history and the unique geology you'll come across.
A unique sunset that's almost heavenly, hence the name 'Garden of the Gods'.
Assateague Island National Seashore – Maryland
A barrier island full of salt marshes, sandy beaches, coastal bays, and forests makes this one of the best campgrounds on the east coast.
It is home to beautiful wild ponies and horses that you'll often see galloping up and down the beach.
You'll have postcard-like views of the Atlantic Ocean.
Camp has full amenities including electricity, modern toilets, hot-water showers, and a visitor center with camping goods and a cafe.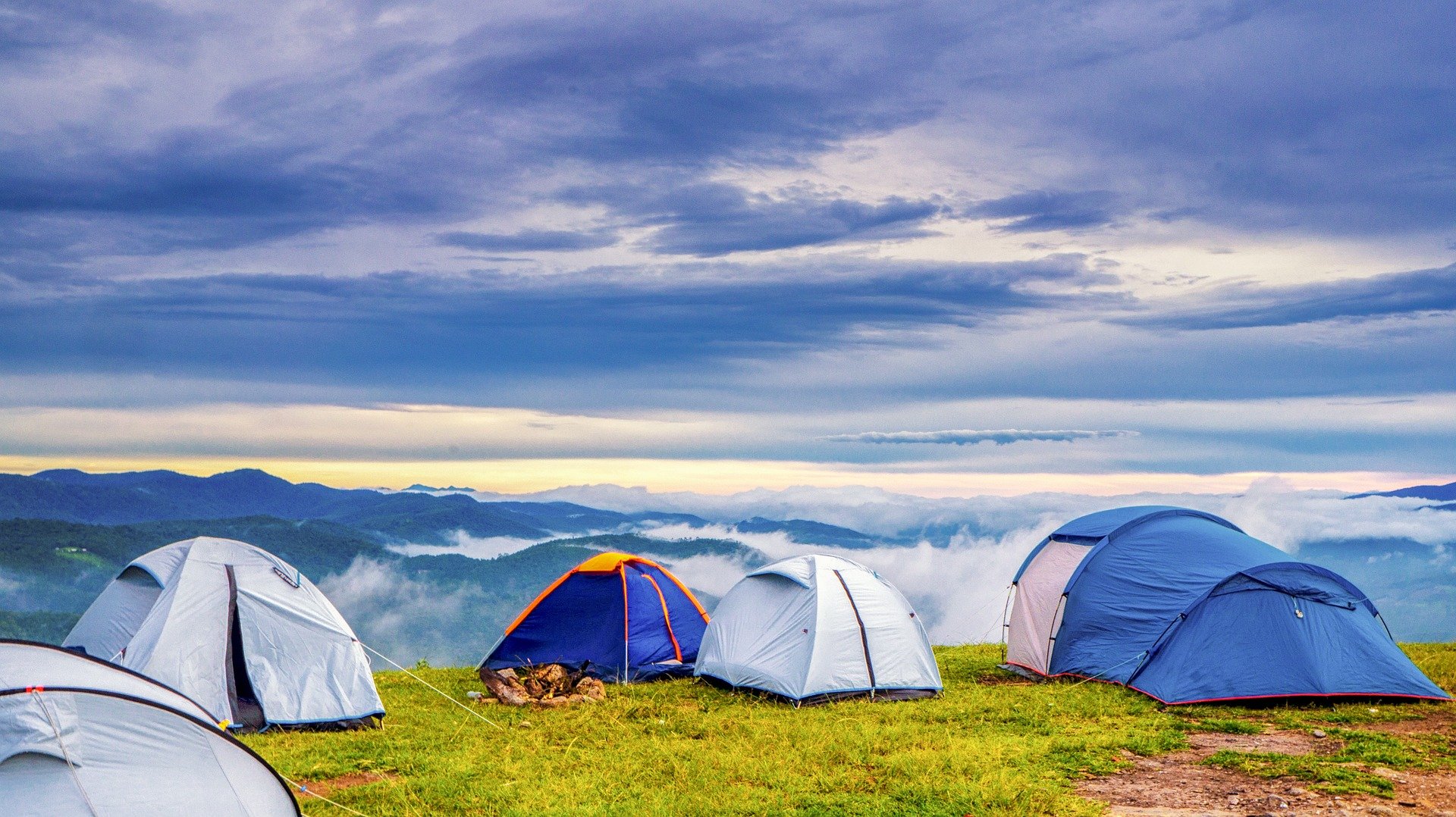 The campgrounds mentioned in this article are so spectacular and I've fallen more in love with them each time I've visited. Some of them, like Cloudland Canyon State Park, even feel like a second home because of how many times I've been there and all the great memories I've made there.
If you have a campground that you love, share it with our readers in the comments below so we can all discover new places to explore for our next camping expedition.
Infographic about

12 of the Best Campgrounds in America

: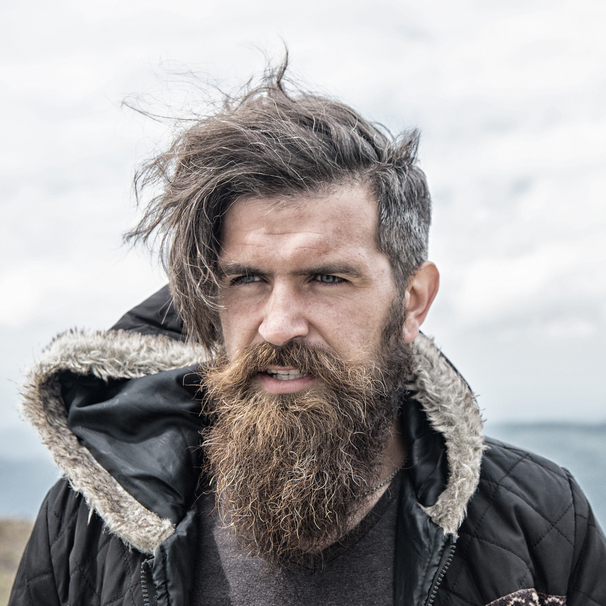 I am a professional travel writer and travel enthusiast who traveled the world twice, so I am sharing my firsthand knowledge about everything related to travel and spending time abroad.