Turquoise waters, white sand beaches, ultramodern cityscapes, and historical landmarks at every turn – both the Philippines and Thailand gleam with allure for any avid traveler. But despite the similarities between these popular Southeast Asian tourist hotspots, between them is a world of difference that make each of them unparalleled in their own right.
For anyone planning a tropical adventure in Southeast Asia, making the choice between one of these two paradises can be confusing. So to help shed some light, here's a complete comparison of Thailand and the Philippines to guide you in planning the perfect tropical getaway.
Culture
A country's culture essentially pertains to the different practices and traditions observed by the population that give the destination its unique personality. To any onlooker, both Thailand and the Philippines might seem like they have similar – if not identical – cultures. But they actually have widely unique cultures that might only become apparent once you actually set foot on their respective local soil.
Thailand
To give a bit of a background on Thai culture, it's worth mentioning that the country was never once colonized. To this day, it remains the only Southeast Asian country to have never been invaded by Europeans, which gives a little context as to how its culture came to be the way that it is.
Setting foot on Thailand, you'll notice that the country is heavily influenced by the Buddhist religion. Temples stand tall at almost every turn, and statues are prominent throughout almost every area in the country – whether provincial or urban. If you enjoy walking through glittering gold temples and shrines, then Thailand might just be a dream destination.
The lack of colonial influence also shines through when it comes to Thailand's cuisine. Their food – mainly spicy – can be described as lightly flavored, and is typically served in very modest portions.
They're not big on meat-heavy dishes, and typically combines vegetables and noodles to create light, easy meals. They're best known for their padthai and pho, which are tourist magnets in the Thailand street food scene.
Of course, they also have quite a lively market scene that boasts street food and drinks that you're not likely to find anywhere else. Their mango shakes are nothing short of a refreshing oasis, especially after you've downed a few sticks of spicy street food mystery meat.
Finally, it's worth mentioning that although Thailand is a relatively progressive country compared to the Philippines, many of the locals do not speak English. This can be due to the fact that they had never been colonized, leaving them no reason to learn any language other than their mother tongue. Of course, you will be able to communicate with locals at tourist spots, but don't expect an average local to strike up a conversation with you.
The Philippines
The Philippines was often seen as one of the most strategic locations across the globe, which is why many of the superpowers invaded it to take advantage of its strategic war position. Throughout the years, the Philippines was invaded by Spain, the United States, and Japan, which have all left their mark on the country's culture to this day.
Heavily influenced by the Catholic religion left behind by Spanish conquistadors, you'll find Christian church after church lining the streets of the quaint tropical country.
The Filipino language also uses quite a few Spanish and English words which they have completely absorbed into their own Tagalog language. For instance, the Tagalog word 'apir' was actually taken from the American slang 'up here', and pretty much serves the same purpose – an invitation for a high five.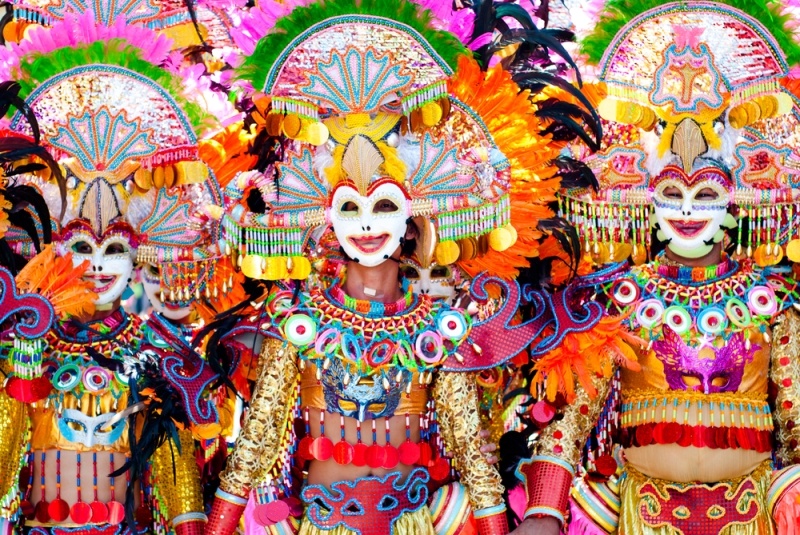 Cuisine-wise, the Philippines definitely has a heartier menu. Their foods use lots of different sauces and spices, and are usually very meat-centric. Food choices called 'ulan' are often paired with rice, the country's staple food.
Although their portion sizes might not be American-sized, they usually offer their meals in serving sizes for groups since the culture does incorporate family feasting as one of its main cornerstones.
The Philippine population uses over a handful of different dialects, but almost everyone speaks English on some level. Yes, even locals in the most rural areas of the provinces. That makes it fairly easy to get around and to learn more about the local people you meet.
Tourist Attractions
Both the Philippines and Thailand share a number of similar attractions between them. Their white sand beaches bring in visitors by the millions from across the globe each year.
Aside from their gloriously pristine tropical hot spots, both countries also serve up a variety of other unique experiences – like playing with docile native elephants in Thailand, or gazing eye to eye with the most adorable tarsiers in the Philippines.
Thailand
Thailand is home to opulent palaces, shrines, and temples that exude beauty and sophistication with their intricate architecture. Bangkok, Phuket, and Chiang Mai all offer sublime structures that center around worship and history, giving tourists a contemplative and awe-inspiring experience.
Travel around the country towards the shoreline and you'll find some of the most beautiful, world-class white sand beaches, including Ko Samui, the Phi Phi Islands, Krabi, and Pa Tong. All of these destinations encapsulate the idea of a paradise, and provide tourists relaxing respites against the troubles of the real world.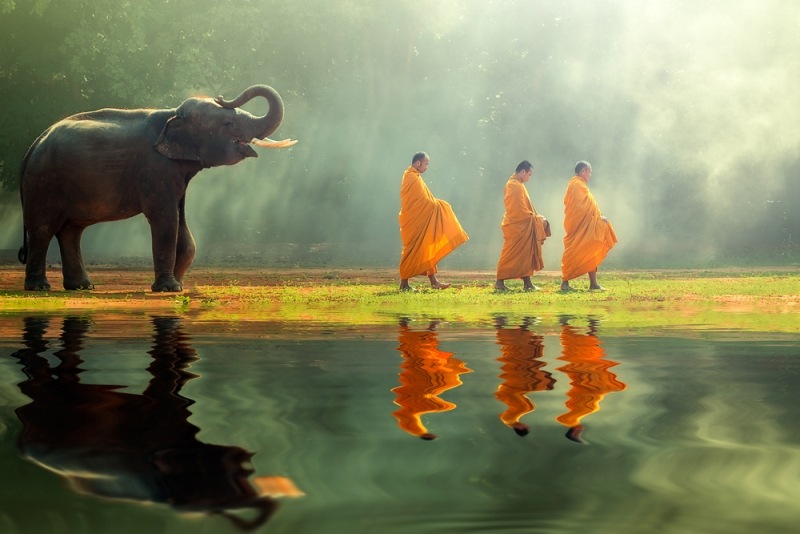 From mud bathing with elephants, to dancing your heart away at the energetic Phuket night scene, there are a ton of ways to enjoy your stay in Thailand. To any tourist, stepping into the country often feels like a prepared experience – like the destination was made for tourists, with interesting tourist-y attractions and activities at every turn.
Lastly, getting around Thailand and finding its many attractions can be fairly easy because of the country's geography. The streets are literally littered with commute options like the humble tuk-tuk. But if you were hoping to get around to farther locations, sleeper trains can be a suitable mode of transport.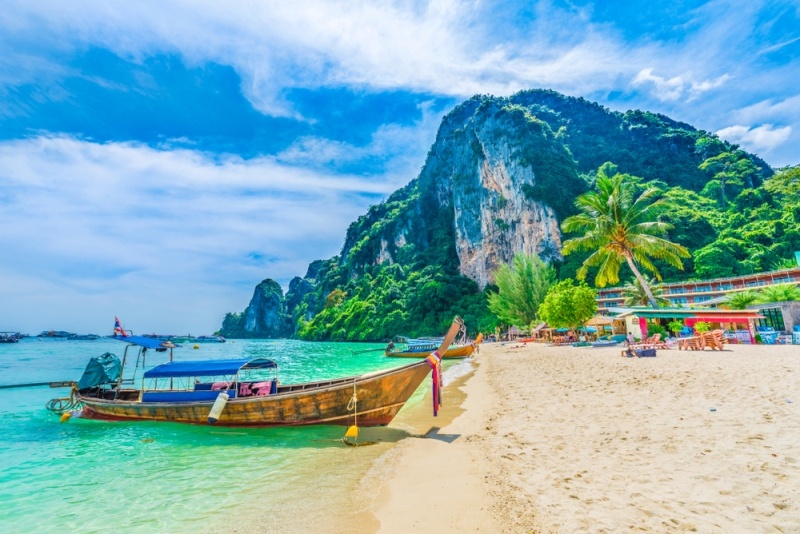 The Philippines
Glistening turquoise waters are some of The Philippines strongest tourist magnets. Having over 7,000 islands, the Philippines is guaranteed to satisfy your penchant for the beach bum life no matter where specifically you decide to visit.
Bohol and Siargao are common destinations for those who want to see world-class beach fronts and crystal-clear waters. But almost every province will have some secluded public beach that you can crash without reservations. For instance, Atulayan Island just off the coast of Camarines Sur is yet to be discovered by tourists, but the gorgeous island boasts water and sand as clear as day, and a unique hike trail up the small mount.
Other than their pristine beaches, hidden waterfalls embeded in mountainsides, bug-eyed tarsiers, and lush landscapes, the Philippines will feel more like an adventure than a tourist-centric locale. That's because although they do have tourist spots, their tourism sector has yet to fully develop the country for visitors.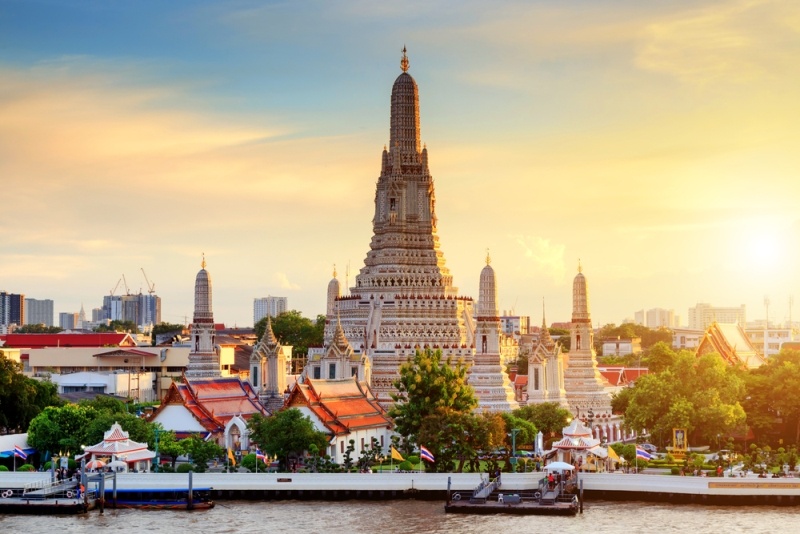 So, when you step out of an attraction, you're basically free to roam the locality which offers a more adventurous, spontaneous experience. Hop on a tricycle and see where the wind takes you – the Philippines can be an immersive experience that's free from pretenses.
Although rich in natural resources, one potential challenge with the Philippines is the location of attractions relative to one another. As an archipelago country with over 7,000 islands, it would be impossible to visit everything you'd want to see by land. So if you were hoping to see more, you might have to take a long boat ride or even a plane ride to get around to other tourist hot spots.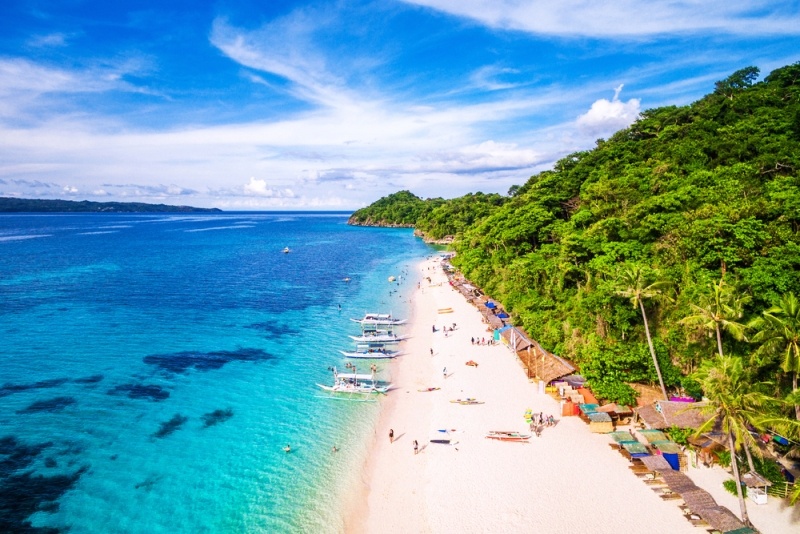 Travel Cost
It seems a growing trend among travelers is budget travel. That's why lots of these smaller, Southeast Asian countries have opened themselves up to the tourist trade, since more and more people are growing an interest in natural resources and hot spots that these locations tend to have a lot of.
Both the Philippines and Thailand can be pretty easy on the wallet, but of course, there are differences. Finding out how each country weighs on your pocket can help you get a better idea of which destination will offer the best bang for every buck you spend.
Thailand
All things considered you might expect to spend anywhere from 20 – 30% more on expenses when you travel to Thailand compared to the Philippines. That's mostly because the country is far more developed in terms of tourist attractions.
Beaches, some temples, palaces, and shrines will typically come with entrance fees. Sure, they're not always expensive, but they will add up to a significant amount at the end of your trip.
Food can be exceptionally affordable. For as little as $10 USD, you could possibly buy yourself a feast if you're prowling through the street food scene. Of course, restaurants are available, and they can be pretty easy on the pocket as well.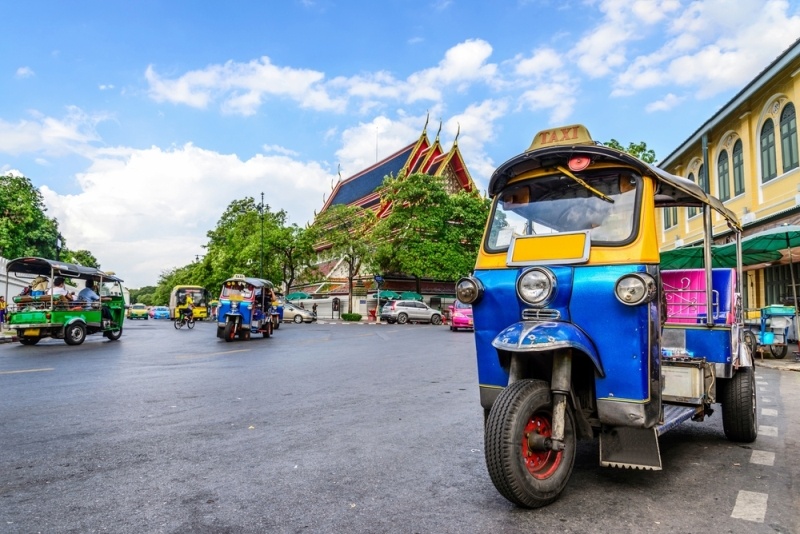 For accommodations, it really depends on where you plan to spend your stay. If you're living that backpacker life, bedspace rooms are available for as low as $5 USD a night. If you want to try a luxurious beach stay, then there are hotels that offer rooms for as much as $1000 USD a night.
You should set aside a budget of around $30 to $50 USD a day per person if you want to get the best of Thailand. Take heed though – the electrifying night scene can be really hard to resist. And if you find yourself in too deep, then all that booze will put a pretty noticeable dent in your wallet.
The Philippines
If you're really interested in having fun for virtually free, then the Philippines might offer a little more flexibility. There are tonnes of hidden, little known gems from beaches to secluded waterfalls to picturesque hiking trails littered across the country, and each one can be enjoyed for little to no cost.
For instance, an underwater cave with sparkling blue freshwater, untouched by civilization in Matnog, Sorsogon can cost you as little as 5 cents to gain access. Yes, you read that right. But despite the insanely affordable costs, lots of these attractions and destinations are pristinely preserved and magical, to say the least. So you can really see more without having to actually spend more.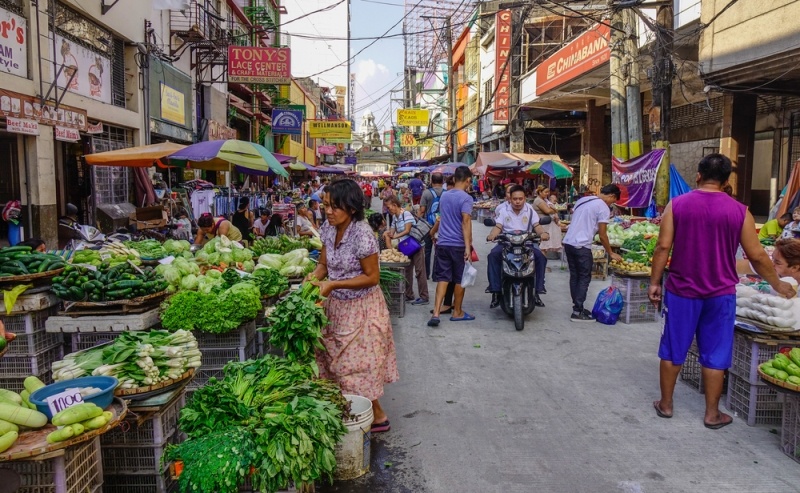 Food in the Philippines can be just as affordable. Similarly, you can assemble an entire feast with just $10 USD if you're patronizing street food. For the same amount, you and a friend can enjoy a more relaxed dining experience in one of the many local restaurants that litter the communities.
Lodging can cost anywhere from a humble $3 USD shared hostel or a $500 USD premier hotel suite. Again, it depends on the kind of experience you're looking for. But that also means that there's a wide range of other mid-priced accommodations that can be just as comfortable despite being modest in cost.
In total, you can expect to spend around $15 USD to $30 USD if you're backpacking through Philippine provinces. If you can do your research and create an itinerary of little-known locations, then you might even be able to save significantly more without sacrificing the quality of your trip.
So… Philippines vs Thailand – Which One's Better?
At the end of the day, there really is no comparison between these two countries. While they might seem similar to a lot of outsiders, there's a world's worth of difference separating them into completely different cultures. And for travelers, that means completely different experiences.
If you're looking for a tropical escape, then both countries serve some serious quality beaches to give you your well-deserved dose of vitamin sea. They both have world-class beaches and resorts, so either way, you're sure to get a relaxing experience to wash away the stress of urban life.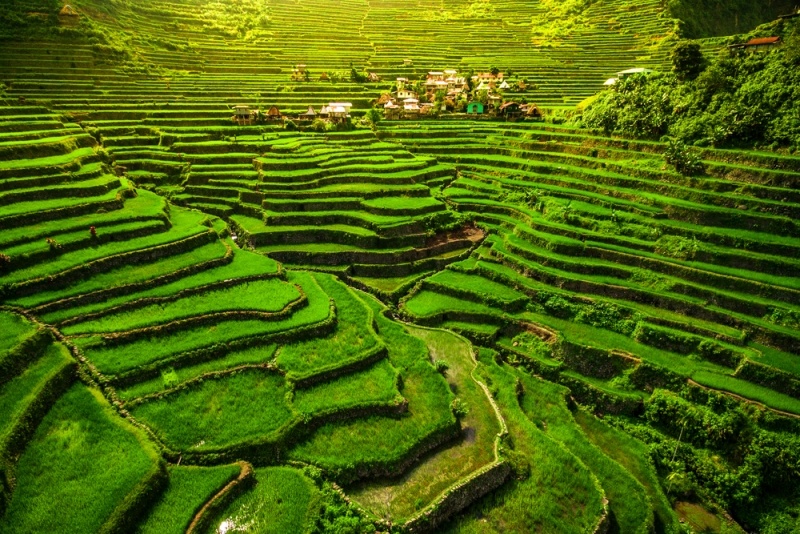 The differences lie in the culture. Thailand is basically better equipped to serve a prepared tourist. They have a structured tourist trade, and are far more geared towards serving visitors for a more tourist-y experience.
On the other hand, the Philippines might not be as developed in terms of their tourist trade. But that only means that you are left to your own devices to explore the country on your own. If you're an adventurous, spontaneous type of explorer, then the Philippines can definitely give you that 'let's get lost' type of rush.
Cost-wise, there are differences. But at the end, if we're talking budget travel, they're both really affordable destinations even for the most frugal of travelers.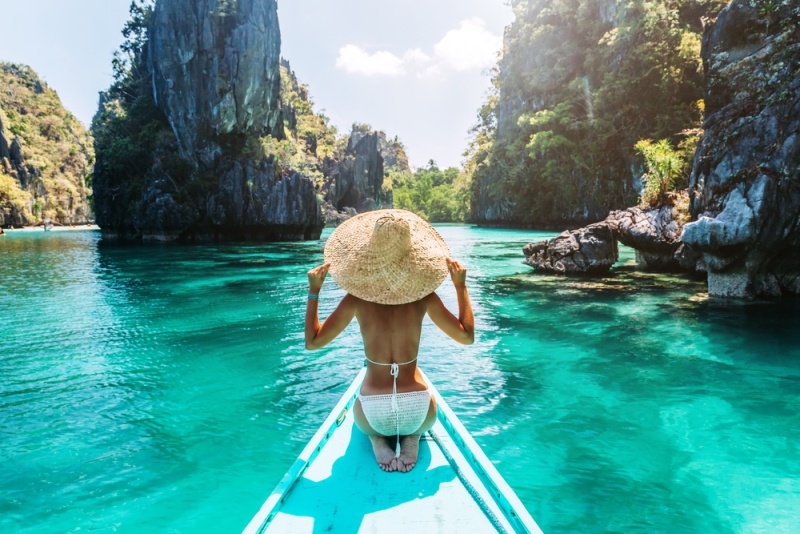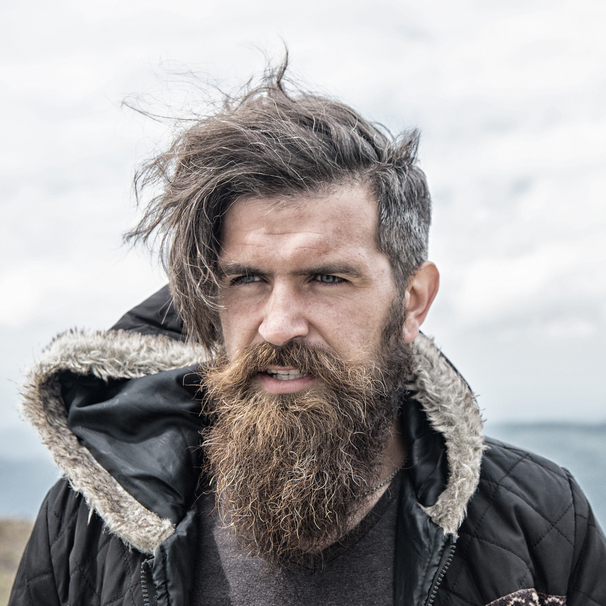 I am a professional travel writer and travel enthusiast who traveled the world twice, so I am sharing my firsthand knowledge about everything related to travel and spending time abroad.