These famous museums around the world are offering a virtual tour for you to experience from the comfort of your home while social distancing.
Social distancing is taking a toll on all of us. It's normal that you're starting to feel a little stir-crazy after weeks of quarantine curfews and strict stay-at-home orders. Americans alone spent $792 billion in domestic and international leisure travel just in 2019, so it's no wonder that we're all feeling a little stuck. Fully acknowledging that it is for our own good, and for the good of our friends and family, that we willfully abide by the rules and turn to baking our own bread from scratch or creating silly TikTok videos, we admit to still missing going out into the world and experiencing new art and culture. Thankfully, the following museums have introduced virtual tours that allow you to walk the halls and view the art housed in some of the most revered institutions in the world. You won't wear out your walking shoes on these tours, but you will be transported to another world without ever leaving your couch.
National Gallery of Art, Washington, D.C.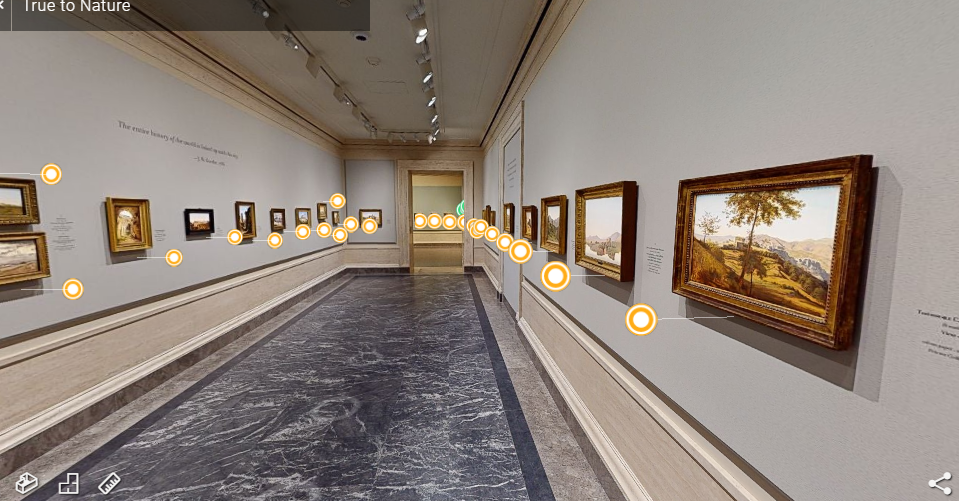 The National Gallery of Art in Washington, D.C. is considered to be one of the finest museums in the nation. Since it was established in 1937, the museum's collection has grown to include the works of Leonardo da Vinci, I.M. Pei, and several other renowned artists. You can use their website to take a virtual tour of their exhibition, True to Nature: Open-Air Painting in Europe, 1780–1870. You can explore each room, zoom in on works, read the related text, and even see artist biographies. Google Arts & Culture has two more online exhibits from the museum: Fashioning a Nation and Vermeer and the Masters of Genre Painting.
Van Gogh Museum, Amsterdam

Housing one of the largest collections of artwork by Vincent van Gogh in the world, the Van Gogh Museum in Amsterdam has over two million visitors every year. In addition to their permanent collection of over 500 drawings, 200 paintings, and more than 750 letters by van Gogh himself, they also exhibit several other important pieces from 19th-century art history. You can see many of them in the online exhibits offered by Google Arts & Culture; the exhibits tell a story about Vincent van Gogh's love life and the books that he enjoyed while displaying some of his most famous pieces of work.
Picasso Museum, Barcelona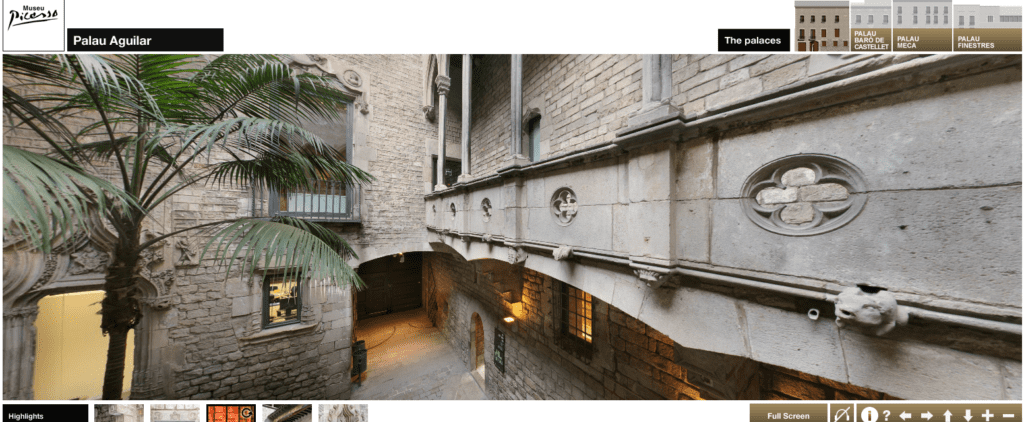 The Picasso Museum in Barcelona is a homage to all things Picasso. Housed in one of the best-preserved medieval architectural structures in Barcelona, the museum's online catalog has a vast array of items you can browse. The permanent collection includes paintings, drawings, engravings, ceramics, and much more. The site is interactive and innovative enough to keep your entire family amused for hours while letting you give Netflix and the PS4 a break.
The Louvre, Paris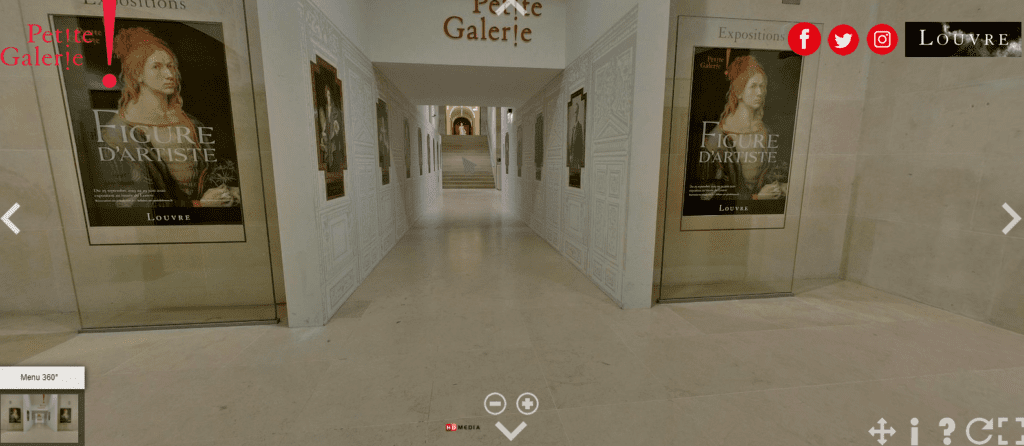 Virtual tours of exhibitions in the Louvre will let you experience the magnificent works housed in the famed museum all while avoiding costly plane tickets, endless lines, and a crowd of people bumping into you. Being one of the most known art museums in the world, the Louvre needs no description. You can use their website to go on a virtual tour of your choice. For example, The Advent of the Artist takes a close look at the evolution from the typically anonymous craftsman of the classical period to the more celebrated artists of the Renaissance. The virtual tour on Egyptian Antiquities will take you through the ground and 1st floor of the Sully Wing of the museums where pieces from the Pharaonic period are displayed.
National Gallery of Victoria, Melbourne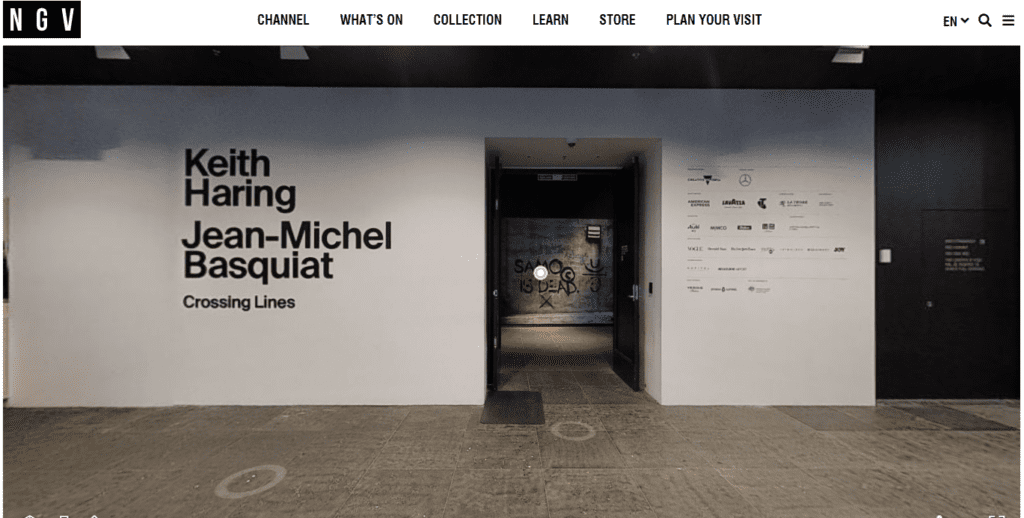 The National Gallery of Victoria in Melbourne is home to over 75,000 works of art ranging from Asian Art, Australian Art, and Contemporary Art to Decorative Art, Indigenous Art, and Fashion Textiles. You'll also be able to see an array of photographs, prints, drawings, and more. They have several virtual tours for you to choose from and enjoy from the comforts of your home during self-isolation.
The J. Paul Getty Museum, Los Angeles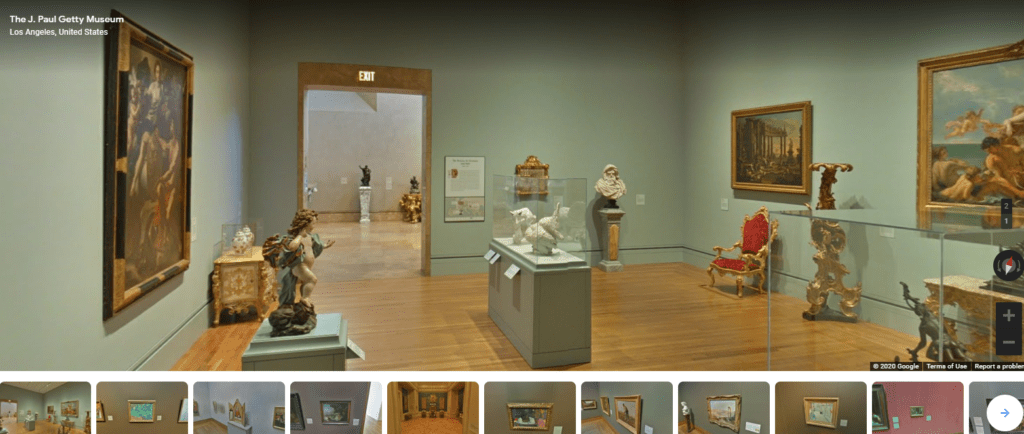 The J. Paul Getty Museum is housed on two campuses, one in Los Angeles and the other in Malibu, and attracts over two million visitors every year. The main campus in L.A. is dedicated to a variety of art from pre-20th century European paintings to photographs from the 1830s onwards from all over the world. The second campus houses artwork originating from Rome, Ancient Greece, and Etruria. Using Google Arts & Culture, the museum has several interesting online exhibits you and your family can enjoy such as Eighteenth-Century Pastel Portraits and Japanese-American Photographs, 1920-1940.
British Museum, London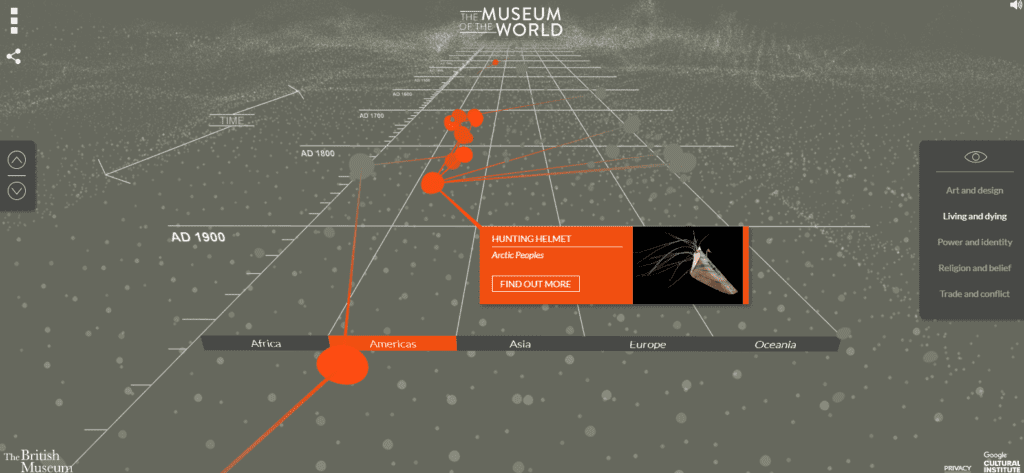 One of the most interactive online museum exhibits we've come across, the British Museum in London lets you explore the world using their historic timeline. You'll see pieces from Africa, Asia, Europe, Oceania, and the Americas dating all the way back to 2,000,000 BC. Some of their most amazing pieces include a ceramic bowl from the Path of Roses in Africa, an articulated model carp from Japan, and a Malagan Funerary carving from Melanesia. You can learn about the background of a piece, where it's from, and even hear behind-the-scenes audio commentary.
National Museum of Modern and Contemporary Art, Seoul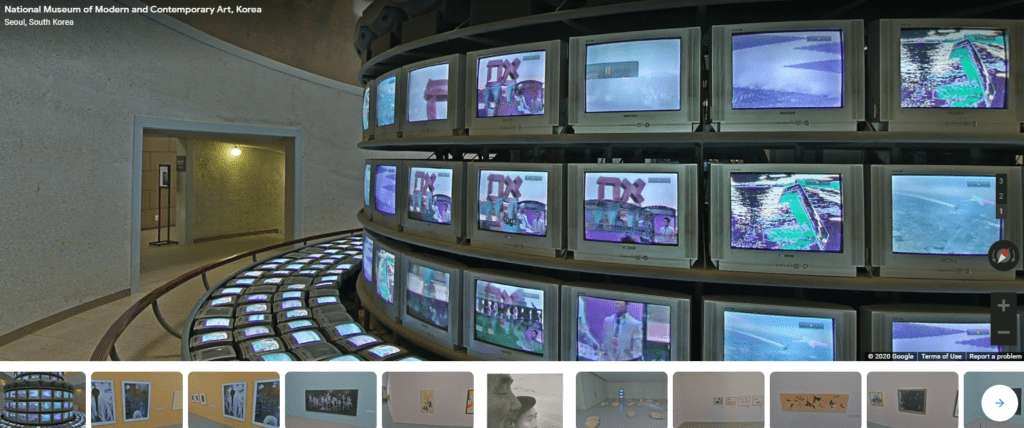 The National Museum of Modern and Contemporary Art in Seoul opened in 1969 and soon established itself as a sound institution reflecting the country's flourishing art scene. During your virtual tour of the museums, you'll see pieces from different genres such as design, architecture, and crafts. The 100th Anniversary of the Birth of Korean Modern Masters: Yoo Youngkuk 1916-2002 is a wonderful online exhibit to start with as it delves into the history of the artists while displaying some of his most treasured pieces.
Museum of Broken Relationships, Zagreb and Los Angeles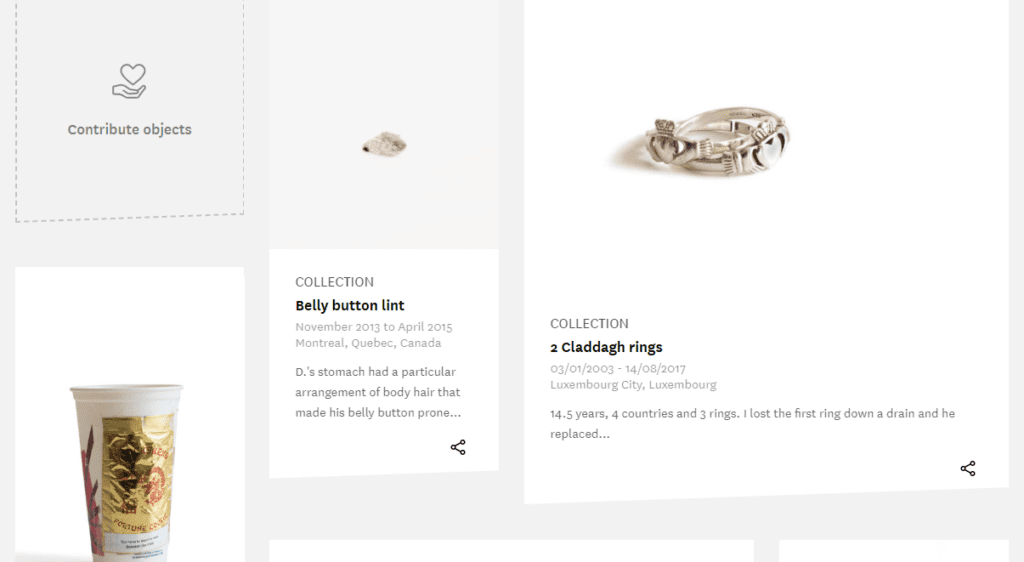 One of the more unique museums on our list, you may not want to visit the Museum of Broken Relationships with a loved one – in person or virtually. The off-the-beaten-path museum collects and displays an array of items donated by everyday people – people who preserved items from their past relationships and have interesting stories behind them that they want to share with the world. Browse the images, read the stories behind them, and get a deeper understanding of how people love differently with a virtual trip to the Museum of Broken Relationships.
Museu de Arte, São Paulo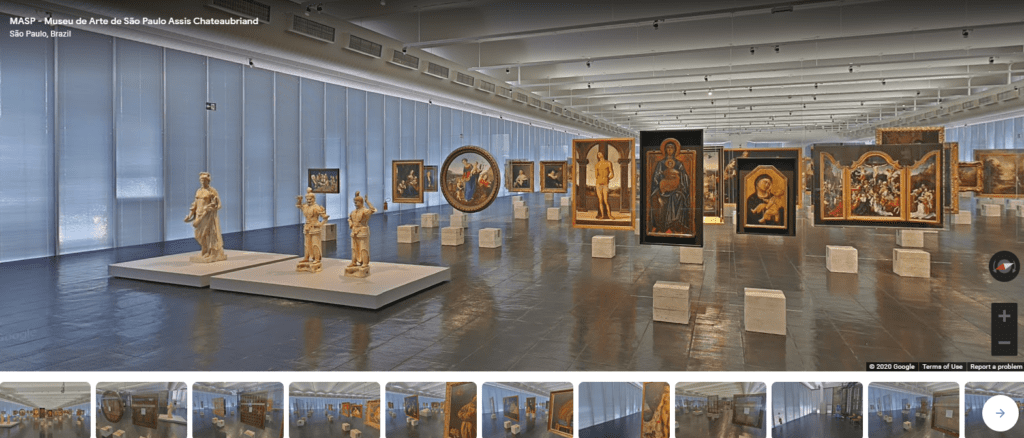 Founded in 1947 by Brazilian businessman Assis Chateaubriand, Museu de Arte is the country's first modern museum. The building the museum is housed in is in itself recognized as a 20th-century architectural landmark, having been designed by Lina Bo Bardi. The online exhibitions on Google Arts & Culture have several different focuses you can enjoy; some of our favorites include Art in Fashion: MASP's Rhodia Collection, Art from Brazil until 1900, and Art from Italy: from Rafael to Titian.
Pergamon Museum, Berlin

The Pergamon is one of the largest museums in Berlin. Named after a rich and powerful ancient Greek city in Mysia, the museum houses the remains of some of the most beautiful monuments and masterpieces of that area. Using Google Arts & Culture, you'll be able to see outstanding pieces like the Statue of Athena, Acropolis of Pergamon, a Macedonian Shield, and the Head of a Bearded Man. You can zoom in and see all of the details and learn about the history of a piece without ever stepping in Berlin.
Musee d'Orsay, Paris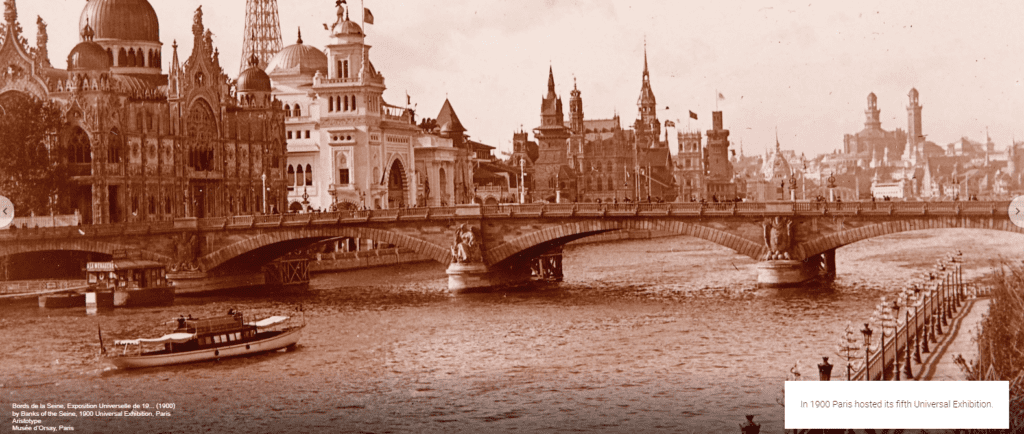 The Musee d'Orsay houses the works of French artists who lived between 1848 and 1914; you'll see some of the greatest work created by Cezanne, Gauguin, and Monet. Some of the famous pieces you can see in the online exhibit include Self-Portrait by Vincent van Gogh, Van Gogh's Bedroom in Arles, and Dr Paul Gachet by Vincent van Gogh. You'll also love popular pieces like In a Cafe by Edgar Degas – keep an eye out for the amazing pieces, read the history behind them, and let the virtual museum take you on a journey of art and culture during this time of social distancing.
Uffizi Gallery, Florence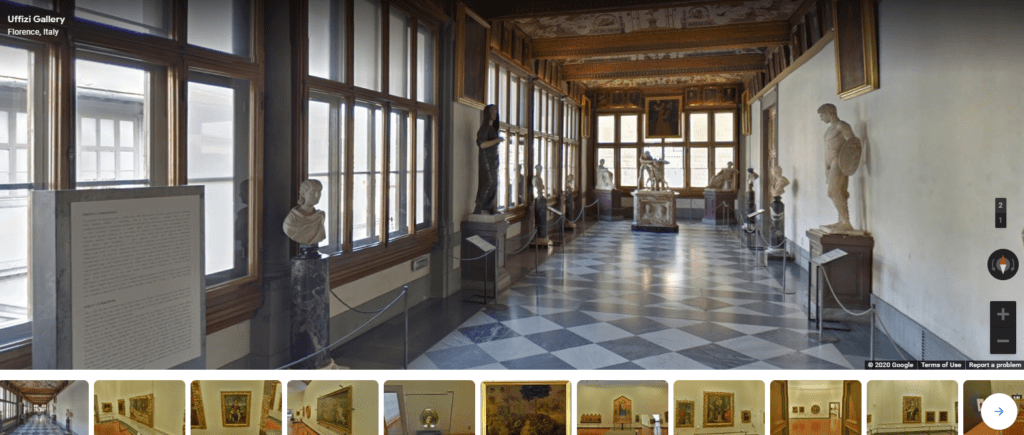 One of Florence's lesser-known institutions, the Uffizi Gallery houses the art collection of one of Italy's most famous families, the de'Medicis. The museum uses Google Arts & Culture to share online exhibits with people all over the world. Their exhibit on The Creative Process Behind Federico Barocci's Drawings is a crowd favorite, as is Piero di Cosimo, "Perseus Freeing Andromeda". Use the virtual gallery to delve into the details behind some of the most amazing paintings from the 1500s.
Solomon R. Guggenheim Museum, New York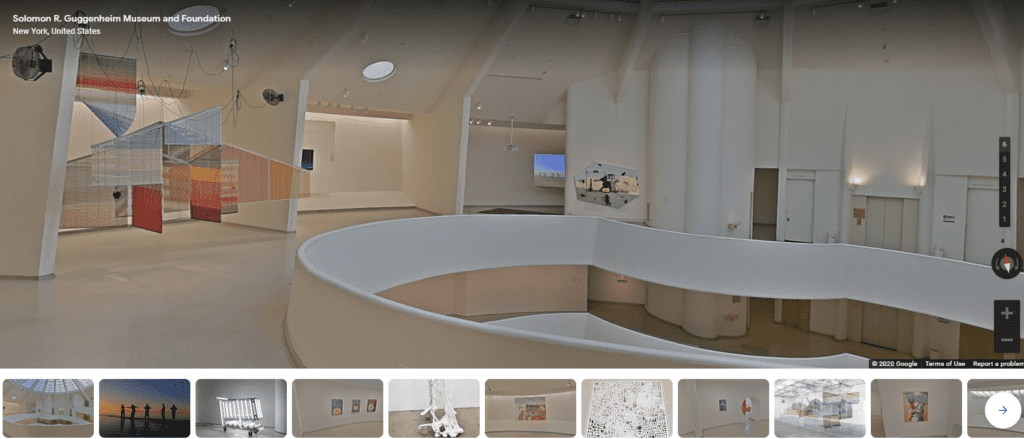 Founded in 1937, the Solomon R. Guggenheim Museum in New York has one of the most significant collections of conceptual, postmodern, and installation art in the world. The building itself is magnificent, having been designed by renowned architect Frank Lloyd Wright. They have some amazing sculptures, photographs, and installations available for viewing in their virtual gallery that you don't want to miss.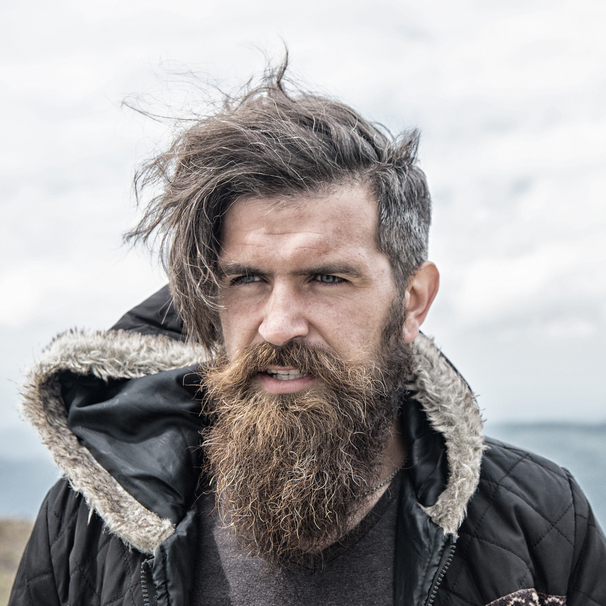 I am a professional travel writer and travel enthusiast who traveled the world twice, so I am sharing my firsthand knowledge about everything related to travel and spending time abroad.