Ask anyone when they're favorite season to travel is, and they're likely to answer one of two – summer or winter. These seasons offer unique conditions that make them ideal for a host of different activities. From swimming to skiing, the list of possibilities might seem endless if you're traveling during either of these popular seasons.
But although it might seem obvious to schedule your next vacation over the course of summer vacation or winter break, you might want to consider the less charm of autumn. Although not quite as heavily advertised as summer or winter travel, fall offers a unique experience that centers on serenity and relaxation through beautifully warm natural landscapes.
If you're interested in taking a break during the fall to soak in some tranquility, these destinations might just be perfect for you.
Ontario, Canada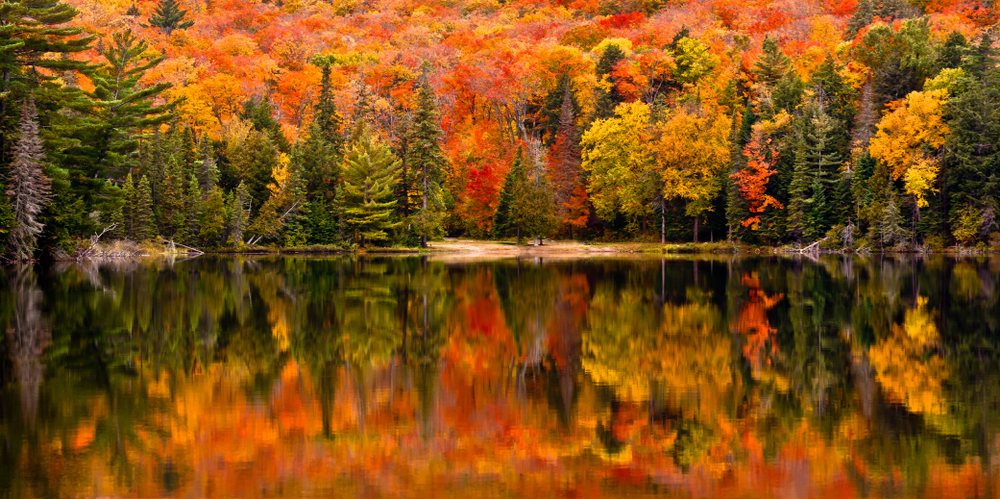 Demonstrating a dramatic change starting from late in September, Ontario, Canada might resemble an artist's palette as nature takes on fiery hues that bring the landscape to life. Bright red, orange, and yellow colors take over the greenery, creating a stunning and stark contrast with clear blue skies and the clarity of fresh water.
The best place to discover the magic of autumn in Ontario would be the Algonquin Provincial Park. This 7,725 square kilometer park is composed of lush, dense forest, sprawling networks of freshwater streams and rivers, and tranquil lakes surrounded by the captivating beauty of the trees around them.
Rent a canoe for pristine views of the stunning red-orange trees that line the edges of the streams that course through the park. Or for a dry experience, try a change of location and visit Bruce Peninsula Natural Park where you'll find centuries-old trees taking part in the autumn transformation.
Machu Piccu, Peru

Peru welcomes throngs of tourists by the millions during peak season, which generally happens around the time of                 April to September. But after these months pass, Peru sees a stark decrease in its number of visitors. That's simply because once September starts to settle in, Peru begins its rainy season which of course, tends to deter tourists who want to enjoy the warm sunshine and dry terrain.
But there is subtle beauty to be appreciated when frolicking through the wet, rainy September Peru. During the North American autumn, Machu Piccu in Peru becomes a lush, dark green paradise with gorgeous blooms and rich, heavy looming trees that create this image of wild vegetation seemingly taking over the entire landscape.
Of course, it's going to be a little wet and a little cold, but only those who are adventurous enough to travel through Machu Piccu when everyone else has gone are granted the opportunity to see this iconic destination at its most beautiful. Plus, off-season means you also stand the chance to enjoy deeply discounted flights and hotel bookings.
Tuscany, Italy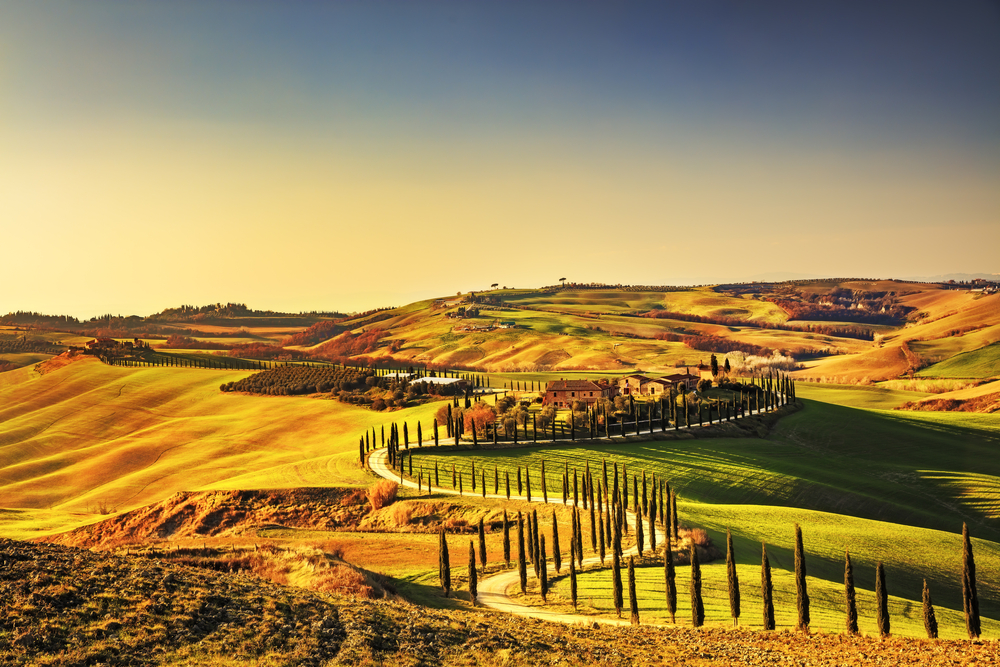 During the fall, locals in Tuscany, Italy take it upon themselves to harvest the fruit of their labor – their beloved autumn harvest. This iconic practice has spanned generations, but specific dates vary each year. That's because locals are careful to make sure their harvesting their produce at the best possible time, and that means paying close attention to weather conditions.
Towards the middle of September and all the way to the end of October, the local streets throughout Tuscany can be booming with activity. Every turn, locals offer up their produce – from the most succulent grapes, to richly flavored chestnuts, to hearty servings of polenta made from premium cornmeal and more. There's no shortage of rich, flavorful Italian food when you crawl the streets of Tuscany in the fall.
If you're feeling a little more adventurous or interactive, then you might consider joining the locals as they participate in Vendemmia – a practice that's old as time, and that teaches visitors more about the grape harvest and the traditional methods for making wine in Italy. For a little more excitement, try going truffle hunting and test your hand at the pursuit of this highly-coveted food.
Mt. Takao, Japan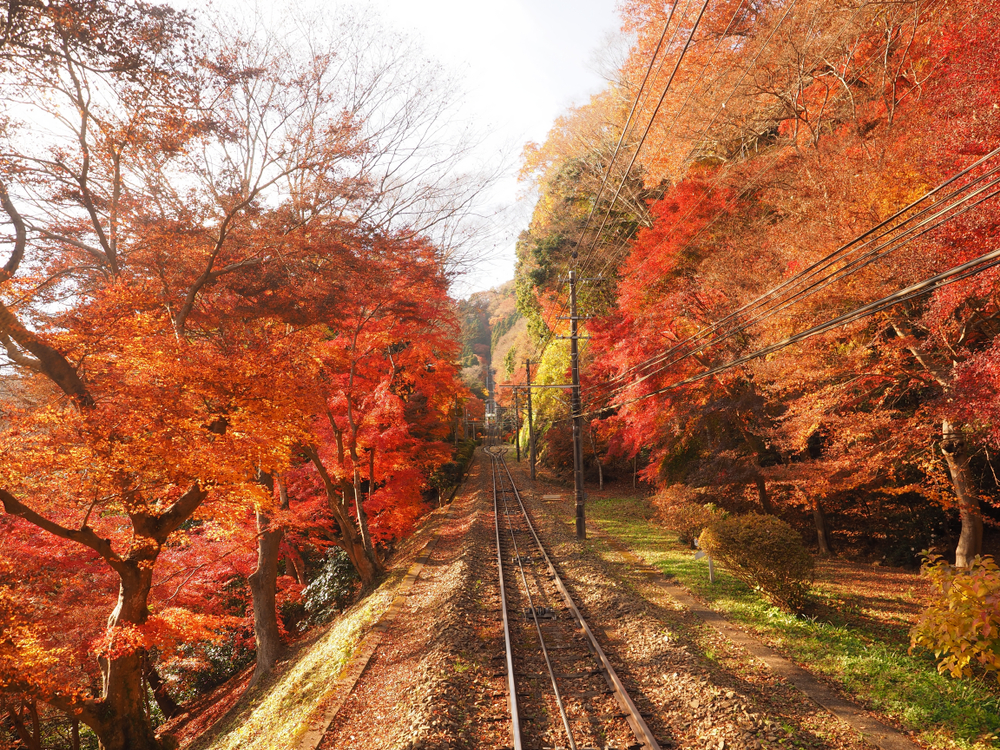 Everyone knows that Japan draws in several tens of millions of visitors every spring, when their iconic cherry blossoms unfold and cover the landscape in delicate blooms that can make anyone feel like they've just entered a fantasy-world. But just as popular and breathtaking as the cherry blossoms in the spring, Japan's colorful falling leaves called 'koyo' can be just as awe-inspiring.
Mt. Takao is just 50 minutes away from Shinjuku in the heart of Tokyo. And at costing just $3 to get there via train, Mt. Takao presents an unrivalled autumn experience that's definitely worth the trip. Here, you'll find the Autumn Leaves Festival that runs all throughout November. During the event, guests are invited to enjoy live shows, entertainment acts, parades, workshops and more.
And of course, what festival would be complete without some food? Littered throughout the Mt. Takao area are hundreds of pop-up food stalls offering delicious local cuisine at affordable prices. Around the area are lots of other restaurants and tourist hubs that can keep you well entertained and preoccupied for more than just a day.
Patagonia, Argentina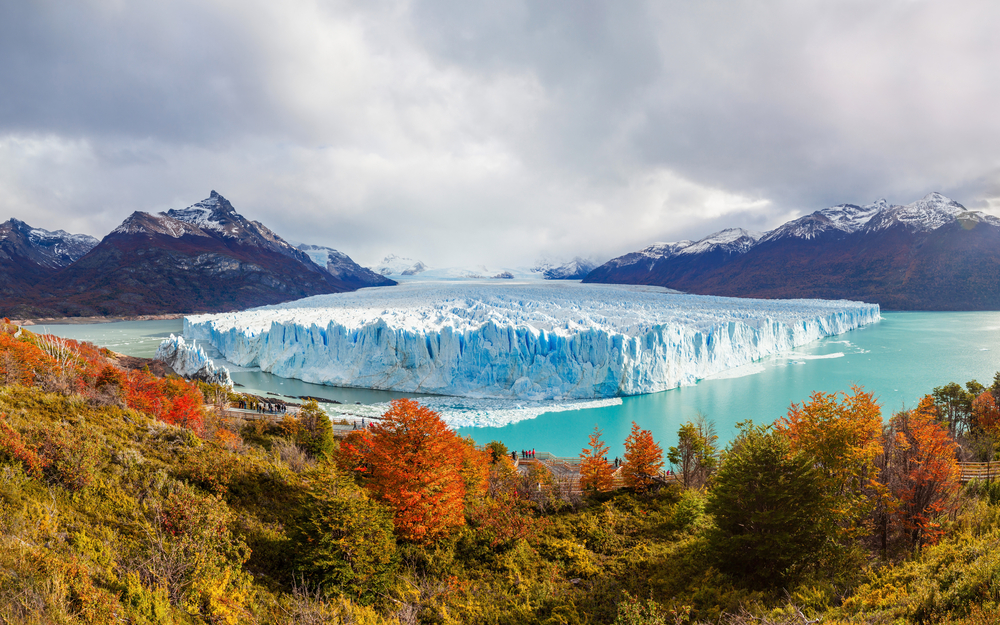 While the northern hemisphere enjoys the burst of fiery leaves floating, flitting, and falling to the floor to create a lively orange bed underfoot, the southern hemisphere welcomes spring. And during this time, blooms stretch their arms towards the sky, silent woodland creatures make an appearance out in the open, and even stoic giants like whales make their way out into the public view.
Patagonia is nothing short of a sight to behold during the North American autumn, with lavenders in full bloom, showcasing the majesty of Mother Nature against the backdrop of jagged, wind-swept peaks of the Patagonian peaks. It's also during this time that you'll be able to catch a glimpse of migrating whales as they move through the crystal clear blue waters. Whale activity is at its peak from September to October, giving you front row seats to one of nature's most spectacular shows.
Markt Hartmannsdorf, Austria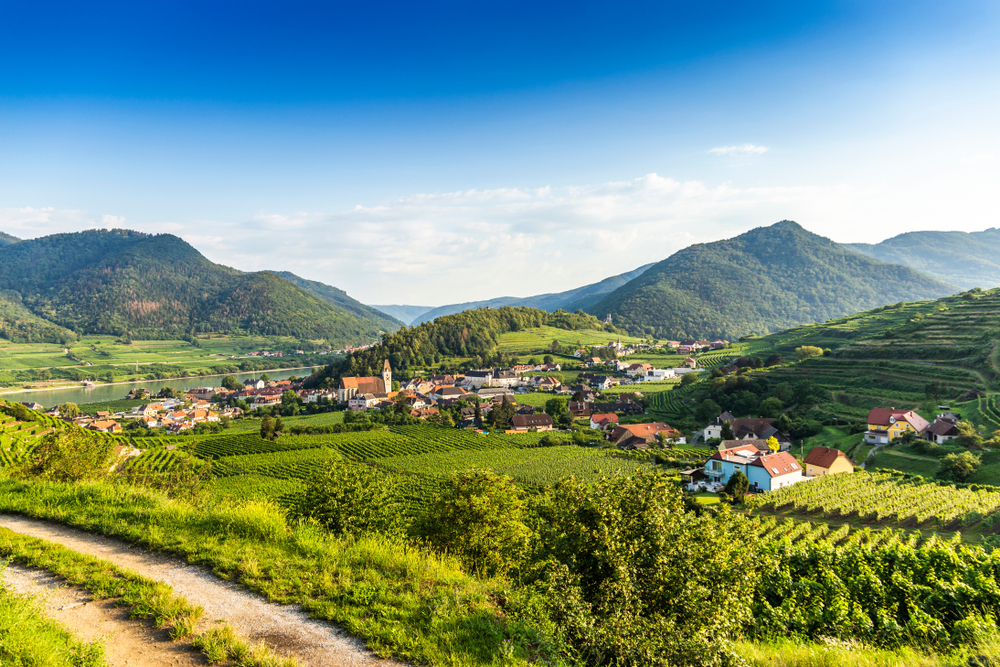 Quiet all year round, Markt Hartmannsdorf in Austria is one of the quaintest municipalities in the district of Weiz. This silent destination is especially tranquil in the months right before winter, as the sun hangs low over the freshly clipped fields and the temperatures settle down to a comfortable chill. All the roads and inner streets intertwine in serenity, and quaint little shops let their wares rest just outside their store as a gentle breeze tosses leaves over the silent locale.
Visiting Markt Hartmannsdorf during this especially peaceful season might just give you that restful retreat that you were looking for. Book a warm little cottage or AirBnB on a fruit farm, and wake up to the sound of small crowds collecting apples and pears as they share gentle laughter with shared conversation. Really, it doesn't get quite as restful as it does in Markt Hartmannsdorf.
Athens, Greece

As the autumn settles in, the throngs of tourists tend to thin out throughout the streets of Athens, Greece. This gives rise to a spacious environment just begging to be explored. The temperatures also become far more agreeable, dialing up to a manageable warmth that's perfect for voyaging through the streets with the energy of the sun keeping you just the right warmth.
During this time, a new personality takes on the pulse of Athens. The autumn harvest breathes life into the local community, with fresh fruit and produce flooding the streets and adding a cheerful and festive vibe to the atmosphere. This is the best time to sample some of Greece's best wines and olives, abundantly scattered throughout the city of Athens. For a more filling and hearty meal, try visiting a local taverna where they often change up their menu to maximize the flavors of the coveted autumn harvest.
San Miguel de Allende, Mexico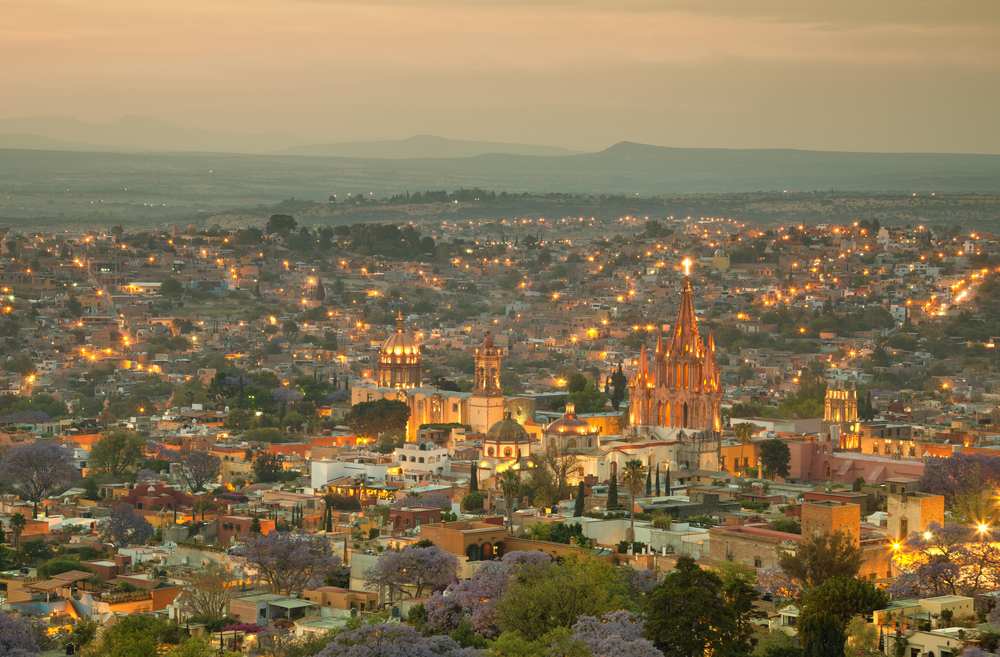 As flamboyantly colored marigolds consume the streets and cover the city in a thick blanket of yellow petals, autumn in Mexico can be a feast for the senses. The weather maintains itself at a comfortable warmth during the day, and at night, a breezy chill takes over to soothe you to sleep in the silence of the locale.
Aside from the beautiful city scenery that's covered in gorgeous marigolds, there are other reasons why you might want to see Mexico during the fall. At the stroke of November, the entire country celebrates Dia de Los Muertos – their iconic festival celebrating the dead.
During the celebration, tourists can join in and experience Mexican culture in its purest form. Widespread feasts, musical performances, and costume parades are just some of the events awaiting those who celebrate the day with the locals. Some themes for the event include family and spirituality which are colorfully represented in the preparations spread out by the local community for the special day.
Snowdonia National Park, Wales
As September settles in, Wales takes on a brand new aura. The crowds thin out the streets become almost abandoned, with no one but locals left to wander the once crowded tourist hotspots. If you find yourself in Wales during their off-season, you might want to check out Snowdonia National Park.
A 2 and a half car drive from Manchester, this quiet park becomes unoccupied during the autumn season, as tourists flock back home to resume the activities of their daily lives. So when you do manage to pay the place a visit, you might find yourself to be the only visitor within the vicinity.
So aside from the thin crowds, what else would you find at Snowdonia? Well, during the fall, this beautiful park becomes nothing short of a fairytale come true. Tranquil lakes, silent streams, and gently flowing rivers can take you on an hours-long adventure through the serene park premises. Gorgeous trees are lit by bright red and orange leaves, rustling in the gentle breeze and creating the perfect backdrop for the quintessential autumn selfie.
It's also worth mentioning that the drive to the national park might be an adventure in and of itself. With long winding country roads against majestic mountainous landscapes, you might find yourself stopping more often than you'd hoped to snap a once-in-a-lifetime photo at every turn.
Bavaria, Germany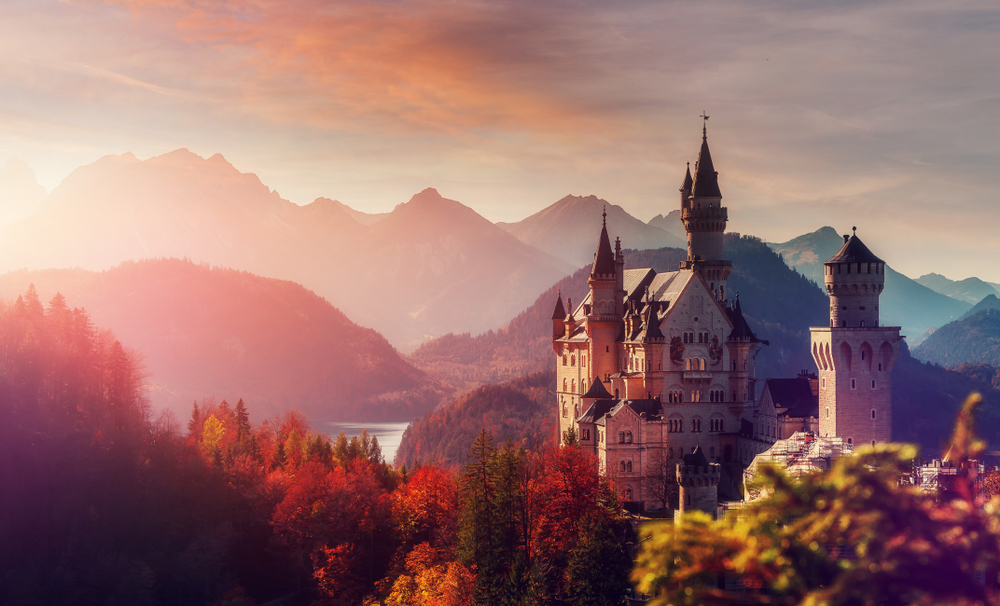 A new spirit takes hold of Germany during September. Unlike other neighboring European areas where energies tend to fall and locals return to their slumber, Bavaria's lively autumn celebrations make it a wonderful place worth visiting during the fall. In Bavaria, the most sought-after event would have to be Oktoberfest.
This iconic, world-famous beer festival brings in throngs of tourists and locals from the end of September until the first week of October. The celebration highlights beer – one of Germany's most prized exports, and of course, their traditional hearty cuisine.
Once Oktoberfest is done and over with, there are a range of other events worth looking forward to. Viescheid celebrates the return of cows as they travel back down the mountain and return to the flat fields below. If their humble trek leaves you wanting for a closer encounter with animals, then a trip to the National Park Bavarian Forest might satisfy.
Within the pristinely preserved property, you'll find hundreds of species of wildlife freely roaming the premises. Watch exotic birds come and go, adorable little creatures of the forest peeping their curious heads out to observe tourists, and of course, there are the ever elusive bears, wolves, lynxes, and wildcats that roam the area in the shroud of stealth.
Final Thoughts
Yes, both summer and winter might be prime times to go on vacation, but the allure of autumn is especially glorious – if you know where to look. These destinations offer some of the best experiences for fall around the globe, letting you enjoy lower travel costs without sacrificing the quality of your vacation.
The next time you plan a trip for the family or for yourself, make sure to keep these destinations in mind. Discover just how beautiful autumn can be and give yourself a brand new perspective on the power and glory of Mother Nature and the cultures that call her home.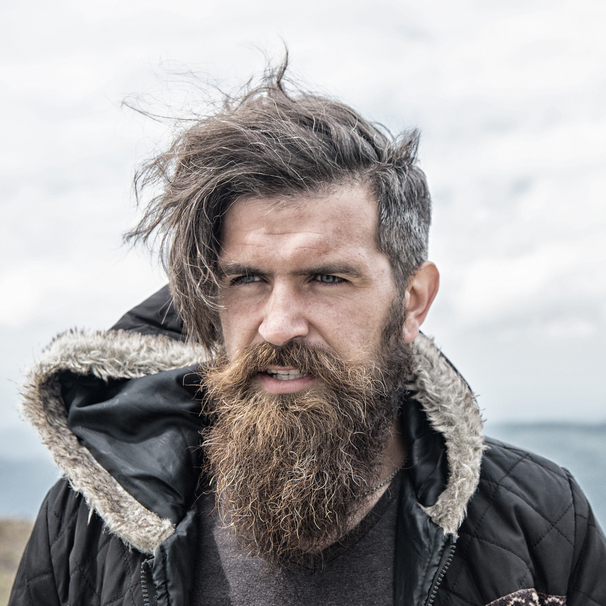 I am a professional travel writer and travel enthusiast who traveled the world twice, so I am sharing my firsthand knowledge about everything related to travel and spending time abroad.